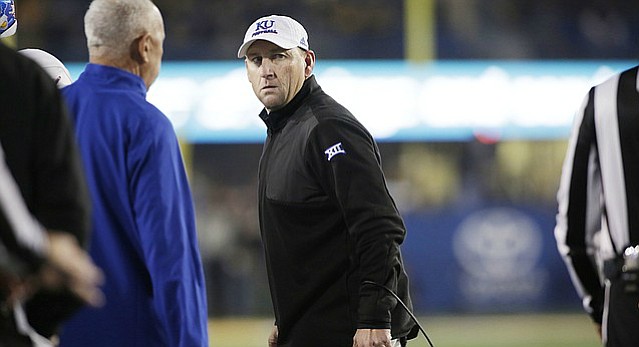 The Kansas football team, always searching for any competitive edge it can get, entered this past weekend as the least penalized team in the Big 12. However, in a 48-21 loss at West Virginia Saturday night, the Jayhawks impaired their chances of competing by committing a season-worst nine penalties and suffering another low for the year in penalty yardage (104).
KU coach David Beaty, who harps on playing smart and avoiding those bothersome yellow flags, should've seen the irksome night coming. True freshman Mike Lee incurred a 15-yard unsportsmanlike penalty on the opening kickoff, which WVU didn't even bother returning.
"That was very disappointing," Beaty said shortly after the loss, too angry to speak any more on that particular infraction.
The Jayhawks (1-8 overall, 0-6 Big 12) certainly have encountered a variety of issues this season, but they only averaged 45.6 penalty yards a game before the flags began flying in Morgantown, W. Va.
The lowlights included Lee giving the Mountaineers (7-1, 4-1) a 15-yard head start on their opening drive, back-to-back offensive line infractions on KU's initial series and sophomore defensive tackle Daniel Wise's third-quarter ejection on a personal foul.
Immediately following his team's eighth consecutive loss, Beaty had not yet had a heart-to-heart discussion with Wise on the matter.
"I can guarantee you he and I will be talking for sure," the second-year coach said late Saturday night. "Our coaches, they do too good a job for those things to happen. Daniel's a good kid. He's gonna learn."
Senior KU safety Tevin Shaw didn't see either Lee's or Wise's violations but explained how players find themselves in such situations.
"It's a very high-tempered game," Shaw said, "played with a lot of passion, so I guess they got too carried away."
Of course, not every penalty came from something unsportsmanlike. Senior running back Ke'aun Kinner (65 rushing yards and a touchdown at WVU) said the Jayhawks have to eliminate technical mistakes, too.
"It kills drives," Kinner said of moving in the opposite direction due to a flag. "We've got to be locked in, more focused."
Renewed QB competition?
After redshirt freshman quarterback Carter Stanley relieved starter Montell Cozart (concussion-like symptoms) at West Virginia and completed nine of 11 passes for 127 yards, two touchdowns and an interception, Beaty discussed his pleasure with Stanley's progress.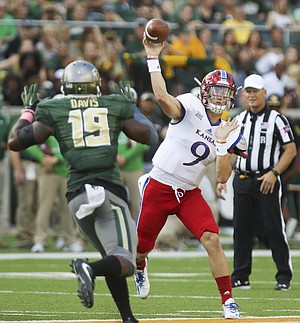 "I thought his eyes were light years better than what they'd been in his previous times," the offensive coordinator and quarterbacks coach said, adding the interception was the only mark against Stanley.
Beaty said KU's coaches would find out about Cozart's health first and then proceed accordingly on the starting QB front. The coach also characterized competition for the No. 2 spot as fluid.
"We're gonna have to continue to evaluate each day," Beaty added, "to make sure we have the best people on the field to give us a chance to win."
End of a streak
Unlike each of the previous six weeks, KU's loss at West Virginia did not include a Dorance Armstrong Jr. sack. The sophomore defensive end made two tackles for loss and seven total tackles but saw his streak of consecutive outings with at least one sack conclude at six.
A defensive lineman from Houston, Armstrong leads Kansas this season with 8.0 sacks and 14.0 tackles for loss.
Armstrong said after the team's latest road loss he and his teammates are eager to return to Memorial Stadium for this week's matchup with Iowa State.
"We've just gotta make plays," Armstrong said, "make stops, big plays, win the game. That's it."
Leftover nuggets from WVU loss
Lawrence native and Free State High graduate Bryce Torneden started the first game of his college career at safety for KU. Torneden, a 5-foot-10 true freshman, made two solo tackles.
With a nine-catch, 124-yard outing (and a TD) against the Mountaineers, sophomore receiver Steven Sims Jr. brought his season total to 702 yards — the most since Dezmon Briscoe went for 1,337 in 2009.
KU senior receiver Shakiem Barbel brought in a career-high 42-yard reception at WVU. Barbel caught five passes for 60 yards.
Sophomore Kansas running back Taylor Martin contributed the first receiving TD of his career in the third quarter, on a throw from redshirt freshman QB Stanley.