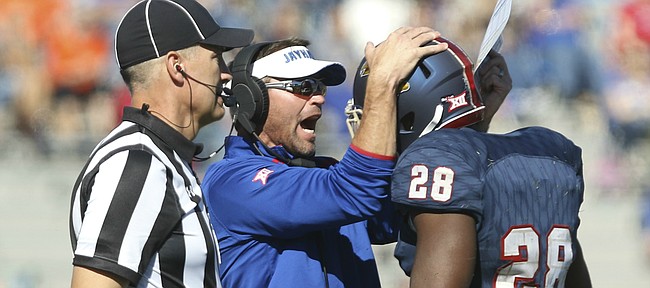 Even playing for an over-the-top positive head coach like David Beaty can only do so much before human nature kicks in. The Kansas football team's defensive players haven't experienced a victory since the first week of September, and coordinator Clint Bowen could sense members of his crew might not be giving themselves enough credit.
An assistant at KU in the early 2000's, when Mark Mangino gradually took the program to prominence, Bowen realized he needed to remind the Jayhawks they have a talented defense.
"Unfortunately, it's part of the process," Bowen explained. "It's hard to have confidence when things haven't gone good. I think our defensive kids are starting to see that we are pretty good. We're starting to do things and I think the confidence is building. And that's part of the process."
One of the first examples Bowen can utilize in such pep talks is KU's third-down defense. Eight games into the season, the Jayhawks (1-7 overall, 0-5 Big 12) lead the conference in third-down stops. KU's opponents have only converted 41 of 116 opportunities (35.3 percent) — good enough for 39th nationally. What's more, Kansas isn't just feasting on non-conference stats to lead the league. KU also ranks No. 1 in Big 12 play, with opponents converting 25 of 65 third downs (38.5 percent).
Sophomore defensive end Dorance Armstrong Jr. said Bowen first brought up the third-down stats to the defense in the past couple of weeks.
"It's a good thing to see, because it shows that we are making progress," Armstrong said, noting KU struggled in that and most other categories a season ago, "and we're not as bad as the final scores look like on the scoreboard."
Even in a 56-3 blowout on Saturday, Oklahoma converted only five of 12 third downs versus Kansas. The Sooners have a 53.1-percent success rate on third downs in conference play.
The Jayhawks, who travel this week to No. 14 West Virginia (6-1, 3-1), rank last in the 10-team conference in points allowed in league play (45.6). Bowen, though, while channeling his inner sports psychologist, tells his players some of the most important questions to ask themselves are: Can you get off the field on third down and can you get off the field in the red zone?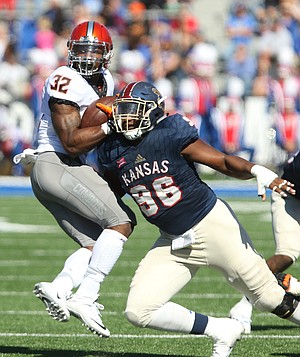 In Big 12 games, Kansas ranks fourth in red-zone defense, with opponents scoring on 25 of 30 visits (83.3 percent). KU's foes have scored 21 touchdowns and gone 4-for-7 on field goals.
Bowen said the KU staff has placed a lot of emphasis on third-down stops, and the results have pleased them. The defensive coordinator added a number of factors led to KU's drastic improvement in that category from a year ago, when the Jayhawks ranked 118th out of 127 FBS teams in third-down defense with four games left in 2015.
"I think in the secondary you have some guys, outside of (true freshman safety) Mike Lee, that are veteran players, who understand the coverages more, understand the situations that are going on more," Bowen said. "And third down's usually a tendency down. So they're understanding the game plan more, 'Third down they like to do this.'
"Obviously having Dorance Armstrong (8.0 sacks) up front rushing the quarterback and those guys, (senior defensive end Cameron) Rosser, and the things we've been able to do up front to put pressure on the QB and make the ball come out on time has helped. But, in general, that third down is really a group effort, from the front getting pressure on them to the secondary covering guys and working together."
Sophomore defensive tackle Daniel Wise said the players have learned to take some pride in their third-down stops.
"Whenever the defense gets out there, the main goal is to get (the opponent) off the field as quick as we can," Wise said, "to get the offense another opportunity to put some points on the board."
Beaty said KU's coaches have seen flashes of their Jayhawks making the types of plays it takes to win in the Big 12. And Bowen doesn't mind showcasing those steps in the right direction.
"We've got some great players on our defense, and it's time for them to finish games and play the way they're supposed to play," Bowen said. "Because they're here to be Big 12 football players. And us not finishing games, there's no excuses for it. We're good enough to do it. We've proved that we can do it. Now we've got to start finishing."