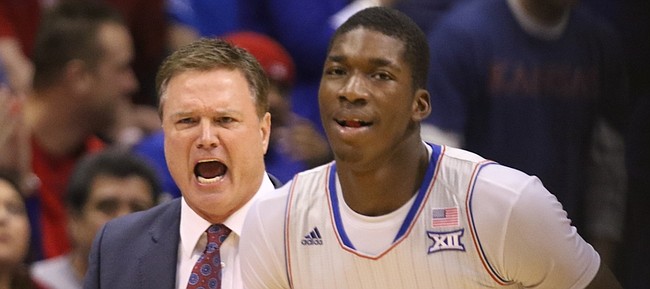 Kansas University freshman Cheick Diallo, whose 7-foot-41⁄2 wingspan measured second longest of all players at this week's NBA Combine, scored 18 points off 7-of-10 shooting with four blocks and four rebounds, in his first official scrimmage at the pre-draft extravaganza in Chicago.
"League execs I've spoken to Thursday said he'll go in the 20s (of first round of June 23 Draft)," wrote Comcast SportsNet's A. Sherrod Blakely, who covers the Boston Celtics.
For sure, Diallo, who stretched to 6-foot-9 in shoes, 218.6 pounds (6-71⁄2 without shoes) dazzled at the Combine on Thursday.
"Cheick Diallo is going to be signing a lot of checks and he's not going back to KU," ESPN's Jay Williams said in an ESPN.com video after viewing Thursday's scrimmage. KU coach Bill Self has told the Journal-World several times he does not expect Diallo to return for a sophomore campaign. Diallo, who has a mentor in Tidiane Drame, has not yet hired an agent thus technically is eligible to return to college.
"People can question his frame. Is he going to be offensively gifted enough to give you points down low on the block, but he showed a bit of versatility today. He knocked down his midrange jump shots. Playing with energy is a skill set in today's league," Williams added. "He gives you energy every single play. If he keeps playing like this he potentially could be drafted in the lottery."
Diallo, by the way, told Zagsblog.com's Adam Zagoria on Thursday, "probably yes I'm going to the draft."
"He's not going back (to KU)," reiterated ESPN's Fran Fraschilla at ESPN.com. "We were at KU last week (for fantasy camp). I don't think there's any indication there he'd go back." Of Diallo's play Thursday, Fraschilla said: "There is a lot to like because of the athleticism. There's a lot to work with there. We're talking a raw big man. He will probably spend some time in the D-League and will need to improve."
Diallo reportedly met with representatives of nine NBA teams on Thursday. Zagsblog.com said he'll interview with Boston, New York, Toronto and Utah today.
"I went to Kansas because I love it," Diallo told Zagsblog Thursday. Diallo added to reporter Zagoria he "had no regrets" and the NCAA stuff (delay in clearing him until after season started) "set him back."
Wiggins/McLemore camp information: Former KU players Ben McLemore and Andrew Wiggins will hold a "Kansas All Star Basketball Camp on July 13-15 at Sports Pavilion Lawrence at Rock Chalk Park. KU's current players will serve as camp counselors. The camp is for youths ages 6 and up. For information go to the Web address http://ljw.bz/1X5L8hq
More numbers: The highest disparity in size to wingspan ratio of the 63 players at the Combine came via Diallo, who measured 6-71⁄2 without shoes with a 7-41⁄2 wingspan. That's nine inches. Diallo also has an 8-111⁄2 standing reach, 8.5 inch hand length and 9.75 inch hand width.
KU senior Perry Ellis, who was listed 6-8, 225 at KU, is now officially 6-81⁄4 with shoes and 6-7 without shoes, 217.8 pounds with 4.6 percent body fat. His standing reach is 8 feet 6 inches, while his wingspan is 6-101⁄4. Ellis' hand length is eight inches and hand width is 8.5 inches.
Wayne Selden, Jr., who was listed 6-5, 230 his junior year at KU, is now officially 6-53⁄4 with shoes and 6-41⁄2 without shoes and 232.4 pounds with 7.3 percent body fat. Selden has a 6-101⁄2 wingspan and standing reach of 8-5. His hand length is nine inches and hand width 9.25 inches.
Thornton update: Former Duke point guard Derryck Thornton will visit Miami on Sunday, then decide between Miami, KU, USC and Washington, Thornton's dad, Derryck, Sr., tells Scout.com.
"He wants to take his time and make sure everything fits and it's a win-win for both sides," Thornton, Sr., tells Scout. Of KU, Thornton, Sr. said: "It's the mecca of basketball. Legendary coach, legendary program, from Phog Allen all the way down to Bill Self. Tons of players in the NBA, up-tempo style, pick and roll, open basketball. Campus was absolutely beautiful. It's a big school with 30,000 people. The gym and housing were the best I've ever seen. It's a top notch program and the fan base is absolutely ridiculous."