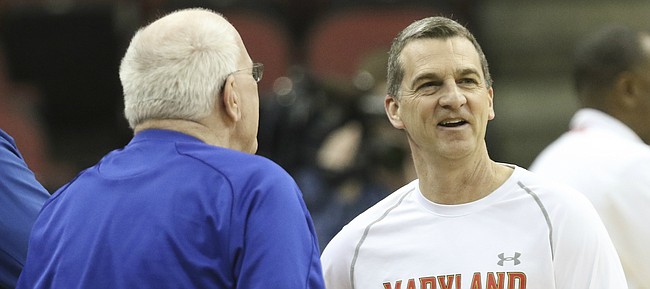 Louisville, Ky. — Wisdom often is passed down from elders to youngsters, experienced veterans to wide-eyed rookies.
And Kansas University basketball coach Bill Self and Maryland coach Mark Turgeon — whose teams will face off at KFC Yum! Center tonight in the Sweet 16 — both had the opportunity to tap into this concept early in their coaching careers while working under the legendary Larry Brown.
Turgeon, a Topeka native who also played for Brown at Kansas from 1983-87, worked for the former Kansas head coach for two seasons after graduation. And Self, who played at Oklahoma State from 1982-85, started his career as a graduate assistant on Brown's KU staff and wore a suit and tie during one of Turgeon's final seasons in a Kansas uniform.
As time has gone by, both have ascended to the top of their profession, along with other Brown disciples such as John Calipari, Gregg Popovich, Kevin Ollie and others. And Self said Wednesday that the opportunity to see basketball through Brown's eyes did wonders for his development and that of other young coaches like him.
"The fact that you can be around a guy like him early in your career, he can influence you the rest of your life," Self said of Brown. "You can learn 70 percent of what you're going to learn in that first year or two just because you don't know anything, and he's a wealth of knowledge."
Self added that Brown always was willing to share that knowledge with anyone who would listen. He and Turgeon often were at the front of the line for these impromptu tutoring sessions, and both continue to incorporate the things they learned from Brown into their coaching styles today.
"He didn't hide it from us," Self said. "He shared it. I guarantee Turg still does the same drills he did with coach back in the day. And I don't know if there's more of a sign of respect that a coach could give another coach than actually believing in things that he learned 30 years ago."
Heck, Turgeon, whose Terrapins (27-8) advanced to today's South Regional semifinal with a win over Hawaii on Sunday, even used an old, "really bad" Brown joke during a timeout in that victory. Which one? That he wouldn't divulge. But he said he shared a laugh about it with Brown afterward.
Turgeon, now 51 and 0-6 all-time against his alma mater, remembers his days as a standout at Topeka's Hayden High like yesterday.
"Time goes fast," he said. "I grew up with (former KU broadcaster) Max Falkenstien. Max taught me a few curse words I never knew before."
He also easily and humbly recalls how he ended up at Kansas.
"I was down on my knees begging coach Brown to take me," he said. "That's what it came down to. I got very lucky. There was a coaching change. The coach happened to be 5-11 like me. And thank God they had 15 scholarships back then."
Turgeon continued: "And it was a one-year deal. It's like, 'Hey, you got one shot. If (it) doesn't work out, you won't be here next year.' So it worked out. It just changed my life, obviously, for the better."
Maryland's players said their fifth-year head coach does not bring up Kansas or his time with the Jayhawks often. But they are aware of Turgeon's ties to KU, and a few said the topic comes up a couple of times a year.
"The main thing he told us about was his Final Four experience," sophomore Jared Nickens said of KU's 1986 season that ended in the national semifinals. "He was just trying to stress to us how fun it is to be in a moment like this."
Added junior forward Damonte Dodd: "Someone just showed me a video of him playing, and it was actually hilarious. Everything he talks about as a coach that he wants us to do, especially defensively, that's what he was doing."
This week, of course, the focus has been more on the present than the past. And though Turgeon admitted earlier in the week that he would rather not face his alma mater in this tournament, he said playing the Jayhawks has become much easier to stomach than it was back in 2008, when he faced the Jayhawks for the first time during his initial season at Texas A&M.;
"The Kansas thing is not that weird to me anymore," he said. "It was a little bit that way the first time we played, but you get used to it. ... I'd rather play them in a national championship game than a Sweet 16 game, but here we are, so we'll play it."
---
---
---
---
---