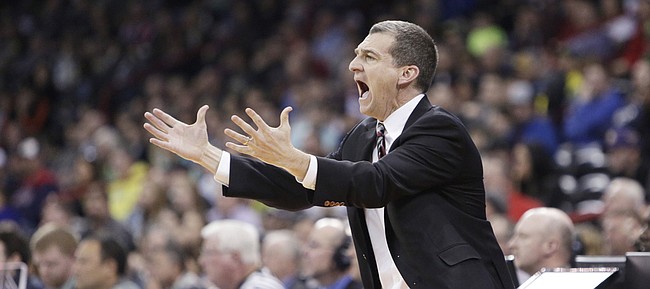 Kansas University's opponent in the 2016 NCAA Tournament Sweet 16 is not Cinderella Hawaii, instead powerful Maryland, a 27-8 Big Ten team that slugged the Rainbow Warriors, 73-60, in a second-round South Regional contest on Sunday in Spokane, Wash.
The Terrapins, who were ranked as high as No. 2 in the AP rankings before dipping to 18 in the final poll, are coached by Topeka native Mark Turgeon, who played for KU from 1983 to '87 and worked on the staffs of both Larry Brown and Roy Williams.
"I hate we have to play Kansas. I'm just glad we're there," Turgeon said after Sunday's victory. "They're the best team in the country. We've got to get a quick turnaround. We play Thursday night, but we're just excited to be in the game."
Tipoff for the game will be approximately 8:40 p.m. Thursday in KFC Yum! Center in downtown Louisville. Winner advances to Saturday's Elite Eight against Villanova or Miami.
"Maryland is without question one of the most talented teams in the country. They are very strong on the perimeter and play through both bigs," KU coach Bill Self said Sunday.
Maryland boasts starters Diamond Stone (6-foot-11, 255-pound freshman), Damonte Dodd (6-11, 250, junior) and Robert Carter (6-9, 235, junior) with 6-9, 220 senior Jake Layman, a factor off the bench.
Stone scored 14 points, Dodd had five blocks, Carter nine rebounds and seven points and Layman 10 points and six boards against Hawaii on Sunday.
"They have been ranked nationally in the top-10 for the majority of the season. We know how talented they are, and certainly it will be a great test," Self added.
As far as going against a familiar face in Turgeon, Self said: "Our fans will be very familiar with their coach because Mark (Turgeon) was one of the beloved Jayhawks during his time in Lawrence. I was a graduate-assistant coach at Kansas when 'Turg' was a junior. He has had a great coaching career and has really got that Maryland program on a very solid foundation."
Tough terps: KU sophomore guard Devonté Graham sees Maryland as a tough foe.
"I mean, I know they are a good team. They've got good bigs, (and) you've got to guard Melo," Graham added of 6-3 sophomore point Melo Trimble, who exploded for 24 points, eight rebounds and three assists against the Rainbow Warriors.
"Their guards, Rasheed (Sulaimon, 14 points) and those guys can shoot the ball well. They're really big," Graham added, repeating a theme.
Maryland, which opened the season 15-1 and 22-3, lost four of its last six regular-season games before beating Nebraska and losing to Michigan State in the Big Ten postseason tourney. The No. 5-seed Terps beat South Dakota State, 79-74, in the first-round of the NCAAs before slugging Hawaii by 13.
"We've got faith in our scouting report. We'll listen to it, practice hard and be ready," KU senior Jamari Traylor said.
'It's a good feeling': Maryland's Rasheed Sulaimon asked if the Terps would celebrate its trip to the Sweet 16.
"Coach is probably going to take our phones and probably start focusing on Kansas," he said, adding, "so we're definitely going to celebrate, probably play video games. I'll probably beat Melo in FIFA (EA Sports) and talk trash. It's a good feeling, and it's definitely going to be an enjoyable night. But at the same time, we still have business to take care of, and we got a tough team coming up. So we're not going to get too crazy."
Trimble added: "I don't know about the FIFA part, but everything else he said was pretty on point. We're going to enjoy this win tonight and can't really do too much. We got a flight tomorrow morning. We're going to refocus and get ready for Kansas.
Turgeon on ups, downs: "It's such a long season. I think we got to 22-3 and we hit a lull where we weren't very good. We lost a couple games we probably shouldn't have lost. And then our schedule got tough. It was hard to get our confidence back. But I thought we gained momentum in the Big Ten tournament. Played pretty well there. We played well here (Washington) defensively. At times we were really, really good offensively, sharing the ball. So we feel good about ourselves. We really do. Are we playing our best basketball? We're getting closer to that. But the key is that we're very confident and we know how we have to play now to be successful and the guys have bought into that and especially in tournament play to be successful.
"So, I got really great kids and if you get to this point you usually do. You have great kids that are good players. And we never stop believing that we could be a good basketball team and we practiced hard every day and we have had fun. We try to have fun. So, I'm really happy for these guys, because this is a big step. I know it's not the Final Four yet or National Championship, but to be a part of the Sweet 16 is a big step for us. For what we have went through late in the season, it's, I'm happy for the players."