Des Moines, Iowa — Like most young ballplayers, Austin Peay senior Chris Horton's basketball beginning was built around scoring.
Horton, whose 16th-seeded Governors (18-17) will take on top-seeded Kansas University (30-4) in the first round of the NCAA Tournament approximately 3 p.m. today at Wells Fargo Arena, wanted to shoot, score and have the ball in his hands so he could make plays and create highlights like Kobe Bryant or Kevin Garnett.
But a tip from his father, Eddie, who played at Austin Peay in the mid-1970s, changed all that. And it may have been the best advice he ever received.
Photo Gallery
Kansas and Austin Peay practices and press conferences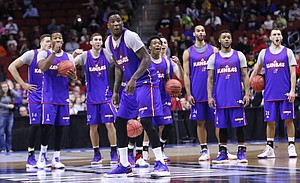 The Jayhawks and Governors practice on Wednesday at Wells Fargo Arena before meeting Thursday in their opening round of the NCAA tournament.
"I used to get mad when I didn't get the ball," Horton said from the Austin Peay locker room on Wednesday. "And my dad was like, 'If you don't get the ball, just go get the offensive rebound.'"
Since that day, Horton has been doing a lot of that. The 6-foot-9, 220-pound forward who scoops up nearly five offensive rebounds per game enters the tournament as the fifth-leading rebounder in Div. I basketball (12 rebounds per game) and has fallen head over heels in love with one of the most overlooked arts of the game.
He lists current NBA stars Garnett, Tim Duncan, Andre Drummond, DeMarcus Cousins, DeAndre Jordan and Dwight Howard as some of his favorites to watch and even has made it a point to watch old footage of some of the NBA's all-time great rebounders.
"Dennis Rodman was a way before my time," Horton said. "But I have watched a lot of 'Hardwood Classics' on him. ... I love glass eaters. That's just a special talent, jumping over people, grabbing rebounds. And it's toughness, too. It's not just skills. It's about, if you really want it, you're gonna go get it."
Horton led the Govs in rebounding in all but three games this season and recorded double-digit boards a whopping 25 times. In half of the 10 games he failed to reach double figures, the Decatur, Ga., native missed the mark by a rebound.
Horton is far from one-dimensional. And his ability as a rebounder and scorer played a monster role in Austin Peay winning four games in four nights in the Ohio Valley tournament and getting to this point. Horton's 18.9 points-per-game average ranked 53rd nationally. But asked where his eyes traveled after games when he first was handed a stat sheet, the man who earlier this season became just the 13th player in NCAA history to top 1,500 points, 1,000 rebounds and 300 blocks for a career, did not hesitate to answer.
"Rebounding," he said. "Everybody can put the ball through, but getting a rebound is getting another stop."
His success on the glass has hardly came as a surprise to his teammates, some of whom have resorted to calling themselves Horton's "supporting cast."
"We'll be in practice working on rebounding," Austin Peay junior John Murry said. "And he just goes and gets everything, like each one means the world."
Podcast episode
Kansas basketball coach Bill Self goes through an afternoon press conference at Wells Fargo Arena, in Des Moines, the day before the Jayhawks open the NCAA Tournament against Austin Peay. Self says KU has been playing loose and with confidence for some time now, heading into the most pressure-packed time ...
Podcast episode
Kansas Jayhawks Frank Mason III and Landen Lucas answer questions from the media at Wells Fargo Arena, in Des Moines, the day before the Jayhawks — the No. 1 overall seed in the NCAA Tournament — face Austin Peay.
To Horton, each one kind of does. Not only is his college career winding down — win or lose against Kansas, the end is nearing — but Horton also has developed a true passion for ripping the ball out of mid-air and keeping it out of the hands of his opponents.
"I can't really describe it," he said. "(I want) every rebound, and I'm gonna go get it. I'm gonna find a way to get to the ball. If I can't get it, I'm gonna be near it. I'm gonna touch it."
As the only four-year player on Austin Peay's current roster, today's game means the most to Horton. It's not that his teammates aren't just as thrilled to be here, and they definitely want to win just as badly as he does. But none of them has put in the time and given as much to the university as Horton. What's more, none of them has a father who did the same thing.
So when Kansas and Austin Peay tip it off today, with history — and just about everything else — overwhelmingly on the side of the Jayhawks, Horton is going to make sure he takes seriously the opportunity to do what so many of his past teammates did not get the opportunity to do — take full advantage of playing in the NCAA Tournament and treat every moment like he's going after a loose ball on the glass.
"Anybody can do my job," Horton said. "But it just happens to be me right now, and it's my time. I'm just happy I've got such a good group of guys around me supporting me."
---
---
---
---
---