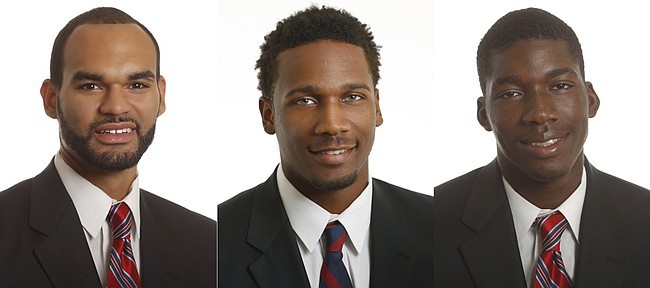 Perry Ellis, who heard jokes about his age from opposing fans during his just-completed senior season at Kansas University, never was subjected to similar one-liners from his teammates.
"No. Nobody talked to Perry like that. Everybody respected Perry too much. Perry's the man. Nobody would dare," former KU guard Wayne Selden Jr. told NBA.com after an individual workout with the Charlotte Hornets.
Podcast episode
Spodcasters Matt Tait and Benton Smith size up this year's NBA Draft — 6:30 p.m. Thursday night — and examine the chances for the four Jayhawks (Cheick Diallo, Perry Ellis, Brannen Greene & Wayne Selden) eligible for selection. How many will be drafted? Where will they go? What kinds of ...
Ellis, who played four seasons of college basketball, and Selden, who played three, enter tonight's NBA Draft (6 p.m., ESPN) viewed as possible, yet not certain, second-round selections.
The 6-foot-8 Ellis, considered by some a man without a position in the NBA, also, believe it or not, faces questions about his age. He turns 23 in September, the same month the 6-6 Selden turns 22 and likely first-round pick Cheick Diallo turns 20. KU's other possible draft pick, Brannen Greene, turns 22 in December.
As of Wednesday, Ellis' name appeared in just one of the popular mock drafts, as NBAdraftnet had Memphis selecting the Wichita native No. 27 in Round Two.
Will Ellis be drafted?
"I hope so," one prominent NBA official told the Journal-World Wednesday. "He can play, and he's a good person."
Ellis worked out for 11 NBA teams — Philadelphia, Milwaukee, Atlanta, San Antonio, Phoenix, New Orleans, Toronto, Boston, New York and Los Angeles for both the Clippers and Lakers.
Selden — he worked out for Milwaukee, Chicago, Boston, Philadelphia, San Antonio, Houston, the Los Angeles Lakers, New York, New Orleans and Charlotte among others — has fared a bit better in the mock drafts. Draftexpress.com has him as the 20th pick of Round Two to Indiana. NBAdraft.net has him the 26th pick of Round Two to Denver.
"It is not too big a deal," Selden responded to Draftexpress.com, asked how important it is to be selected early in the draft. "I will take the opportunity, whatever opportunity I'm given and I'm going to roll with it. I just want a foot in the door. I know what I can do. I know what I'm capable of.
"I feel I'm becoming an even better shooter, becoming a better ballhandler, being able to play multiple positions on the court. I feel I can go at the 2, 3 now. I feel with improved ballhandling a little more I can play the 1 at times as well."
The 6-foot-9 Diallo appears to be a solid first-round selection. Chad Ford's ESPN mock draft Wednesday had Diallo going No. 23 overall to Boston. Draftexpress.com also has Diallo at No. 23, while the Washington Post has him at No. 15 to Denver. There's just one ominous projection. CBSsports.com has Diallo as the 29th overall pick to San Antonio. There are just 30 picks in the first round, which guarantees contracts for all selected.
"Diallo didn't really do much at Kansas last season, but that won't stop a team like the Celtics from grabbing him — especially after his strong play at the NBA combine," ESPN's Ford writes. "He is tough and athletic, and he might have the best motor in the draft. He's raw. But had he stayed in school another season, he probably would have been a lottery pick next year. That makes him good value here and potentially a starter on the Maine Red Claws (D-League)."
None of the mock drafts list Greene, who has worked out for a batch of teams including Utah, Sacramento and Detroit. Jazz vice president of player personnel Walt Perrin told the Deseret News Greene has "an NBA skill," referring to his long-range shooting.
Greene, by the way, who had declined a J-W request to discuss his climbing out of a burning Uber car from the back seat and saving the driver, addressed the situation with the Utah media.
"We went flying, hit the bridge, hit the pillars, the car caught on fire," Greene told the Deseret News. "(Then) a semi hit us and that's when it caught on fire. It was scary, man. But I'm just glad I'm through it."
The 6-7 Greene said: "I had to kick the door and then I helped the driver get out. He was a little shook up. It was definitely (like) a movie, for sure.
"I took off running a little bit more. I looked back and the car was just, 'Boom! Boom!'" Greene added. "All the cars just started pulling off the side. People were yelling. It was crazy. It did blow up. It did explode."
Greene didn't have a great workout with the Jazz. He tried to play through a stomach virus, one not helped by the elevation of Salt Lake City.
The Salt Lake Tribune writes: "He had to pause his workout multiple times. He had to stop in the middle of the Jazz 100 shooting drill, and when he returned he didn't shoot the ball well. Despite this, the Jazz front office seemed understanding of Greene's plight. They seemed impressed that he gutted it out, instead of stopping all together."
VP of player personnel Perrin told the Tribune: "He really struggled today, but a large part of that was the stomach virus. We have enough film on him from this season. It wasn't the most perfect workout for him and for us. But we've seen a lot of him."
KU has two other players eligible for tonight's draft, Hunter Mickelson and Jamari Traylor, who likely will play pro ball overseas.
Praise for Kaun: Cleveland Cavs phenom LeBron James spoke to Cavs center Sasha Kaun during Wednesday's NBA championship pep rally in Cleveland. Kaun did not play during the Finals.
"Sasha … a good friend of mine texted me the other day by the name of Mario Chalmers," James said. "He said, 'You know you can't win a championship without a Jayhawk representing.' I said, 'You are kind of right. I won two in Miami with you and I do another one here with Sasha being an ex-Jayhawk at Kansas.' Sasha, everything you did this year that no one's seen, working out with the team every single day. You were committed to the team every single day.'"