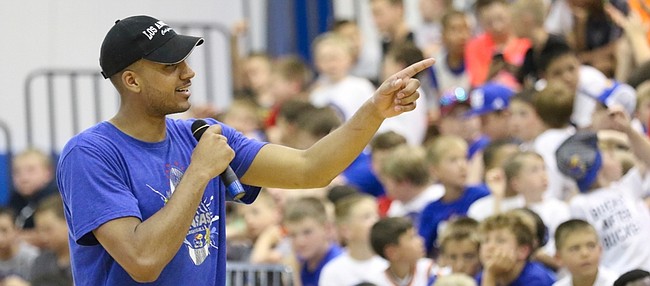 Mario Little, a 28-year-old success story from the mean streets of Chicago's Far South Side, bleeds emotionally for his city — one infested with violence to the tune of six deaths and 58 others wounded in shootings over Memorial Day weekend.
"I pray for them. Anything I can do … I can't really do much but talk to kids," said former Kansas University basketball guard/forward Little, who is in Lawrence following his successful season in South Korea, where he averaged 16.8 points a game off 52.7 percent shooting (35.8 from three, 80.5 from the line) as well as 4.8 rebounds for Anyang KGC.
"I have people my age that I grew up with teaching, trying to get me to come back and speak to the kids. You've got to change the kids' mindset," the 6-foot-6 Little added. "The mindset is nowhere near where it should be. It's tough, man," Little added of his Roseland neighborhood, one of the city's hot spots for shootings.
The 2011 KU graduate would like to spread the message that it's possible to make something of oneself, even if one is born in a dangerous neighborhood.
"They (teens) don't really know what else to do. It's gangs or nothing," Little said. "They're tearing down schools and stuff. There's not a lot of opportunities. There were opportunities for me, camps and stuff like that I fell in love with that changed my mindset as far as the streets and stuff."
Little actually might make the bold step of making Chicago his offseason home.
"I was looking at an apartment there," he said. "I may stay out here. It's a little cheaper, and I'm only here three months (during offseason)."
Since leaving KU, Little has played in the NBA Developmental League for Tulsa and Oklahoma City and also toiled in Ukraine and Spain.
"If I'm not Michael Jordan, it's not where I thought it (career) would be when I was a little kid. It's life. You've got to bounce back and continue," Little said. "I was popular over there (team is based 20 miles south of Seoul). My team did well (34-28 record and spot in Korean League semifinals). They want me to come back. It may not be ideal, but, I mean, it's good somebody wants you to come back. It paid really, really good money," Little added. "That aspect is OK. As far as being close to the NBA or playing in the NBA, it's not the same. That will never be the same."
Little said there are obvious differences between being a college basketball player and pro. He was the only starter from the U.S. on his squad.
"You go from Kansas, where everybody, from the first guy to the last guy, is being treated like an NBA guy or like a god," he said. "It changes. Unless you go on a platform and do more amazing things (in pros), things probably are going to not be the same. It's a fast life out there. You come back here and you get to chill. You get to relive the innocent part of basketball. It's always good to come back here, get to see coach (Bill Self), relive some of the moments."
He's looking forward to playing some pick-up basketball with members of KU's current team and also play in Self's campers game Wednesday.
"I'm a little out of shape. Don't critique me too bad," Little said with a smile.
Jerseys: KU announced jersey numbers for the newcomers on Monday. Josh Jackson will wear No. 11 (senior guard Tyler Self switches from 11 to 20); Udoka Azubuike No. 35 (first No. 35 since Jerod Haase in 1997); Evan Maxwell No. 55; and Mitch Lightfoot No. 44. Jackson, by the way, reported to campus for summer school on Monday.
NBA workout: Former KU forwards Perry Ellis and Hunter Mickelson worked out for the Boston Celtics on Monday in advance of the June 23 NBA Draft.
Simien tutors Lucas: KU senior forward Landen Lucas had his first summer workout with former KU All America forward Wayne Simien on Monday morning.
"I was able to pick his brain about different moves and countermoves," Lucas said. "It really puts your mind at ease when you are out there, instead of you over-thinking things to do if you are repetitively working on different things. He has so many tips and tricks if I can scratch the surface of what he was able to do offensively, it can really help my game," added Lucas, who was guest speaker Monday at Bill Self's camp for youths.