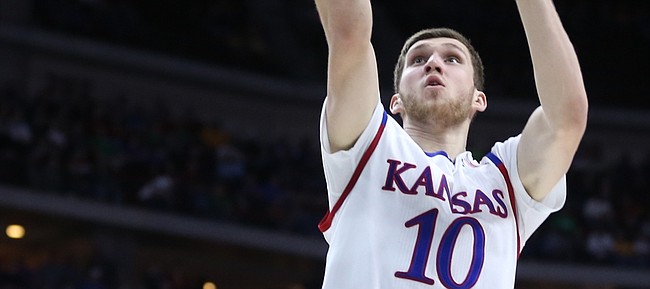 Kansas University junior guard Sviatoslav Mykhailiuk scored 12 points off 5-of-21 shooting in Ukraine's 64-52 loss to Germany on Friday in the quarterfinals of the Under 20 FIBA European Championships in Finland.
The 6-foot-8 Mykhailiuk hit two of 12 threes with four steals, four rebounds, four turnovers and one assist in 36 minutes.
Ukraine will meet Latvia in a consolation-bracket game today.
Vanderbilt slices list a bit: Jarred Vanderbilt, a 6-8 senior power forward from Victory Prep in Houston who is ranked No. 13 in the recruiting class of 2017 by Rivals.com, on Friday cut his list of schools to nine: They are: KU, TCU, Kentucky, Houston, Texas, Arizona, Baylor, North Carolina and Oregon.
Ellis to meet, greet: Former KU forward Perry Ellis will hold a meet and greet with fans from noon to 1 p.m., July 30 at the Hy-Vee at 3504 Clinton Parkway. It is sponsored by Pepsi.
Duval plans early visits: Trevon Duval, a 6-2 senior point guard from Dallas Advanced Prep who is ranked No. 5 in the Class of 2017 by Rivals.com, will try to visit KU, Oregon, UCLA, Arizona and Cal in August, InsideMd.com reports. He's also considering Maryland, Villanova and others.
Dotson nets offer: Devon Dotson, a 6-1 junior point guard from Providence Day High School in Charlotte, N.C., who is ranked No. 49 in the Class of 2018 by Rivals.com, has received a scholarship offer from KU coach Bill Self, according to Zagsblog.com. He said he's considering KU, North Carolina, Wake Forest, North Carolina State, Florida, USC, Providence and others.
"I just heard that he (KU coach Bill Self) loved me," Dotson told SNY.tv. "He said he loves my competitiveness and my fire on the court. He said they're going to be on me hard, and they're going to keep in touch."