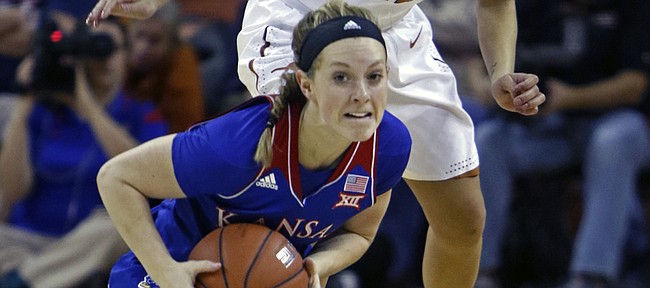 Austin, Texas — Imani Boyette had 16 points and 10 rebounds, and No. 6 Texas routed Kansas University, 70-46, in Big 12 women's basketball on Wednesday night for the 1,000th win in program history.
Boyette, who had her eighth double-double in nine Big 12 games, also had four blocks while playing just 21 minutes.
Brooke McCarty added 13 points as the Longhorns (19-1, 8-1) took command with a 23-0 push bridging the second and third quarters.
Lauren Aldridge scored 15 for Kansas (5-15, 0-9), which has lost 11 consecutive games. Caelynn Manning-Allen scored 14.
The Jayhawks made eight three-point baskets, including five by Aldridge, but scored only two points in the paint.
"I thought the difference was the first half and the 16 points they got off of our 16 turnovers," KU coach Brandon Schneider said. "We did a poor job taking adequate care of the basketball, but Texas can be disruptive. Obviously points are hard to come by for us in the paint with the size that they can present."
Kansas had 23 turnovers, which UT turned into 23 points.
KU had 12 turnovers in the first quarter alone.
"Our leader, our best player, had six (turnovers)," Schneider said of Aldridge. "I don't know if they were all in that quarter, but she stepped out of bounds a couple times. But I will commend her for coming back and being mentally tough enough to snap out of it and play really well in the second half."
The Longhorns finished the first half with a 19-0 push that gave them a 39-15 halftime lead. Kansas failed to score during the final 7:45 of the half.
Boyette had 10 points, six rebounds and three blocks in the half. McCarty made three three-pointers.
The Longhorns, with 1,000 wins, rank fifth all-time behind Tennessee, Louisiana Tech, James Madison and Old Dominion. Texas won 783 games under Hall of Fame coach Jody Conradt.
"This was a really fun night, a night we had been looking forward to," coach Karen Aston said. "As it got closer, you had the opportunity to talk a lot to former players and fans that were able to reflect back on 1,000 wins. So it was something I think our team was really looking forward to."