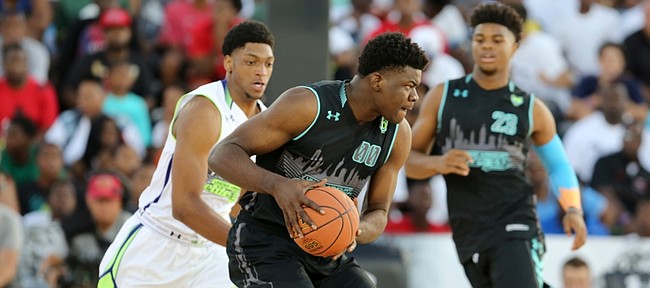 Future Kansas University basketball player Udoka Azubuike, who orally committed to KU over North Carolina and Florida State on Thursday on ESPNU, happens to be a 16-year-old true center from Nigeria — who, despite not yet starting a weight-lifting program — stands a stout 6-foot-11, 270 pounds.
The Jacksonville, Florida Potter's House Christian senior has been called, "massive" and "bruising," by Scott Phillips of nbcsports.com; a "huge get literally and figuratively" by Adam Zagoria of Zagsblog.com; and a guy "who attempts to punish the rim with slam dunks each and every chance he gets," by Eric Bossi of Rivals.com.
Podcast episode
Kansas basketball coach Bill Self meets with media members to discuss Saturday's home game against Kentucky, and how the Jayhawks will handle that matchup, in the midst of the brutal Big 12.
This rim-rattler, who recently was selected to play in the 2016 McDonald's All-America game, isn't afraid to rule down low, that is for sure.
"Pretty much," Azubuike told the Journal-World on Thursday night, asked if he has the most fun trying to rip the goal down on forceful slams. "It's just part of me. It's just what I do. That's just part of my game. I don't lift. It's just natural. It comes natural."
Azubuike — he averaged 17.2 points and 9.6 rebounds per game last season and averages 16.9 points and 9.7 rebounds his senior campaign — has been compared potential-wise to a pair of NBA Hall of Famers.
"He has a mindset of being dominant. He sets out to do it. For the most part, his power, I would compare it to Shaq (O'Neal)," said Azubuike's mentor/guardian, Harry Coxsome. "I know his finesse, he wants to be like Hakeem (Olajuwon). Once it's all said and done I think he'll have a mixture of both."
Azubuike, who is ranked No. 27 in the Recruiting Class of 2016 by Rivals.com, watches videos of true pivots.
"I like the center position. I do. That's what I've been trained to do. It's what I do," said Azubuike, also a fan of former KU center Joel Embiid of Cameroon, who is a second-year member of the Philadelphia 76ers.
"I talk to him sometimes. I talked to him this morning. He spoke to me about Kansas and all that," said Azubuike, who said he did a "background check on Kansas. I just had that good feeling I'm going to be productive in Kansas."
Azubuike won't be eligible age-wise for the NBA Draft for two years, so he'll have some time to develop at KU. He's only played the game four years (being discovered in the Basketball Without Borders program). He played soccer as a youth.
"I need to work on my hook shot, going to my left and right, pretty much work on running the floor," Azubuike said. "I feel very much inside of me I can go in and compete. I feel really confident in myself. I can go to Kansas and really be productive.
"It's been a rough journey," he added of traveling from Nigeria to a new land. "Coming over here ... the transition wasn't easy. Through the process I got to learn the game more. I can go for everything. I'm real thankful."
Dressed in black suit, white shirt and silver bow tie with fashionable thick black glasses, Azubuike on ESPNU's recruiting show placed a KU hat on his head as he declared for the Jayhawks.
"It is definitely a great day," Coxsome said. "It's definitely a weight off his shoulders. Finally he has a chance to get back to doing what he does best. That's play basketball. It's definitely a great day. It's been a tough decision. He built a relationship with coach Self and coach Williams (Roy, UNC). It came down to the wire honestly, to what he felt was best for him."
Asked what KU fans will like about Azubuike the most, Coxsome said: "He brings a lot of energy. He loves the spotlight. He doesn't shy away from it and he's going to work hard."
Azubuike believes he'll fit in well here. "The love for the game is there. I'm living my dreams," he said.
KU, which loses senior scholarship players Jamari Traylor, Perry Ellis and Hunter Mickelson, and likely additional players to the NBA Draft, has at least one scholarship left to give in recruiting. KU has signed No. 117-ranked Mitch Lightfoot, 6-8 from Gilbert (Arizona) Christian.