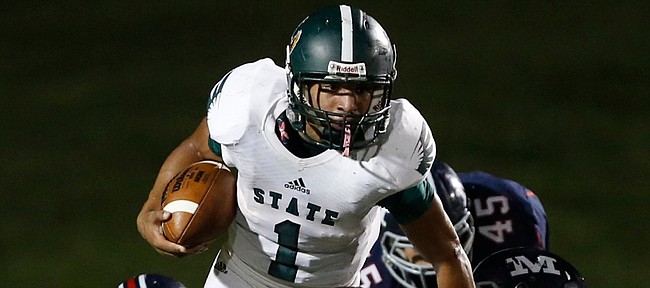 One week after learning that local prospect Amani Bledsoe, the top-ranked player in Kansas, was headed to Oklahoma instead of joining the Jayhawks, the Kansas University football program got a dose of good hometown news on Thursday night.
Free State High quarterback Bryce Torneden, who figures to play safety in college, announced on 1320 KLWN that he would join the KU program instead of heading to North Dakota State, where he committed earlier in 2015.
According to a couple of Free State High coaches, Torneden was offered a full scholarship and that, along with the opportunity to play close to home made all the difference.
"It's right in my back yard," Torneden said of KU. "Fargo (North Dakota) being nine hours away, that's a lot to put on my family and I want them to be able to see me play."
Like his older brother Camren before him, Torneden was one of the Sunflower League's most dynamic players during the past couple of seasons and a key component to the recent success enjoyed by the Firebirds.
Torneden combined for 2,452 yards of total offense at quarterback last season, running for 11 touchdowns and throwing for 12 touchdowns. At free safety, Torneden had 84 tackles and four interceptions, earning first-team all-state honors.
He said getting a chance to play in the Big 12 under another Lawrence native in KU defensive coordinator Clint Bowen was too appealing to pass up.
"Being a hometown kid, going to be a part of something special in your own town, I definitely want to be a part of that," he said. "I talked to coach Bowen a lot about safety, but I'm up for playing wherever they need me."
Torneden visited KU last weekend and attended the KU-UT basketball game, where he bumped into and was able to talk with current and former KU players, including returning safety Fish Smithson and Oakland Raiders linebacker Ben Heeney.
"We talked a lot about coach Bowen and the relationship that they share," Torneden said. "That was really cool."
The 5-foot-10, 185-pound athlete said the hardest part of the whole deal was telling the coaches at North Dakota State that he had changed his mind. To that end, he said he was glad the past couple of weeks were now behind him and added that he was counting down the days until freshmen report to campus in June.
With one scholarship still available in the 2016 recruiting class, the KU coaching staff will welcome in a handful of visitors this weekend for one final push before national signing day hits on Wednesday.