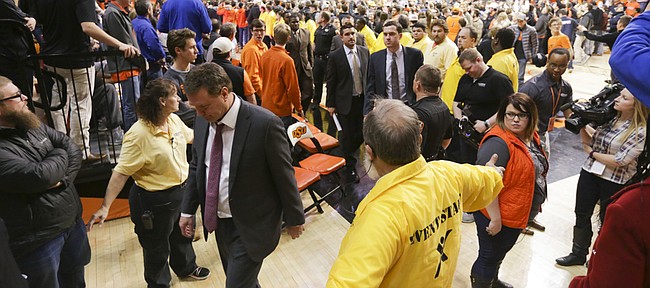 Bill Self, the coach of the country's No. 3-ranked college basketball team, is not ready to panic after two losses in the last three Big 12 games — both setbacks on the road.
"What we need to do is we need to have some good things happen," Self, Kansas University's 13th-year coach, said Wednesday on his "Hawk Talk" radio show. "But we need to remember who we are and we've got a darn good team and good players and certainly there's so much to play for.
"But sometimes one loss around this place (KU) seems like three or four or five at other places. That's not the way it is. It's too long a season to be totally worried about what potentially could happen. We are going through the same things that every team in the country is going through," Self added.
Self's Jayhawks (15-3, 4-2) have averaged 67.3 points a game in four games since opening Big 12 play with an 102-74 win over Baylor and 109-106, 3OT victory over Oklahoma.
"It's still early," said Self. Baylor at this juncture tops the league standings with a 5-1 record, followed by KU, Oklahoma, West Virginia and Texas at 4-2. Iowa State is 3-3, Texas Tech and OSU 2-4, K-State and TCU 1-5.
"We haven't helped ourselves at all by not taking care of business at a couple places (West Virginia, OSU). Those are hard games. There will be other people lose at those respective places. Still though it does give you the feeling there's less margin for error moving forward," Self said.
"We talked about this as a group today (in what he called a 'little visitation session') ... we shouldn't be talking about the league race. We should just be talking about getting better and being as good as this team can be. The No. 11 (league titles in row) and is it going to be 12? We talked openly that it's not a pressure thing intentionally. When a lot of questions are asked it makes you think and expectations are high. It's not going for 12. It's going for the first one with this group. They need to look at it that way."
Self addressed with his players the fact they've looked lethargic.
"I think your bodies can be fresh sometimes but sometimes you are stressed for whatever reason," Self said. "There could be different things going on with you to maybe create a situation where you do not quite feel as rested. I really feel the last 10 days or so we've looked like a team that was fatigued a little bit. That's not an excuse by any stretch. It's reality everybody goes through these things at different times during the season.
"We haven't screened. It seems like we are a quarter-step late which doesn't have anything to do with trying. It has more something to do with maybe our focus or our magic level that we are not quite getting to that we get to at different times," he added. "We are not a team that is going to win on talent alone. I don't care what anybody says. We don't have the so-called lottery picks. What we have is a bunch of really good players. We need to play with that energy to allow us to have the intangibles to win. Talent can win. Intangibles win championships. I'm not sure we've played with the same intangibles the last couple games."
He was asked about junior Wayne Selden, Jr., who scored seven points off 3-of-8 shooting at OSU.
"Wayne (Selden, Jr.) hasn't shot it as well. Shooting comes and goes. He probably hasn't impacted the game as much of late than what he was earlier," Self said. "We talked about that today a lot. He sees that. He has to rebound, do some different things that give our team a chance other than him just making shots. I look for him to be much more aggressive doing those things starting Saturday (1 p.m., game vs. Texas in Allen Fieldhouse).
"Whether it be Frank (Mason III), Devonté (Graham), Perry or Wayne, look at them individually and you can say they've all had really, really good years. Look at them individually the last 10 days we have not been quite as good. You don't go from being a really, really, really outstanding player to not-a-good-player in the span of a week. We've just happened to hit a rut for the most part where we collectively haven't done it as well as we were before, something we need to get out of and climb out of and I think we will. We have too good of players not to."
Of freshman forward Cheick Diallo, who had four points and two boards while playing 13 minutes in his first collegiate start Tuesday, Self said: "He was very nervous and understandably so. I think if he is put in that situation again he'll react a little bit more positively. He's such a good kid. We talked about it today. He came by the office. He was the first one at least that I saw today. It's always good to go over those things (that happened in game). He'll learn from that. I'm excited for the progress that he's made and even more excited for the progress I think he's getting ready to make."
Top prospect coming to town: KU recruiting target DeAndre Ayton and his Phoenix Hillcrest Academy squad will meet Sunrise Christian at 7 p.m., Saturday, at Free State High. Ayton, a 6-11, 225-pound junior, is ranked No. 4 in the recruiting Class of 2017 by Rivals.com. Ayton is originally from the Bahamas as is KU red-shirt forward Dwight Coleby. Ayton will attend the KU-Texas game Saturday on an unofficial recruiting visit. Also in the stands will be Josh Jackson, No. 1 player in the Class of 2016, who will be in town on an official recruiting trip. Jackson is a 6-7 senior guard from Prolific Prep in Napa, California.