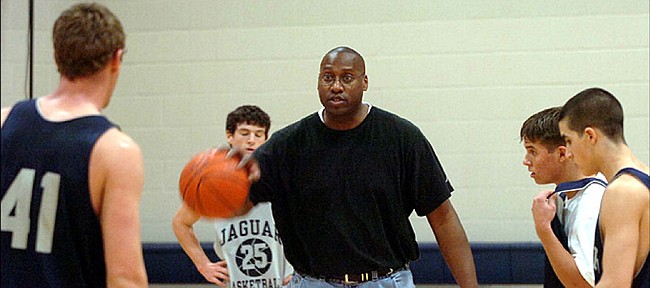 Former Kansas University basketball forward Alonzo Jamison, who works as a commercial account manager for Ricoh Americas Corporation in Topeka and lives in nearby Tecumseh, did not attend Monday's epic triple-overtime victory over Oklahoma in Allen Fieldhouse.
The 8:10 p.m. start conflicted with Jamison's nightly, eight-hour dialysis treatment, which cleanses his blood and removes all toxins from his 6-foot-6, 230-pound body.
"It's probably the most electric I've seen that place," Jamison, a starter on KU's 1991 NCAA runner-up team, said of the fieldhouse, "and I watched at home on TV."
Jamison — he was diagnosed as borderline diabetic his freshman year at KU in 1988-89 but was able to manage the condition until March of 2015, when his kidneys stopped functioning as a result of End Stage Renal Disease — hooked himself up to his peritoneal dialysis machine at halftime of Monday's 109-106 thriller.
Normally he sleeps through the night while receiving his lifesaving treatments, but this evening he was glued to the KU game until the finish.
"Let's just say the right team won that game," Jamison said with a laugh, heaping praise on the No. 1-ranked Jayhawks. "I see a lot of my last years at KU in this team. They (players, coaches) are enjoying themselves, which is always a good thing. It sounds like a cliche, but if you enjoy what you are doing, enjoy going to practice, playing games and enjoy the people around you, that is a big deal," Jamison, head coach of Bethel College from 2011 to '14, added.
Jamison, who enjoys his full-time job in which he represents a company that sells software, computers, copiers and the like, cannot even consider a return to coaching basketball until he gets his current medical situation resolved.
Alonzo needs a healthy, functioning kidney.
Thus, he added his name to the national kidney-transplant list in April, with his turn expected to come up in perhaps 21⁄2 to three years.
With time of the essence, he's exploring other ways to land a kidney.
"My faith is telling me I will receive one in the next year or year and a half," Jamison said. "I think I'll get one finding the right person, and everything will line up. My faith will get me through this. Everything happens in God's own time, not in my time. I'm just waiting."
Anybody who happens to have Jamison's O-negative blood type (O-positive can also be used), could possibly be eligible to donate a kidney to Jamison. Since he explained his medical situation to friends and family on his Facebook page on Dec. 30, several folks have inquired.
"I've had five to six people say they have the right blood type. It's a matter of taking the next step," Jamison said. "First you have to have the right blood type. Once that happens, we take the next step of making sure it's something you want to do. Then if that's what you want to do, I get you in contact with the KU Med Center (for testing).
"That is the whole thing, go through the process. That would take two months — to go through cardiac procedures and things of that nature to make sure a person is healthy enough to give a kidney. You don't want to get a kidney and have that person have issues. The biggest thing is the person will be healthy enough with one kidney," Jamison explained.
Jamison is appreciative of the individuals who have stepped forward so far.
"You have to be touched by that. It makes you not only thankful but makes you think about the lives that you touch," Jamison said.
His wife, Colleen, an attorney in Topeka, is not a match for Alonzo's blood type. However, she is undergoing testing to see if she can donate a kidney as part of a "paired donation" in which another couple's kidney works for Alonzo, and his wife's kidney works for that couple.
As this all plays out, former KU forward Calvin Thompson is planning fundraisers (silent auctions) for Jamison in Topeka and Overland Park in coming weeks. For information, check the Facebook pages of Jamison or Thompson. Or one can contact Jamison at the e-mail address alonzo.jamison@gmail.com.
"The thing is, right now I feel 10 times better than I used to feel (before starting dialysis)," said Jamison, who is able to put in a full, five-day work week. However ... "one thing I think about, my wife and I used to take trips all the time. I can't do it anymore. I just can't. I can't travel with my machine. It's big enough where it's too cumbersome moving it around left and right. If it's a day trip, I'm all over that," he added.
A day trip like an afternoon KU basketball game.
"It's really exciting," he said of the college season. "Think about it. The scary part is it (thrilling win over OU) was only the second game of conference."
The man who played in a batch of huge games for KU and is still recognized when he does attend games stated, "I am more excited about that piece of paper I have, the diploma. That can get me a little farther than going to the Final Four or the national championship game. I think about those days fondly," Jamison added of his Jayhawk years.