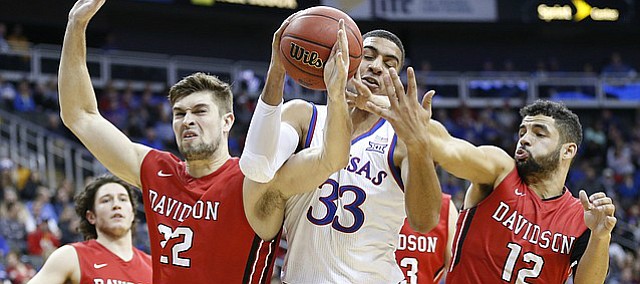 Whether you're talking about the return of sophomore Carlton Bragg Jr., the resurgence of senior Landen Lucas, the continued development of 7-foot center Udoka Azubuike or the spot minutes suddenly being given to freshman Mitch Lightfoot, the prognosis for KU's forward position is looking up these days.
That's not a surprise to Kansas junior Devonte' Graham.
"We just stay encouraging them, during film, during practice, all types of things like that," said Graham of the KU big men following last weekend's 89-71 victory over Davidson. "I had no doubt that they were gonna come around and play like they've been playing."
With KU coach Bill Self electing to roll with his four-guard lineup most of the time during the first 11 games of the 2016-17 season, there has been less need for the Jayhawks (10-1) to have two true big men on the floor at one time.
During the season's first few weeks, when foul trouble and frustration severely impacted the production of KU's tallest players, the smaller, faster four-guard look proved to be more than enough for Kansas to get by on defense and perform at its highest level on offense.
But now, with the forward starting to take small but consistent steps toward performing like the players many expected them to be, the Jayhawks are on the brink of taking things to a higher level.
In the past four games, KU's four-headed monster of Azubuike, Bragg, Lightfoot and Lucas has averaged 20 points, 16 rebounds and 4 blocks in 47 minutes.
Self said after the Davidson victory that he was more than happy with the 22 points and 16 rebounds that group gave in 50 minutes, so those four-game averages have to be considered a positive sign, as well.
"We're gonna be pretty good if we can get (that kind) of production," Self said after the Davidson game. "Carlton and Landen basically played one spot and got 15 (points) and 16 (rebounds).... I thought all our bigs did OK."
Break beneficial
After opening the season by playing one game every 3.3 days, the Jayhawks had a full seven days between their two most recent games — a home win over Nebraska on Dec. 10 and the Davidson win last weekend — and Graham said the time off was beneficial in two distinctly different ways.
"After the week of practicing (and) beating up on each other, we were ready to get back out here," said Graham after the Davidson victory. "But the break was big. (It was good) to just get a little break and rest our bodies and come back ready."
Although the five days off between the Davidson game and their next clash — 8 p.m. Thursday against UNLV in Las Vegas — was not quite a full week, the pause, this time with no finals to negotiate, offered the Jayhawks some more time to rest and work on the areas in which Self wants to see improvement before the start of Big 12 play.
After playing UNLV, Kansas will get another week-long break before kicking off conference play Dec. 30 at TCU.
From there, the Jayhawks will not get five or more days off again the rest of the season, with several two-games-in-four-days scenarios on the horizon.
Jayhawks still 3rd
The Associated Press Top 5 again remained unchanged this week, with the Jayhawks holding their spot at No. 3 and Villanova and UCLA directly above them and Baylor and Duke right behind them.
Kentucky, which knocked off North Carolina in Las Vegas last weekend, stayed at No. 6 and North Carolina and Gonzaga flip-flopped seventh and eighth, marking the only change to the top eight from the previous week's poll.
Villanova (56), UCLA (3) and Baylor (6) even received the same number of first-place votes this week.