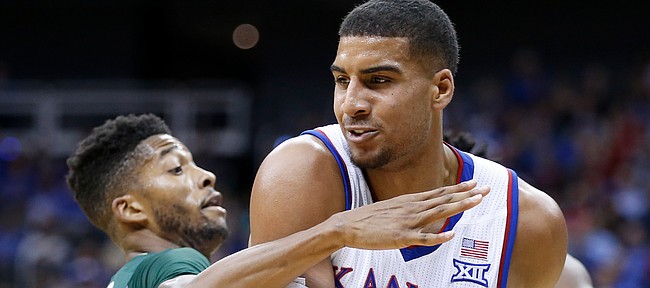 Kansas coach Bill Self said Thursday afternoon that senior forward Landen Lucas would not practice today and his status was uncertain for Saturday's 2:30 p.m. tip-off against Stanford at Allen Fieldhouse.
"Don't know yet," Self said. "He will not practice today and then we'll see if he can go (Friday). I still think he's a day-to-day guy, but I don't know what his availability will be against Stanford."
After injuring his oblique during Tuesday's early shoot-around — a small discomfort that Self said Lucas had been playing through up to that point — Lucas sat out of the Jayhawks' 91-61 victory over Long Beach State.
His absence added to a season's worth of struggles thus far, as Lucas has been plagued by a sore foot, foul trouble, ineffective play on offense and now the injured oblique.
His rough start, along with similar but different struggles experienced by fellow big man Carlton Bragg Jr., has prompted Self to play more of the four-guard lineups than even he may have anticipated. And although he continues to stress his belief that both Bragg and Lucas will pull themselves out of their early-season slumps, Self explained exactly how easy it might be for them to do that.
"We always look at points and rebounds, which, granted, are a big part of the game," he said. "But there's a lot more that goes into it."
One of the biggest things has to do with points in the paint. Although that statistic often belongs to basketball's big men, Self said he was just as happy seeing that number rise thanks to easy buckets at the rim by his team's perimeter players. And while there are times when Frank Mason III, Josh Jackson or any other KU guard just blows by his man and gets to the basket, Self said the big men down low can play a huge role in helping clear the path, thus impacting the team's points-in-the-paint number without actually putting the ball in the hoop.
"When I talk about our bigs, I'm talking about more of an inside presence," Self said. "If they force a double-team and somebody else gets a basket, they did their job. That's a good thing."
Self compared such an effort to that of a nose guard on the defensive line in football.
"Do they ever make any tackles? No, because they get double-teamed every snap," he said. "But if they can take on two people then that opens up other people, in their lanes, to make tackles. I was always amazed by that. Guys make the Pro Bowl and they have 27 tackles for the season. But they cause total disruption and I think big guys (in basketball) can do that too, by forcing double-teams, by being great sealers, if you seal strong and somebody else gets a shot because you forced weakside help. I don't think we're doing those things as consistently as what we can."