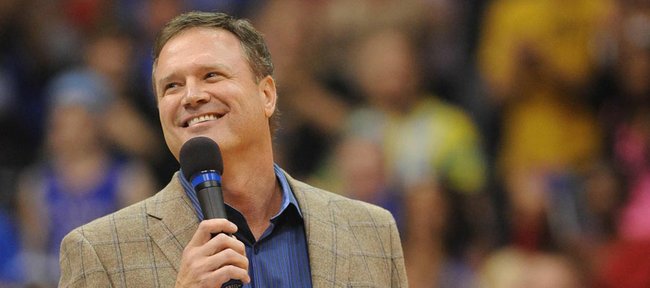 Today marks the official start of Week 1 for the Kansas football program, which will play host to Rhode Island at 6 p.m. Saturday in the season opener.
And that means something to KU men's basketball coach Bill Self, who, in October, will kick off his 14th season leading the Jayhawks.
Self has long been a fan of Kansas football and never has been afraid to show it. He attends most games, has worked closely will all of KU's recent football coaches and encourages his players to support the team and brings recruits to Memorial Stadium on a regular basis.
"I look at it selfishly," Self said recently. "I want our program to have the best chance to recruit and get the best guys and good football helps with that. I want all our sports to be able to have the best facilities and travel first class and football helps with that. Basketball and other sports, we do what we can, but the reality is there's untapped potential with football, so I think it's vital."
Last week, Self made noise in the football world when a video of him speaking to the football team during preseason camp made its way around the Internet. In it, Self spoke about the opportunity this group of football players has in front of them and emphasized that they have a chance to be remembered as the crew that put KU football back on the right path.
That, Self told them, would help these Jayhawks be remembered forever. And while those memories likely would last longest in the minds and scrapbooks of KU football fans, Self certainly stands to be right there with them, provided an improved football program pays the dividends he knows and believes it can.
"It's huge," Self said. "I think our people in the athletic department have done a remarkably great job of being creative and generating revenue and those sorts of things. But the one thing that is out there for us still to tap into is football and the resources that can potentially bring in."
Resources, in this case, is another word for revenue. Even with the football program struggling mightily during the past six years, KU's athletic department has ranked in the Top 25 or so among all NCAA universities in athletic department revenue.
Simple math helps explain things. This season, the men's basketball team is slated to play 17 games inside Allen Fieldhouse. The football team, meanwhile, will play six times at Memorial Stadium.
If the football program were to sellout all six of those games — an unlikely prospect this season — that would result in the sale of roughly 300,000 tickets. If the men's hoops team continues to sell out Allen Fieldhouse for those 17 home dates, that's just over 277,000 tickets for the entire basketball season. In short, the football program, in one game, can produce close to the same kind of ticket revenue that the men's basketball team generates in multiple games. And that's to say nothing of the added revenue for concessions, merchandise and parking.
Self's a football fan and he follows the program with great interest. But David Beaty's squad keeping Self's attention has as much to do with the bottom line for the KU athletic department as it does Self's love of handoffs and hail marys. Still, it's not hard to see that Self's support for the football is genuine and rooted in his belief that a winning football program brings as much pride and excitement to a college campus as just about anything.
"Back when (Todd) Reesing and Kerry (Meier) and Aqib (Talib) were all here, people got excited on Wednesday to go to the game on Saturday," Self recalled. "And that's something we need to get back."