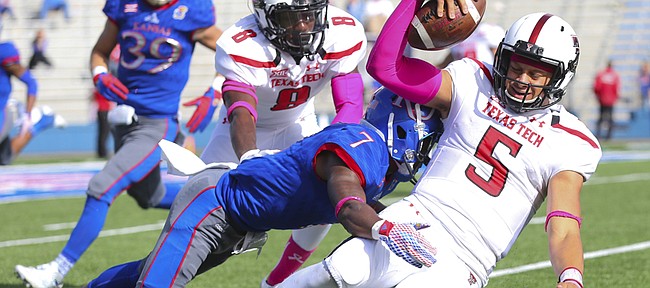 It's not quite as catchy as David Beaty's "earn it" tagline, but the word buzzing around the Kansas football team's preseason camp this August has been depth.
Each time Beaty, preparing for his second season at KU, gives an update on the progress witnessed at practices, his handy list of Jayhawks who have impressed him seems to grow. Likewise, players and assistant coaches often cite the quality and quantity of players competing for spots as a true sign of the program's improvement over the last 12 months.
According to defensive coordinator Clint Bowen, last season, when Kansas finished 0-12, the lack of depth magnified the team's deficiencies. The way Bowen tells it, KU's shortcomings first became evident at practices and that made it all the more challenging to compete with deeper opponents on Saturdays.
"I've told our kids. It's not any secret. There were some guys last year that got to play by default sometimes, just because there wasn't anybody behind them to go. That's not the case this year," Bowen shared.
"We've had a lot of guys step up this year and we're working hard," he continued. "We're almost to the point now where we've got three kids at every spot that are fighting hard to move up to two or one, or hold onto one and not become two. That'll helps us throughout the season, because you've gotta play so many guys."
Even the third player on the depth chart is just an injury away from being forced into a contributing role, so Beaty, Bowen and the KU staff are thrilled not only to have options at each position but also greater trust in the players who might not crack the first two-deep.
Last season, in need of depth in the secondary, Kansas elected to move Derrick Neal from receiver to cornerback a few weeks into the season. Now a junior, Neal doesn't mind having to work each practice to maintain his position on the depth chart.
"Last year we didn't have that push. We didn't have the depth, so we couldn't have the push. If I was lacking on my position, I didn't have nobody behind me to make me work harder because he was gonna take my spot or whatever. This year I feel like we have those guys to make the guys that are in front of them push more," said Neal, who guessed as many as eight players would be in the mix at cornerback this year.
During a crucial evaluation scrimmage last weekend, Beaty noted, Neal came away with a late interception of a Ryan Willis pass.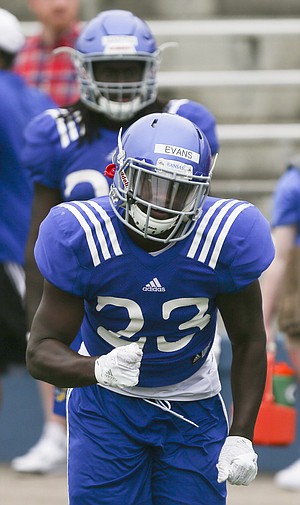 "It really kind of tipped the momentum back to the defense, which we need," Beaty said of Neal's takeaway. "It was in a two-minute period. He made a really nice play, very instinctual, kind of baited the quarterback. That was a great play by Derrick."
Beaty, per usual, listed off a bevy of names Monday when highlighting KU's noteworthy performances at recent practices. While the head coach said sophomore Willis and red-shirt junior Montell Cozart remain involved in a competition for the starting job, Beaty made it sound as if there will be no shortage of skill position players to help KU's No. 1 QB this fall.
At running back, Beaty praised senior Ke'aun Kinner for looking like a different player from last season, sophomore Taylor Martin for his tough runs, junior Denzell Evans for his effectiveness in short-yardage situations and true freshman Khalil Herbert for his smarts and bursts of speed.
While Beaty said the only receiver who looks close to a lock as a starter is junior LaQuvionte Gonzalez, he couldn't stop himself from mentioning a number of other passing targets who caught his eye: freshmen Keegan Brewer and Chase Harrell, sophomores Emmanuel Moore, Steven Sims Jr., Jeremiah Booker and Daylon Charlot (an Alabama transfer who will sit out this season) and senior Shakiem Barbel.