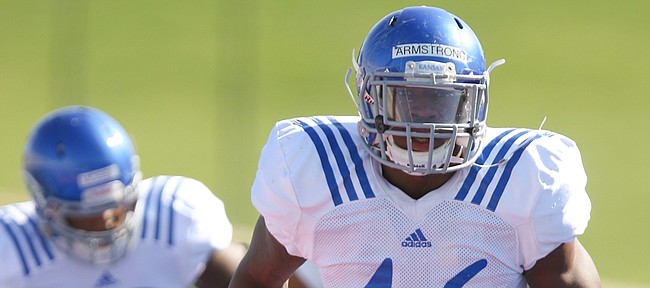 A week after Kansas football coach David Beaty announced standout defensive end Dorance Armstrong Jr. would be kept out of preseason practices as a precaution due to an unspecified leg injury, the sophomore still hasn't returned to camp activities.
Beaty said Friday KU's coaching and training staffs want to continue to err on the side of too much rest for the 6-foot-4, 241-pound lineman, because the coaches understand how impactful Armstrong can be for the Jayhawks this fall.
"Dorance is not real happy with me right now," Beaty said. "And I like that. I want a guy that wants to get back out there. The thing about him is we know what he can do. We're getting lots of good looks at these young guys right now. We need to keep Dorance healthy, is what we need to do. So until we feel like he is completely 100 percent healed and he is not at risk of re-injuring that thing or making it worse, then right now he'll do what he's capable of doing without being able to get into full live contact."
In his first season at Kansas, the Houston native started five games, played in all 12 losses, came up with 23 total tackles, was credited with 3.5 sacks and had five tackles for loss.
Beaty said Armstrong, whom he still expects to play in KU's Sept. 3 season opener against Rhode Island, "tweaked his leg" during a one-on-one drill last week.
"There was no contact involved. It was just one of those deals where he kind of landed wrong," Beaty revealed. "The good thing is he's so strong — we talk to them all the time: the stronger your quads are, the stronger your hands are, the stronger those muscles are, the more it's gonna protect you. And he's a guy that's so dadgum strong that he probably avoided something major because of that."
Beaty still evaluating QBs
As Beaty indicated would be the case previously during camp, Kansas has yet to name its starting quarterback. The head coach, who doubles as the QB coach, said the Jayhawks remain in the "competition period" of the preseason, with sophomore Ryan Willis and red-shirt junior Montell Cozart battling for the No. 1 spot.
"Those two guys, Montell and Ryan, have both had really good days. Really good days," Beaty repeated. "It's been interesting to see guys kind of fall behind and then a guy fight back and start taking back over."
According to the coach, at this point no clear-cut leader exists and either quarterback who started for Kansas a year ago is capable of leading the offense.
Still, Beaty hopes one of the two candidates will separate themselves during Saturday practice, which he billed a "huge" evaluation day, complete with defensive players coming after the signal-callers (though not tackling them).
Tight end Johnson impresses
When Willis and Cozart drop back to pass, one of the targets Beaty has enjoyed watching thus far in the preseason is junior tight end Ben Johnson. In fact, the coach said Johnson might be putting together the best camp of any Jayhawk.
"For a guy that's been here for a long time, a dude that could've taken kind of a cruise mentality, he has done nothing but strive and strain every practice," Beaty said of the 6-foot-5 tight end from nearby Basehor, "and he has gotten so much better as a result. I love watching Ben. He's gonna be a huge asset for us."
Johnson, the coach added, has helped bring along red-shirt freshman Jace Sternberger, who Beaty said should help KU's Air Raid attack on the outside.
Rosser making move
Kansas senior Cameron Rosser entered camp listed as one of the defense's linebackers, but coordinator Clint Bowen said Friday Rosser will play defensive end for the Jayhawks.
A 6-foot-1 Las Vegas native, Rosser appeared in all 12 games for Kansas in 2015, but never started. Last year, Rosser had three tackles at both Rutgers and Iowa State, and recovered a fumble versus Baylor.