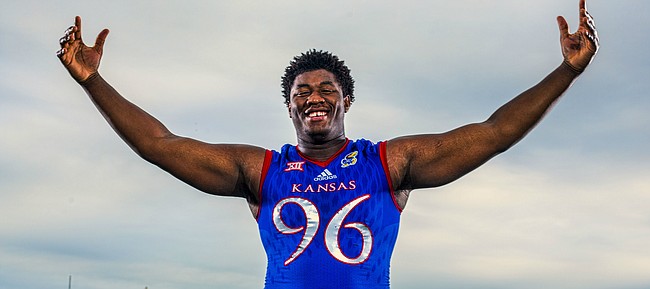 Typically, Daniel Wise doesn't need any encouragement to enjoy himself. His Kansas football teammates know the defensive lineman as much for his comedic outbursts as his sturdy, 6-foot-3 frame.
In fact, many Jayhawks have personally experienced what it feels like to get roasted by the fun-loving Wise around the football complex.
"It's not so much one guy. It's whoever I lay eyes on, I guess," Wise said, mid-chuckle. "All positions. Everybody's fair game."
Still, the sophomore from Lewisville, Texas, admits he struggled to find as much happiness on the field during the early weeks of his debut season, in 2015. As a red-shirt freshman, his game day approach didn't match his personality. Wise often over-thought his way through snaps and generally played uptight.
Eventually, with some help from then-senior lineman Ben Goodman and his coaches, Wise realized a simple solution existed: "It's a game. Just have fun."
Things began to click for him near the midway point of what became a winless KU season, and Wise really broke out against Texas Tech, with five tackles, a sack, a pass break-up and a blocked extra point. The next week at Oklahoma State, he recorded a career-best six tackles. Wise went on to finish the year with 26 tackles, 3.5 sacks and 5.5 tackles for loss.
Once the offseason began, Wise wanted more out of himself in 2016, so he concentrated on KU strength and conditioning coach Je'Ney Jackson's directive to become larger and more mobile — "Staying relentless and staying hungry," Wise said. "That's what it's been about."
The 290-pound defensive tackle, who has put on nearly 20 pounds from a year ago, backs up his words, too. Just last week, before Kansas opened its preseason camp, head coach David Beaty looked out a window at Anderson Family Football Complex and saw Wise pushing sleds.
"I mean, he's wringing wet and the rest of them are showing up," Beaty recalled of the scene during the players' break between summer workouts and camp practices. "He's been working every day. He didn't go home. He stayed here every day. He's just willing to do more, and he's a guy that's really kind of matured in that regard."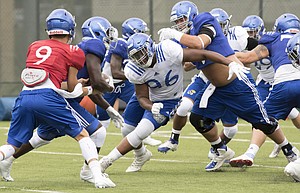 Jackson, who oversees the Jayhawks' summer progress, agreed, adding Wise has done a complete 180 in terms of his approach. Wise's presence in the weight room on a day off no longer surprises Jackson.
"He's not just in," Jackson clarified. "Some kids will come in the weight room and everyone wants to do some curls, maybe do a few sit-ups. He's in there doing squats, pushing sleds — the stuff that nobody wants to do — and it is really paying off for him."
A year ago, Beaty had high expectations for KU's defensive line, but by the end of the season the coach described the production from that unit as "not even remotely close" to where he wanted it. As a result, Beaty enters this fall with tempered hope for the group that includes Wise, sophomore ends Dorance Armstrong Jr. and Josh Ehambe, senior ends Anthony Olobia and Damani Mosby, sophomore tackle D.J. Williams and junior tackles Isi Holani and Jacky Dezir.
All the returning defensive linemen, Wise added, know they weren't strong enough last year.
"Coach Beaty says 'We have to feel you. We have to feel your presence when you play,'" Wise shared. "And I took that to heart and tried to make that happen."
When Wise speaks, KU's coaches appreciate the maturity that comes through in his words. Defensive coordinator Clint Bowen commended the tackle for his progression on and off the field.
"He's always been a clown, and when he was younger he didn't know when not to be a clown," Bowen said, with a smile. "And it was very annoying as coaches. Maybe his teammates thought it was funny. It drove me nuts. And I'm happy that he's kind of been able to keep his personality but also know when to lock in and focus."
Asked about his personal goals for the upcoming season, Wise said he's more concerned with the defense improving and the team winning. The interior lineman has reached a point where he gets as much gratification out of those things as he does leaving a teammate doubled over in laughter, and he's discovered the precise balance to do both.
"When it's time to go on the field and time to have meetings, it's time to be serious," Wise said. "And outside of that we can have our fun."