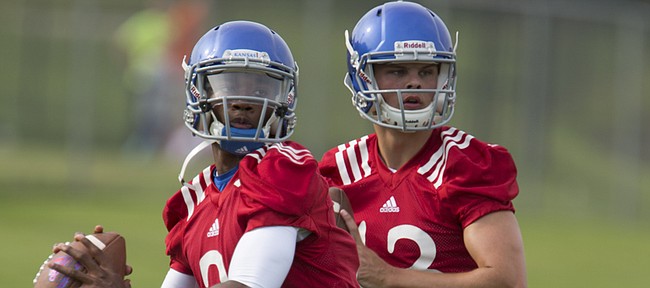 Season No. 2 under head coach David Beaty, and the next step toward the Kansas football program's first victory since Nov. 8, 2014, officially begins now.
During the Jayhawks' opening practice today, and the 22 more to follow during preseason camp, Beaty, his staff and the players have much to accomplish.
From position battles to new faces and modifications, here are five storylines to watch this month, as KU prepares for its 127th season of football, ahead of its Sept. 3 opener against Rhode Island.
Who's the No. 1 quarterback?
The man who has taken more snaps as a Division I quarterback than any other player on the roster knows nothing is guaranteed when it comes to the depth chart. Red-shirt junior Montell Cozart opened 2015 as the No. 1 QB. But a shoulder injury knocked him out of the lineup four games into what turned out to be an 0-12 season, opening the door for Ryan Willis to make his claim as the top signal-caller.
As a true freshman, Willis completed 52.1 percent of his 315 passes for 1,719 yards, nine touchdowns and 10 interceptions. Any perceived notion of Willis beginning his sophomore year as the starter disappeared, however, when a broken wrist forced him to miss spring football, which included the installation of Beaty's new-and-improved Air Raid offense.
Each time the quarterbacks take a snap at practices, they'll find themselves competing for the starting job.
"Every day, we're going out there competing," Cozart said recently, "making each other better. That's what it's all about. You've gotta love competition."
Given the state of the rebuilding program and the fact that neither Cozart nor Willis enters camp as a clear-cut leader, the snaps handled by other QBs might prove just as interesting in this preseason competition. Beaty has remained complimentary of red-shirt freshman quarterback Carter Stanley, and it's hard to rule out true freshman Tyriek Starks as a dark horse candidate at this juncture.
More experienced defense
KU's defense certainly experienced more than its fair share of struggles in 2015, when opponents averaged 560.8 yards and 46.1 points a game. But many of the Jayhawks who fought through those woes return, with the hope their scars will make them that much more prepared to improve.
Thirteen of the Jayhawks' top 15 tacklers from last year come back to take on the Big 12's offenses again, under the direction of defensive coordinator Clint Bowen: senior safety Fish Smithson, junior linebacker Joe Dineen, senior linebacker Marcquis Roberts, senior safety Tevin Shaw, sophomore safety Tyrone Miller Jr., senior cornerback Brandon Stewart, senior corner Marnez Ogletree, senior linebacker Courtney Arnick, senior corner Chevy Graham, senior safety Bazie Bates IV, sophomore defensive tackle Daniel Wise, senior defensive end Anthony Olobia and sophomore end Dorance Armstrong Jr.
In order to win in the Big 12, Beaty thinks building a reliable defense has to be the first step.
"You have got to find a way to slow these offenses down," Beaty said, "and we are putting a lot of work and time into evaluation, making sure we get the right guys."
Air Raid tweaks
In Beaty's first season offensive coordinator Rob Likens coached the quarterbacks and called in plays for Kansas. But once Beaty felt more acclimated to running the program, he took over those responsibilities for Likens, who remains on the staff.
Beaty's love for offense and familiarity with the Air Raid system have him optimistic the change will mean more points and smoother, longer possessions this fall.
"It is a unique system," Beaty said. "I learned a lot from (Texas Tech coach) Kliff Kingsbury, who is one of our rivals here. I owe that guy a ton, because he's a smart dude and I learned a bunch from him … but we're excited to be running what we're running."
Whomever emerges at QB for Kansas, the idea is Beaty's version of the offense will play with more pace and find more quick-hit opportunities.
The addition of junior LaQuvionte Gonzalez (a transfer from Texas A & M) should greatly improve the receiving corps, which includes sophomore targets Jeremiah Booker and Steven Sims Jr., as well as junior tight end Ben Johnson and red-shirt freshman tight end Jace Sternberger.
Immediate contributors
In a utopian program, the head coach would never need to play a true freshman. But that world doesn't exist for Beaty at Kansas.
While no newcomer will open camp atop the depth chart, the most talented new Jayhawks figure to have a legitimate chance to play on Saturdays (and during a Thursday road trip to Texas Tech).
Cornerbacks Kyle Mayberry and Mike Lee, defensive end Isaiah Bean, running back Khalil Herbert, linebacker Maciah Long, receivers Evan Fairs and Keegan Brewer, offensive lineman Cam Durley and quarterback Tyriek Starks all could factor in the Jayhawks' success this fall.
New voices
The Jayhawks who played spring football know them well already, but the voices of a handful of new assistants figure to influence KU's progress in the weeks ahead — both in meeting rooms and on the practice fields.
The turnover that accompanies the coaching profession brought in assistants Todd Bradford (linebackers), Tony Hull (running backs), Jason Phillips (receivers), Michael Slater (defensive line) and Joe DeForest (special teams).
"We're not afraid of losing good people," Beaty said, "because we know there are good people out there to come in and fill those gaps for us. Every single guy that we hired, I knew 'em. Most of them I offered the job the first time around. I am really excited about our staff."