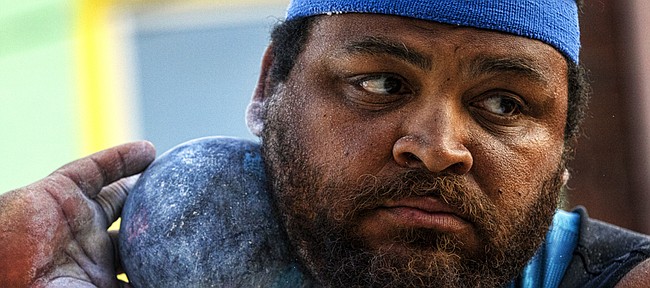 Reese Hoffa, all 5-foot-11, 325-pounds of him, mimicked a fashion model as he walked down the runway toward the circle during introductions before the sixth-annual Downtown Lawrence Olympic Shot Put competition Friday at the intersection of Eighth and New Hampshire streets.
It was all business a few moments later as Athens, Ga., native Hoffa and eight other world-class throwers thrilled a crowd of about 3,000 fans by putting on a highly competitive show, won by up-and-coming 25-year-old Canadian standout Tim Nedow, who took the title with a put of 68 feet, 2 inches.
Photo Gallery
Downtown Olympic Shot Put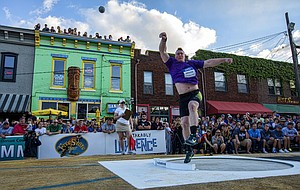 Images from the Downtown Olympic Shot Put event held in downtown Lawrence on Friday, April 22, 2016.
Kurt Roberts, a 28-year-old, three-time former NCAA Div. II champion out of Ashland University, claimed second at 67-9, just ahead of fan favorite Hoffa, who threw 67-23⁄4. Two-time defending champ Christian Cantwell was eighth with a throw of 64-81⁄2.
"It's so much fun here. Every time I come back, it's bigger and bigger and gets louder and louder," said Nedow, who started his college track career as a decathlete at Tulsa, but transferred to DePaul, where he yearly improved in the shot and exploded on Canada's national scene.
He has appeared at the Lawrence downtown event three times.
"I think the first year, they (fans) didn't know if they were allowed to scream or whatnot," Nedow said. "Now they know they are allowed to get going. This is what we need as throwers. I'd rather have people here than 10,000 people around a track. Throwers around the world know about this now. We want to come here now. I'm 25 and I'll be back as long as they keep inviting me."
Nedow, who was born in Brockville, Canada, was bronze medalist for Canada at the 2014 Commonwealth Games. He's a five-time champion of the Canadian track and field championships, winning not only in the shot, but discus.
"A lot of these guys I had never beaten before. It's the first time I beat Hoffa and Cantwell and Ryan (Whiting, seventh place) as well," Nedow said. "That's what I get from these meets. There's not much going on in Canada shot-put-wise right now. I've got to get down here and throw against these guys because they are world and Olympic champions, the top guys in the world."
Finley breaks 40-year record: Former Jayhawk Mason Finley, who was competing unattached, broke the 40-year old Relays meet record in the discus with a heave of 210-2. Jim McGoldrick of Texas threw 208-9 in 1976.
"It's great, but it's bittersweet a little bit. It was my second throw, and I feel that I should be able to push it on farther than that. But that's what we are working on. It's still early in the season, and it is nice to get that record," Finley said.
Finley, 25, transferred from KU to Wyoming during his college career.
"It's great. This is a great venue. They've really amped it up since I went to school here with the new facility," he said of Rock Chalk Park. "The crowd is bigger, and it's nice to be on an infield where everyone can watch you and cheer you on."
Levy returns to winners circle: KU's Daina Levy won her second hammer-throw title in three years with a mark of 211-1.
"A win is a win, so you can't be upset about a win. But I had a lot more potential than 64 (meters) today. I fouled a lot of good throws. So I think disappointment is the first feeling I'm having, but I can't be upset with a win," said Levy, a senior from Mississauga, Ontario, Canada.
"It's more so patience on my entry, allowing it to get all the way left, where I need it to be. Right now, I'm anticipating a lot during my throw, and I'm rushing that entry. When you rush, you land, and you catch in the wrong positions, which is where all of those fouls came from today."
Notes: KU's men's 3,200 relay team of Brandon Bernal, Bryce Richards, Adel Yoonis and Daniel Koech won in 7:35.33. KU's women's 3,200 relay team of Lydia Saggau, Malika Baker, Hannah Dimmick and Whitney Adams won in 8:57.16. ... KU's women's distance relay team of Kayla Funkenbusch, Dorie Dalzell, Jasmine Edwards and Kelli McKenna won in 11:52.43. ... The collegiate quadrangular meet and most of the open events will take place from 4:30 to 8 p.m. today.