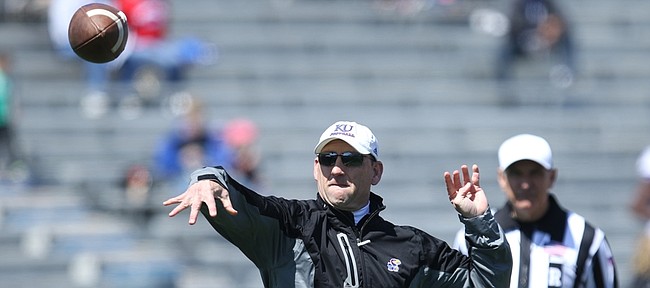 Thursday marked the final spring practice of the 2016 season for the Kansas University football program and, after finishing the spring semester and surviving finals, the Jayhawks will be given back to strength and conditioning coach Je'Ney Jackson for the summer.
Jackson, who joined second-year KU coach David Beaty's staff for his second stint at Kansas, often was lauded throughout the offseason for his work in transforming the Jayhawks' bodies and making them both stronger and more agile and explosive.
Although that was tough to see in the spring game — mostly because of the format — it certainly showed up on a case-by-case basis, with several key returners looking much different than they did when we last saw them in November, particularly the freshmen.
Most of that work was put in during the winter months, when the Jayhawks used the disappointment and embarrassment of last season's 0-12 record to fuel their workouts.
That mentality carried over into the spring and played a part in producing six key things we learned about this team from March and April.
1. Quarterback still a question — A wrist injury to returning starter Ryan Willis opened the door for one of KU's other quarterbacks to storm through it. And, although Beaty said senior Montell Cozart had another solid spring, his spring game was unimpressive and left many wondering just how much the 11-game starter had improved. Carter Stanley, Deondre Ford and Keaton Perry showed flashes of improvement from time to time but also were inconsistent and could not surpass Cozart on the depth chart. At this point, it looks like a two-horse race for the starting job heading into the summer, with Willis likely having a slight lead.
2. Receiving corps deep and talented — The addition of Texas A & M transfer LaQuvionte Gonzalez gives KU that No.1-type of wideout it was missing last season. His experience, crisp route-running, confidence and top-end speed bring another dimension to the offense, and his presence provides KU's crop of promising, young wideouts the opportunity to fill in the roles around him. Sophomores Steven Sims Jr. and Jeremiah Booker have big-time potential. Juniors Bobby Hartzog and Darious Crawley could be ready for bigger roles. And fierce competitors Tyler Patrick and rookie Keegan Brewer also figure to be tough to keep off the field.
3. KU survived the coaching turnover — It remains to be seen how well the five coaches added to Beaty's staff will do in terms of recruiting and developing talent, but the fivesome did not seem to miss a beat when it came to coaching the players already on campus. Jason Phillips (wide receivers), Todd Bradford (linebackers), Joe DeForest (special teams), Michael Slater (defensive line) and Tony Hull (running backs) all got right to work after arriving in Lawrence, some with as little as just a few days before the start of spring practice. One of the biggest reasons these coaches were able to pick up where their predecessors left off was because of their familiarity with the offensive system Beaty wants to run and their general experience as college coaches. With the exception of Hull, who came from the high school ranks in Louisiana, the four other assistants brought to town an average of 17 seasons of college football coaching experience. Compare that to the average of just five seasons by the coaches they replaced and it's clear that the coaching staff gained some key experience in the aftermath of a wild offseason of departures.
4. Jayhawks emerged injury free — There were a handful of players who were limited and/or kept out of a good chunk of the spring session, but most of those were veteran types who needed the rest and chance to heal more than they needed the reps on the field. Not only did sitting out give those players — think running back Ke'aun Kinner, cornerback Brandon Stewart, offensive lineman Jordan Shelley-Smith and others — a chance to get fully healthy, but it also opened the door for some of the younger players to gain more reps. One year after a devastating spring-game injury to quarterback Michael Cummings cost the Jayhawks one of their more important pieces, the team was extra-cautious this spring and seemed to reach the finish line in solid shape on the injury front.
5. Better beef on offensive and defensive lines — On offense, the big boys up front appear to have more versatility than at any point in the past six seasons. Last year's starting guard D'Andre Banks moved outside to right tackle, which gives KU decent depth at the tackle position. Clyde McCaulley ran with the ones for most of the spring at left tackle, but Larry Hughes and injured senior Shelley-Smith also have significant experience on the outside. Joe Gibson seems to have settled into the starting center position and Jacob Bragg and Jayson Rhodes appear to be the top two guards, with Mesa Ribordy also turning heads this spring. On defense, the addition of juco transfers Isi Holani and DeeIsaac Davis, along with the continued improvement of D.J. Williams, Jacky Dezir and Daniel Wise gives KU some size and power on the inside to go along with a trio of talented returning defensive ends in Dorance Armstrong, Damani Mosby and Anthony Olobia.
6. New leaders stand out — Junior linebacker Joe Dineen and senior safety Fish Smithson are the unquestioned leaders of the Kansas defense, and Gonzalez got the most love from his teammates when they were asked about a leader on offense. This team has several other lead-by-example types of players, but in terms of vocal leaders who will rally the troops, say something when necessary and set the standard of hard work that is absolutely crucial if this team hopes to escape the dark shadow of last season's disappointing finish, this trio seems to be the most comfortable doing that and the players the rest of the team automatically looks to follow.