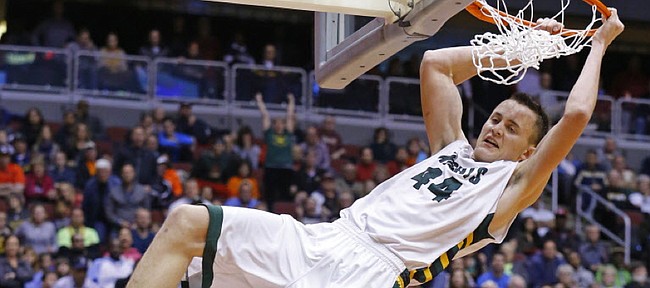 Mitch Lightfoot, who committed to the University of New Mexico his sophomore year of high school, decided to re-open his recruitment last spring after averaging 17.9 points and 9.7 rebounds for state-champion Gilbert (Arizona) Christian High.
Nothing against the Lobos, but the 6-foot-9, 210-pound Lightfoot suddenly realized his continued improvement in basketball had opened up the possibility of fulfilling a lifelong dream.
"My sights have always been on Kansas," Lightfoot said Saturday after orally committing to KU in a ceremony at the Arizona Preps Fall Showcase event in Glendale, Arizona.
The rabid KU fan — he was born in Kansas City, Missouri, and lived there until he was 6, when his family headed to Tucson — sought out help in getting noticed by the Jayhawks.
"I met with my coach (after decommitting)," Lightfoot said of Arizona Power AAU coach John Ortega, "and he said, 'What do you want out of this?'
"I said, 'I want to play at Kansas.' It's been my goal since I knew what basketball was, ever since then. I've been working my butt off to try to get there. To all the kids sitting in the stands watching the Jayhawks, wanting to be a Jayhawk, you can definitely do it," Lightfoot, the No. 117-rated player in the recruiting Class of 2016 (by Rivals.com), added.
Ortega said that, after speaking with Lightfoot, he phoned recruiting analyst Jerry Mullen, who contacted KU about Lightfoot's interest.
"Forty minutes later, I get a call, and coach Roberts (Norm, KU) is asking about our practice times. They were going to take a private jet to see a workout. That was a Monday. On Wednesday, coach Roberts saw Mitch work out and was blown away by the workout. Two days later, coach (Bill) Self called to offer him. Mitch came over and said, 'Kansas just offered.' It was a dream-come-true-type moment,'" Ortega said.
A great student who has qualified for admission to Stanford, Lightfoot wanted to make his NCAA-allotted five visits — to KU, St. John's, Stanford, Arizona and Utah — before officially telling Self he'd accepted his offer earlier this week.
"I took all these visits. I was going to go where I felt comfortable. That was Kansas, by far," Lightfoot said. "I felt like I was at home there, and it is home. Everyone in Kansas ... Jayhawk fans are a big family. It's important to me to be part of a big family organization. It's why I want to be there."
Lightfoot — he also grew up a Chiefs fan ("We had season tickets for 20 years") and Royals fan ("I watched the game last night") — will have a batch of blood relatives at his KU games.
"Aunts, uncles, cousins, everyone," he said. "I have tons of family there (in KC)."
He attended games in Allen Fieldhouse as a toddler, but most of his memories of KU are from those he watched on TV.
"Obviously, Mario and the shot ... that's pretty amazing. It can't get much better than that," Lightfoot said of Mario Chalmers hitting the shot that forced overtime in KU's win over Memphis in the 2008 NCAA title game. "I love watching Thomas Robinson and Jeff Withey, those guys more than any one particular moment."
Lightfoot said he can play small forward or power forward at KU — "Wherever the coaches need me; they've won the national championship they have a little more expertise than I do on the subject," he said — he figures to bring non-stop motion onto the court.
"In my 16 years as coach, he's the toughest competitor I've had," Ortega said, noting Lightfoot has been compared to Wisconsin's Sam Dekker. "He works endlessly. He is in the gym all the time, has the (shooting) machine up. He has the biggest motor. He plays with a fire. He wants it."
Of his style of play, Lightfoot said: "I want to play the game like it's supposed to be played, full speed, not taking any plays off. Be the best I can be on the court by working the hardest. It's an intangible that works to my benefit."