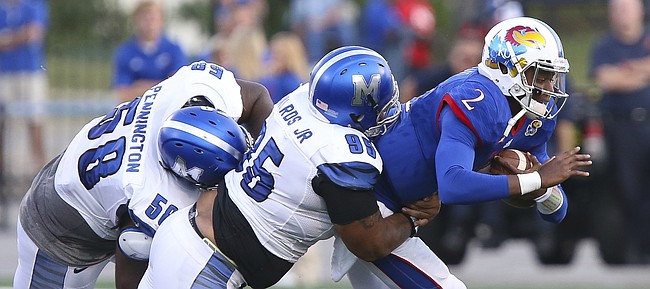 Moments after revealing that injured starter Montell Cozart remained out for this week's 2:30 p.m. football game at Oklahoma State, Kansas University coach David Beaty was asked if he knew what he would do with Cozart when he returned.
The answer was one of uncertainty but hinted toward a possible position change for the junior QB, who started three of KU's first four games this season before suffering a severe shoulder sprain in the Jayhawks' loss at Iowa State.
"Right now, I don't have any plans for him doing anything other than quarterback," Beaty said. "But that could change moving forward."
Exactly how remains to be seen and certainly will be dependent upon the continued strong play of true freshman quarterback Ryan Willis, who followed Cozart as the starting QB at Bishop Miege in high school and now has replaced him in the KU lineup. But true to his word throughout his time in charge of the Jayhawks, Beaty said as long as Cozart was healthy, there would be a place for him in KU's operation.
"I think that guy could do a lot of different things for you, for sure," Beaty said of Cozart, who worked some at wide receiver last spring. "He can play on the defensive side. He can play on the offensive side. I know this: He's way too good of an athlete to be standing over there by me. So we're going to find a way to get our best players on the field, whether he's at quarterback, receiver, defensive back. Wherever we gotta be, we're going to find a way to get those best players on the field."
Ever the players' coach, Beaty has shown clear compassion for Cozart's situation throughout the past several weeks. As with any of his players, Beaty said he hated to see a guy get injured. The KU coach even reference Wally Pipp, who, in 1925, famously lost his job to Lou Gehrig in the New York Yankees lineup after suffering a headache and never regained it while Gehrig went on to play in 2,130 consecutive games.
"The train keeps moving," Beaty said. "And guys step up and they get their opportunities. It's no different at quarterback than it is at defensive end or running back. We talk about it all the time, what are you going to do with that opportunity when it comes and will you be ready?"
For Willis, so far the answer has been yes. The only questions that remain now are: Will he stay that way and will Cozart be ready for his opportunity elsewhere?
Both guys have benefited from a knee injury that cost senior quarterback Michael Cummings his season last spring, and Beaty said Tuesday that the prospects of Cummings returning for a sixth season in 2016 don't look good.
"I was sitting there looking at some of the stuff that Ryan was doing and I was thinking, you know, what would it have been like for Mike," Beaty said. "I just kind of felt bad for him that he didn't get his opportunity this year. Man, it just broke my heart."
Despite the circumstances, Cummings has remained a big part of the team and proven to be very helpful for all of KU's quarterbacks.
"He's very actively involved," Beaty said. "He's at every meeting. He's at every practice. He communicates directly with some of our players on game day. We trust him almost as if he's a member of our coaching staff. That's what type of a mature kid he is.... He's a guy that really just continues to help them continue to forge ahead."
Injury update
In other injury news, Beaty said injured starters Brandon Stewart (cornerback), Damani Mosby (defensive end) and Joe Gibson (center) were probable for Saturday's game at Oklahoma State.
Beaty added that defensive tackle Jacky Dezir and wide receiver Bobby Hartzog Jr., had an outside chance to play Saturday while injured QBs Cozart and Deondre Ford remained out.