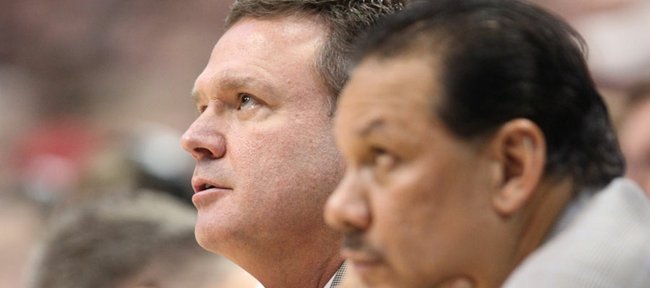 Now in his 12th year at Kansas University, Kurtis Townsend is the longest-tenured assistant men's basketball coach in school history.
The former Western Kentucky point guard who joined Bill Self's staff in Self's second season at KU, passes Sam Miranda, who worked for Ted Owens for 11 seasons. Joe Dooley worked for Self for 10 campaigns.
"That is an unbelievable stat considering we've had so many coaches who coached here a long period of time," Self said. "The success we've experienced is in large part due to him and his ability to recruit and relate to players. Anybody who has worked with Kurtis or been around him knows there's nobody better with people than K.T.," Self added.
Townsend — who was born in San Jose, California — worked as assistant coach at California, Eastern Kentucky, USC, Michigan and Miami prior to reporting to duty on Mount Oread.
"I feel blessed every day. I get to drive up Naismith Drive and be able to help kids and be part of one of the most historic programs in college basketball," Townsend said.
Townsend, who was instrumental in the recruitment of Andrew Wiggins, Ben McLemore, Brandon Rush, Julian Wright, Sherron Collins and Darrell Arthur, knew he'd love working in Allen Fieldhouse following a trip here with Cal-Berkeley in 1993.
"We had Jason Kidd and Lamond Murray ... we had a nice team and they gave it to us (73-56). I walked out of Allen Fieldhouse and said, 'Gosh that place is special,''' Townsend said. "I did love the basketball here and knew working for a person like coach Self would be incredible."
The fieldhouse atmosphere hasn't disappointed.
"You get chills from the respect the fans have for the game of basketball here," said Townsend, who enjoys chatting with others about their experiences in KU's tradition-rich building.
"I talk to kids who played here a lot. Kevin Durant says what a thrill it was to play in there. I wish I could have played here. That would have been cool," the 1982 WKU grad added. "But I get the next best thing, to work with the players and the staff here — people I consider family."
Townsend likes KU so much he's been selective in considering head coaching offers. There have been opportunities to move on.
"I've talked to coaches who left here who say there are a lot of places you go where it isn't as good being a head coach there as it is being an assistant here," Townsend said. "I think there's a lot to be said about that. I will not take a bad job now. The winning and what we have going here is incredible."
It's not just landing key recruits and an NCAA title ring in 2008 that has made his stint at KU worthwhile.
"Ben McLemore ... seeing what his life was before (in poverty in St. Louis as youth) and what he was able to become is amazing," Townsend said. "It will be one of the happiest moments I've ever had when I see Jamari Traylor get his diploma in December. From living in cars (in high school) ... what he had to overcome ... he'll have a degree at Kansas and have played here. When it is time for me to leave, that is the kind of stuff I'll never forget. Some of the most incredible people I've met in my life I met here. I really do feel blessed."
This, that: D'Aaron Fox, a 6-3 senior point guard from Cypress Lakes High in Katy, Texas, who is ranked No. 5 nationally by Rivals.com, begins his official recruiting visit to KU today, Rivals.com reports. Fox, who has visited Louisville and LSU, will also visit Kentucky and Arizona before choosing a school. He will attend Friday's Late Night in the Phog with No. 2-ranked (by Rivals.com) Harry Giles, No. 6 Malik Monk, No. 16 Marques Bolden and No. 34 Schnider Herard. ... No. 20-ranked Jarrett Allen, a senior forward from Austin, Texas, has cut his list to KU, Kentucky, Kansas State, Notre Dame, North Carolina, Texas, Houston and Indiana, Rivals.com reports. ... KU's basketball players have moved into the $12 million McCarthy Hall in time for the big recruiting weekend. "I'm just impressed every time I go over there," KU coach Bill Self said recently. The apartment complex is a three-story building located south of Hoglund Ballpark. The building will house 36 male residents in two-bedroom/two-bath and four-bedroom/ two-bath apartments. Each apartment consists of a living room, dining room and full kitchen. Other features of the apartment building include study rooms and a lounge on each floor, a multipurpose room with kitchen, a recreation room with pool table and ping pong, media room, audio-video access control, and a half-court basketball court. It is occupied by 16 basketball players, 17 students not affiliated with basketball with two beds for guests and one for an RA on the lower floor.