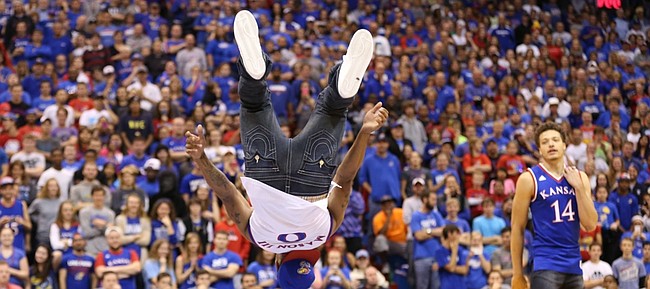 There's been a lot of lip-synching and dancing, but very few instances of players actually performing musically at the season-opening Late Night basketball celebrations at Kansas University the last 30 years.
Danny Manning and Scooter Barry sang The Temptations' song, "My Girl" during the 1987 Late Night With Larry Brown in Allen Fieldhouse.
Luke Axtell strummed guitar and belted out some of his original tunes at the 1998 Late Night With Roy Williams.
Aaron Miles, Michael Lee, Jeff Hawkins and Wayne Simien serenaded their mothers in a 2001 Late Night With Roy tune few heard because of a faulty sound system in KU's tradition-rich building.
All fared a lot better than Nick Collison who, accompanied by electric-guitar playing Jeff Carey and Eric Chenowith, screamed out vocals to the Limp Bizkit song, "Faith" at the 1999 Late Night.
All this is mentioned because it appears there will be some sort of musical performance by a Jayhawk at the 31st-annual Late Night, set for 6:30 p.m., to approximately 9:30 p.m., Friday, in Allen.
"I cannot wait for Late Night. I'm ready for dancing. I'm also going to be playing the piano," freshman forward Carlton Bragg stated at last week's Media Day. "Everybody's going to be shocked at how good I can play," Bragg added, smiling.
The 6-foot-9 freshman from Cleveland wouldn't provide other details, inviting fans to pack the building to see for themselves. Doors open for KU students at 4:30 p.m., and the general public at 5 p.m., Friday.
"It's going to be a little surprise for everyone," Bragg said. "I cannot wait for Late Night. Coming in last year as a recruit, fans cheering you on, the atmosphere was crazy. Coming in now as a student-athlete, I can't wait. I was blown away, shocked, amazed at the atmosphere. It was crazy. You've got to be there to experience it," Bragg added.
KU coach Bill Self stresses he'd welcome the usual Late Night sellout this year because "our players really love it" and also because it's a good way to impress recruits who will be in town.
Top senior players expected to attend Friday's Late Night are: No. 2-ranked (by Rivals.com) Harry Giles, No. 5 De'Aaron Fox, No. 6 Malik Monk, No. 16 Marques Bolden and No. 34 Schnider Herard.
Tender ankle: KU junior guard Wayne Selden Jr., has been taking part in practice while continuing to recover from an ankle sprain, Self said Monday. Selden has been wearing a boot off the court as his ankle heals.
"He has an ankle sprain. The only reason he is in a boot is to immobilize it when walking around," Self said. "He has been practicing, yes. He's not 100 percent, though. He sprained it three weeks ago. He's about 60, 70 percent. We are hopeful by the end of the week he'll be much closer to full speed. Doctors said we should work through it. We shouldn't just give him total time off. He should be fine in a week or so."
Self said junior Brannen Greene has been practicing. He's coming back from offseason hip surgery.
"We're bringing him back where he has limited reps," Self said. "For the most part, he's fine. He gets sore, even though that's part of the rehab process of what doctors tell us. He looks good. All the strength tests, MRI confirm that. We're hopeful by Nov. 1 he'll be ready to go (full speed in games)."
The Jayhawks have been practicing since Friday.
"Practice is OK. The guys are trying hard," Self said. "We are putting too much stuff in too fast. Right now we're probably not doing anything very well because we're trying to think and concentrate on what we're supposed to do as opposed to reacting and playing. If you are thinking, you can't react as quick. We're going to still be a couple months away like most teams are before we have a good sense of who we are."
More on Diallo: Self is making the media rounds this week to publicize upcoming Late Night. Monday on 810 radio he was asked about the Cheick Diallo eligibility situation. Diallo can participate in the Late Night skits and scrimmage.
Diallo, as everybody knows, was cleared to practice last Thursday by the NCAA. "He's cleared to practice pending on what they decide throughout the information we will submit to them (Eligibility Center) whenever it is all together," Self said.
"A lot of people wonder 'Why wouldn't it (academic materials) all be together yet?' There's a lot of reasons why ... because they just told us recently some things they wanted. Instead of throwing it to them piece by piece, they requested we submit it all together. It may be a couple more weeks before we are able to submit everything. When you are talking about getting information from schools in Mali ... we hope within two weeks. It may be three weeks before we have a definite answer. Right now Cheick is like everybody else. He's practicing. He needs the time. This is all new to him. The fact he could be out there with us now will not put him behind when hopefully we get good news on him in the future."
Lightfoot update: Mitch Lightfoot, a 6-7 senior forward from Gilbert (Arizona) Christian High school, visited St. John's last weekend. He tells Zagsblog.com he expects to choose between KU, Utah, Stanford, St. John's and Arizona shortly after his trip to Arizona this weekend.
"Then I'm done and I'm going to take a couple of weeks to ponder over my schools and then I'll decide," he said. He's ranked No. 117 in the Class of 2016 by Rivals.com.