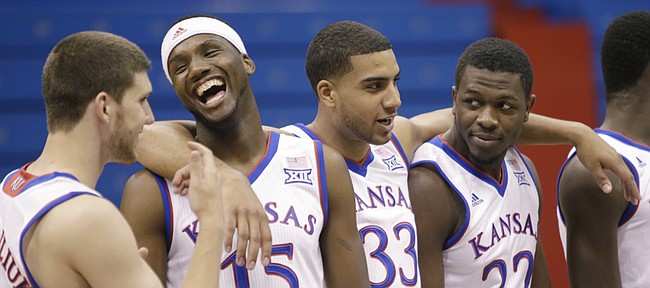 Highly acclaimed Cheick Diallo, who enters college as the No. 5-rated player in the recruiting Class of 2015 by Rivals.com, figures to be a lock for Big 12 preseason freshman-of-the-year honors.
He might not be the only Kansas University freshman to garner votes for the honor, however, especially if the fact he has yet to be cleared for participation in games (by the NCAA Eligibility Center) is taken into consideration.
Hot on his heels in the hype department is fellow forward Carlton Bragg, Rivals.com's No. 21-rated player in the Class of '15, who has impressed since arriving on campus last June.
After Diallo and Bragg, the next highest-rated incoming player in the league is Texas' Kerwin Roach, ranked No. 34 by Rivals.
Jawun Evans of Oklahoma State is No. 36, Eric Davis of Texas No. 59, Tevin Mack of Texas No. 61, Esa Ahmad of West Virginia No. 72 and King McClure of Baylor No. 78.
Those are the only top-100 prospects represented on rosters of the 10 league teams.
"Carlton is a great kid. He works hard. He's going to be a great player," KU senior forward Perry Ellis said of the 6-foot-9 Cleveland native. "He's definitely a real skilled player. He gets after it and listens to coach, soaks up what coach is telling him. He's definitely a key coming in as a freshman."
Coach Bill Self boasted a bit about Bragg, who averaged 21.3 points, 8.0 rebounds and 2.0 blocks his senior year at state champion Villa Angela-St. Joseph High, at Thursday's KU Media Day.
"Carlton is one of the most talented big guys we've had since I've been here. Offensively, obviously, a Marcus Morris-type guy. He's one of those guys that has that type of skill, and it's going to take time, but certainly I think he has a chance to be a special guy," Self said.
Bragg — he broke his nose at practice right before the start of the World University Games in Korea — contributed 3.8 points and 3.8 boards while logging 11.8 minutes a game for KU's gold-medal-winning squad.
"This summer helped a lot," Bragg said. "It helps you adapt from high school to college. Playing in the World University Games was a big challenge. My teammates got me ready for that. I just love being here, being a proud Jayhawk. I think it's going to be a pretty special year."
Ellis POY?: Ellis figures to be a candidate for Big 12 preseason player-of-the-year honors after averaging 13.8 points and 6.9 boards a game his junior season.
"I expect him to be as good as or better than any player in the league. I expect him to play to an All-American-type level," Self said of the Wichita forward.
"I think he's capable of doing that. I thought last year before he got hurt (knee at end of regular season into postseason), there was about a six-game stretch where I think he was playing to an All-American level. He seems to be in the best shape of his life. He's stronger. I don't mean from a weight standpoint, but you can just tell the way he carries himself, he's stronger and more confident. I expect him to have a big year, and when I say that, I expect other players to have comparable type years to Perry."
Ellis had a quote sure to please KU fans at last week's Media Day.
"I have a goal to go to the Final Four. That's a goal of mine. It takes a lot of hard work. It starts from the first game. We have to take it game-by-game," Ellis said.
Other top contenders for preseason player of the year — which should be announced any day now — are Iowa State's Georges Niang, Oklahoma's Buddy Hield and Baylor's Rico Gathers.
Top-recruit coaches: ESPN recently released a list of the coaches who have signed the most top-25 recruits (in ESPN's 100) since 2007. Kentucky's John Calipari has signed 28, Duke's Mike Krzyzewski 22, North Carolina's Roy Williams 13 and KU's Bill Self and Syracuse's Jim Boeheim 10 apiece. Top senior players expected to attend Friday's Late Night in the Phog are: No. 2 Harry Giles, No. 5 De'Aaron Fox, No. 6 Malik Monk, No. 16 Marques Bolden and No. 34 Schnider Herard.