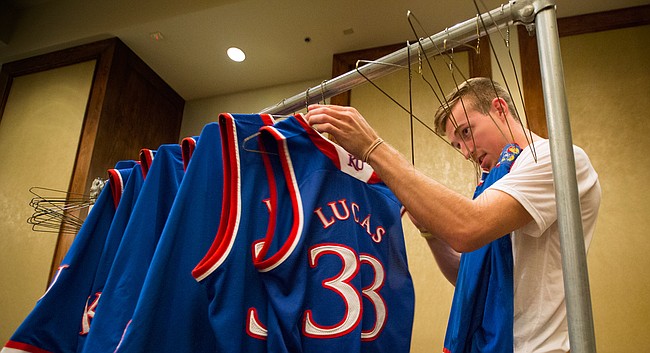 LAHAINA, Hawaii — If you ask one of the student managers for the Kansas men's basketball team, they might tell you the hustle element doesn't just exist between the whistles. In fact, they'd probably tell you it is required in every nook and cranny of the program, and this includes the laundry room.
During tournaments such as the 2015 Maui Invitational, where the Jayhawks play three games in as many days, it's the managers' job to make sure the laundry gets collected, sorted, washed, dried, hung or folded and then returned in time for the next game or practice. Often, the team hotels will offer the use of their industrial washers and dryers to handle such loads. Other times, they are unable to accommodate the team, such as during the Jayhawks' last trip to Maui. Imagine, if you will, the jerseys of Thomas Robinson, Tyshawn Taylor, Jeff Withey and the rest of the team spin cycling in a coin-op laundromat with the locals, which was the case in 2011.
On Monday around 6:30 p.m. Hawaii time, while the players and coaches are heading to dinner following the Jayhawks' 123-72 win over Chaminade, managers Chip Kueffer, Tim Skoch, Emily Tyler and Jay Turnipseed are going room to room picking up piles of the players', well, dirty laundry at the Westin Maui in Lahaina. Tyler holds a clipboard, checking off each item received to make sure nothing is lost or unaccounted for. A few stragglers remain, and Kueffer heads down the hall to knock on forward Jamari Traylor's door. Tyler admits Traylor is habitually the last to turn in his laundry.
Photo Gallery
Look: KU basketball student managers do the dirty work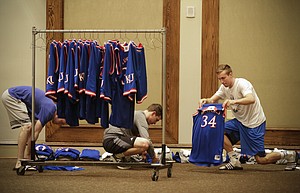 View a photo gallery of the student managers for the Kansas University men's basketball program, who often have to hustle to turn around the laundry during tournaments on the road.
Around 11:30 the next day, Kueffer and the staff are laying out clothes on the floor of an events room shortly before a team meeting, where the players will gather their uniforms for Tuesday night's game against UCLA. The process of gathering, loading, unloading and folding is a seemingly endless task.
"We constantly have something washing," said Kueffer, of Baldwin City, who is in his third season as a manager with the team.
"We have laundry going during the game," said Skoch, a senior from Hastings, Neb., who is also in his third year. "They'll go out and warm up in their (pregame) stuff. A manager will have that started and washing while the first half is going."
"(At the Fieldhouse) we are so fortunate to have our own laundry room," Kueffer said. "We've got two big washers, two big dryers. I doubt that many programs are as blessed as we are as far as it comes with our facilities."
Washing and keeping track of team gear and uniforms are not their only responsibilities. The managers work the summer basketball camps, and it has been known that occasionally Kansas head basketball coach Bill Self will throw them into drills to assist during practices.
Sounds glamorous, right? Flash back to the 2014 season. It's after 4 a.m. March 2, and the Jayhawks' team bus is rolling back to the Fieldhouse following a 72-65 loss at Oklahoma State the night before. Skoch is there to greet the team and start the laundry.
"I just remember sitting on the ledge (outside the Fieldhouse) waiting for the team to get back," said Skoch. "It was 4:30 a.m., and I had class at 8. You've gotta get the laundry started because that stuff can get pretty nasty."
Although the managers have been able to get the job done stateside, no handwritten instructions from Mom could prepare them for what Kueffer and Skoch experienced while traveling with the team in South Korea.
Quite possibly the biggest feat pulled off by the student managers came this summer, when the Jayhawks represented the United States in the 2015 World University Games in Gwangju. The team arrived on June 30 and defeated Germany on July 13, going 8-0 to win the gold medal. That's eight games and several practices in two weeks' time in a country where most laundromats or even local households don't have dryers.
"This is the panel of the laundry machine that we used," says Skoch with a smile, as he produces his cellphone with an image of the front of a washer displaying the cycle options written solely in Korean text.
To compensate for the lack of dryers, Kueffer and Skoch made a trip to a hardware store and purchased some rope. According to the two managers, they strung several lines around the room and swung open the sliding-glass door to their balcony, transforming their room into an open-air drying operation.
"I'm telling you, man, our room in Korea, seventh floor, it looked like an obstacle course with all the ropes," Kueffer said. "It looked like 'Mission: Impossible.'"
"We had like six fans blowing on (all the clothes)," Skoch added.
"If it would have just been me or if it would have just been Tim in Korea, after that Turkey game with the jerseys, I don't think it's possible that we would have gotten the jerseys turned around," said Kueffer, acknowledging their reliance on one another.
Their efforts did not go unnoticed by anyone on the trip, including those at the highest levels of Kansas basketball. Following the Jayhawks' 84-77 win over Germany in the gold-medal game, Kueffer and Skoch described being in the locker room for the team's celebration when Self announced the two would also be receiving medals.
At the Westin Maui, Self talked about his appreciation for Kueffer and Skoch.
"There really wasn't much of a decision to be made. There were 13 players that got medals, and they gave us 15," said Self, who elected not to keep a medal for himself. "Tim and Chip, they worked harder than anybody else over there. It takes a lot more work than what people think to move a party of 24 around in a foreign country like that. They earned it, and they deserved it."
"I didn't see it coming," Kueffer said. "It was just instinctual to just run up and give him a big bear hug."
Their efforts did not go unnoticed by the players either.
"The guys went kinda crazy," Skoch said. "I remember getting put in a headlock. (They were) noogying us."
— "Look" is a monthly feature by Journal-World photographer Nick Krug that looks in depth at topics of interest — particularly visual interest — in our community. Email him at nkrug@ljworld.com.