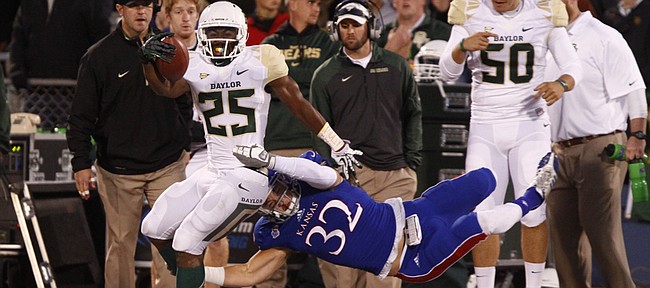 Despite having two years remaining in a college football career that has been littered with injuries, Kansas University linebacker Schyler Miles believes the time is now for him to make an impact.
The fourth-year junior, who made 24 tackles in 21 games from 2012-13 before sitting out the 2014 season because of injury, recently finished his first spring without a significant setback since high school.
But it was not just Miles' obvious ability to move around on the field that made it clear he was as healthy as he had been in a while. It also was the look in his eye and the tone of his voice when he talked about it.
"I'm 100 percent," he said with a "can-you-believe it" shrug. "I feel good out there. This is the first time that I've been running around out on the field without any pain most of the time. It's been a lot more fun than in the past."
And the timing could not be much better for the Jayhawks, who will look to rebuild their defense and replace fifth-round draft pick Ben Heeney this offseason. That's not to say Miles will be an automatic elixir for the absence of Heeney. The 6-foot-2, 235-pound linebacker from Tampa, Florida, remains in a position of constantly having to monitor past injuries and is still not playing at full speed.
"Rehab's been an every day thing for me," he said. "I think I've been going to rehab for like a year-and-a-half straight. It's been a very frustrating process but my parents and coaches and teammates helped me get through it."
One player who has had an enormous impact on Miles is tight end Kent Taylor, a Florida transfer who joined Miles in sitting out the 2014 season. The two grew up playing football together back in Florida and room together in Lawrence. While one was out because of injury and the other because of transfer rules, the two found shared frustration over not being able to help Kansas on the field.
"He has all the tools, and I think he can be a great player in our offense," Miles said of the 6-5, 220-pound Taylor. "I think we're both eager to get out there and hungry to do something for this team."
Once dubbed by former KU defensive coordinator Dave Campo the kind of player you can build a defense around, Miles' path thus far has made him more interested in fitting into any role he can handle.
Asked how he would write the script for the rest of his KU career, Miles touched on more than just football.
"Start these final two years here," he began. "Stay healthy. Excel on the field. Get my degree and see where this football thing takes me. More than anything, though, I just want to make a positive impact on the team, the school and the people around me."