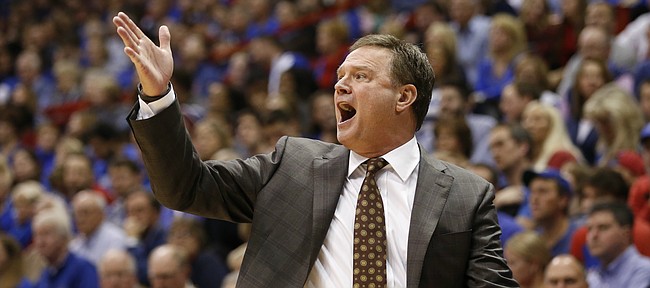 The NCAA made a series of changes to men's college basketball two seasons ago in an attempt to boost scoring and reduce physical play under the basket.
Those changes barely moved the needle, so now the NCAA is taking more drastic steps.
The NCAA Men's Basketball Rules Committee recommended reducing the shot clock from 35 to 30 seconds on Friday, the biggest step in a series of changes aimed at speeding up a game that has reached historic lows in scoring two of the past three seasons.
The new shot clock will be in place the next two seasons, the first time it has been reduced since dropping from 45 to 35 seconds in 1993-94. The newly shortened clock would be reevaluated after that.
The changes still must be approved by the NCAA's Playing Rules Oversight Committee, which meets next month.
Kansas University coach Bill Self said he liked the changes but didn't expect a major difference.
"I think everything that was done was positive and will help our game over time," Self said. "The rule change the media will probably make a big deal out of is the shot clock going from 35 to 30. That's not a big deal. The biggest thing that came out of it, the game will be called more in a manner the rules (originaly) have been written. The game has become much too physical. You will see a change. This will create more freedom of movement among players, enforcing rules the way the game was meant to be played."
The shot clock was the big news, but the committee recommended several other changes to speed up the game and take out some of the physical play.
The NCAA installed a restricted arc for block/charge calls in 2010-11 to reduce the number of collisions under the basket. Though the arc made a slight difference, it wasn't good enough for the NCAA committee, which recommended expanding the semi-circle from three to four feet.
"It is fine. I don't think it's a big deal," Self said of the 30-second clock. "The four-foot arc is good. Not allowing the 10-second re-set is good. The biggest change you'll see, more fouls will be called initially. There has been a lot of rough play; a lot of illegal screening, bumping cutters, arm in the back, hand in the back. The game will become more free-flowing."
The committee recommended reducing second-half timeouts by one per team and removing timeout calls in live-ball situations.
Possible additions: Self may need to add a player of two from another team to complete KU's World University Games roster. He said if the Jayhawks sign one more player, he'd likely need another player who would be provided by a Big 12 team or another team. He said if he signs two more players, he likely won't need to add anybody.