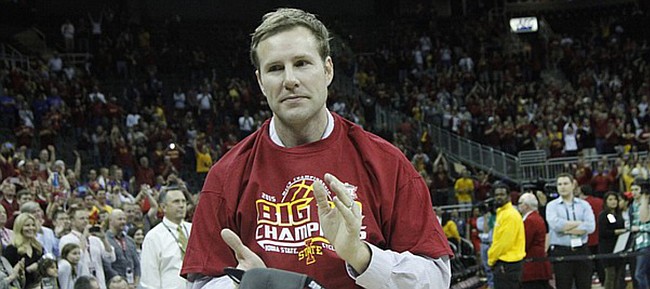 Kansas University's men's basketball team figures to face stiff competition from Iowa State in its quest for a 12th-straight Big 12 title.
"They are going to challenge the Jayhawks, but as we know, the Jayhawks seem to persevere — 11 straight titles," ESPN hoops analyst Miles Simon told Big12sports.com Tuesday at the league's spring meetings in Phoenix. "Someone is going to have to knock off the king. Iowa State could be that team next year."
Simon provided reporter Wendell Barnhouse with a detailed analysis of both teams. KU won the Big 12 regular season at 13-5 a year ago, one game ahead of both ISU and Oklahoma. Iowa State won the conference tournament.
Of KU, Simon said: "First of all, it starts off with Perry Ellis returning. That's big. He comes back for his senior year. I think he'll have an All-America type season, pick up right where he left off. Remember, he was hot on Buddy Hield's heels for Big 12 player of the year (until he hurt his knee), so that's huge first and foremost, but the recruits (forwards Cheick Diallo, Carlton Bragg) ... you get a guy like Cheick Diallo. He's a big-time energy guy, plays hard all the time, a good defender. You don't have to run any plays for him. He's a huge get for Kansas, especially in the post area.
"He can play alongside Perry because Diallo is going to do most of his work around the basket. Then you look for Frank Mason to continue to make a big jump, also Devonté Graham I think is going to be huge going forward. Brannen Greene I think will have to step up his game on the wing, especially with Kelly Oubre gone," Simon added.
Of Iowa State, a team that lost to UAB in the second round of the NCAAs, Simon said: "Fred Hoiberg arguably is going to return a Top Five team (nationally). You are going to return four of your five starters. I think you are going to have a hungry team. Monte Morris will be on a lot of All-America lists as well as Georges Niang. Jameel McKay is one of the best defenders in all of college basketball. You have Naz Long. You get the transfer, Hallice Cooke, from Oregon State."
Asked about Texas, Simon told Big12sports.com: "I think the Texas Longhorns could be a darkhorse team. I think they are an NCAA-caliber team right away. I think (new coach) Shaka Smart is going to have a great impact. He adds to that Final Four pedigree of coaches the Big 12 already has, and I'm excited to see what he does in Austin."
Schneider hopeful: New KU women's coach Brandon Schneider also was interviewed at the meetings by Big12sports.com.
"I think we have some high-character kids. I've had the opportunity to work with them obviously just briefly, but I think we've got a good core and foundation to build upon," said Schneider, who took over for Bonnie Henrickson on April 20.
Asked how KU could best emerge as a national power, former Stephen F. Austin coach Schneider said: "I think obviously you always are going to have to try to improve your roster as much as you can. I'm excited about the five signees that are coming in. We still have a lot of scholarships we can give out in the 2016 class. We're looking forward to doing everything we can to improve our team."
Mack to decide soon: Former VCU commit Tevin Mack, a 6-6, 200-pound senior small forward from Dreher High in Columbia, South Carolina, will announce his college choice next week, his mom, Paula, told wistv.com. Rivals.com's No. 61-rated player has a final list of KU, Texas, Clemson, Georgia, North Carolina, UCLA and West Virginia. He has not yet made a campus visit to KU.
Mack visited Georgia last weekend.
"He's been there, like, 10 times," Paula told the Spartanburg Herald-Journal. Mack's older brother played for Georgia coach Mark Fox at Nevada. Paula told goupstate.com that the decision must come next week because her son has finals the ensuing week.
Vick update: LeGerald Vick, a 6-5 junior shooting guard from Douglass High in Memphis who has decommitted from SMU, is thinking about reclassifying to the class of 2015. Vick, who is ranked No. 137 in the Class of 2016, initially chose SMU over Alabama, Mississippi, Tennessee, Providence and others. He has heard from KU, Kentucky, Louisville, UCLA, Texas and others.
Allen may ask out of letter: KeVaughn Allen, a 6-2 senior combo guard from North Little Rock (Arkansas) High, is expected to ask for a release from his Florida letter-of-intent, several outlets reported Tuesday. He's ranked No. 67 by Rivals.com.