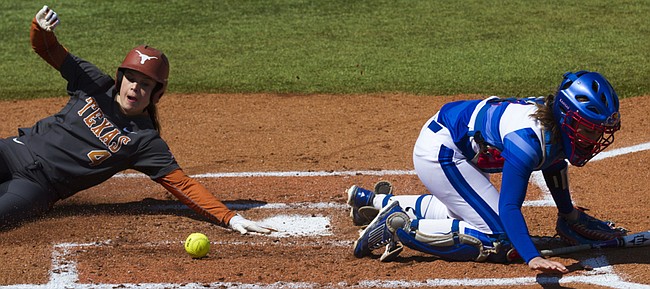 For the second straight day, Texas scored four runs in the top of the first,
For the second straight day, Texas used that quick start to beat Kansas University.
Saturday, it was an 11-5 UT Big 12 softball victory over the Jayhawks at Arrocha Ballpark.
The Longhorns batted around in the first and second innings and put a four-spot up in each frame, knocking around Kansas pitchers Alicia Pille, Monique Wesley and Bryn Houlton.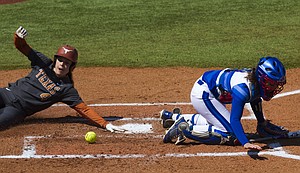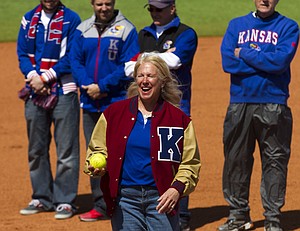 "Giving up another big top-of-the-first inning put us in a hole," Kansas coach Megan Smith said. "I was glad that our offense battled back, but in any game you can't give up 13 hits and 11 runs. That's just not going to be a recipe for success."
The Longhorns forced a first-inning exit from KU starter Pille (18-2) to hand the Jayhawks' top pitcher her second loss of the season and second in two days. UT's top four hitters in the order collected nine of the team's 13 hits.
"They've got good hitters," Smith said. "I think they had a really good game plan and executed really well early in the game."
One thing Smith was pleased with after Saturday's setback — unlike Friday's 6-0 loss to the Longhorns — was that the Jayhawk offense kept KU within striking distance.
Kansas answered Texas with two runs apiece in the first and second, highlighted by a two-run shot from Chaley Brickey.
"We got punched in the face pretty hard yesterday and never recovered," Smith said. "Today at least we saw them fight back."
Kansas freshman reliever Bryn Houlton settled down in the middle innings to pitch scoreless frames in the third, fourth and sixth. Houlton gave up three runs on eight hits over 52⁄3 innings in her second-longest outing as a Jayhawk.
The Kansas offense fizzled after the first two innings, though, other than a Maddie Stein solo shot to begin the seventh. Stein didn't put much thought into her fifth homer of the season because she would rather see the Jayhawks executing better offensively.
"We're trying to do too much instead of stringing together little base hits, taking walks, executing bunts," Stein said. "Just playing softball."
The Jayhawks will return today to take on Texas (22-9, 2-0) at Arrocha Ballpark for the third and final game of their Big 12 opening series. Despite the Jayhawks' 29-4 (0-2) record, Smith feels like there is a sense of today being a must-win game in order to avoid a sweep at home to begin conference play.
"It's extremely important," Smith said. "To me, it's about being competitive. I want to be more competitive (today). I think that in of itself, win or lose, will put us in a better mind-set moving forward."
Stein said that a pivotal factor to salvaging a game from the series will be getting out to a lead in the early innings instead of playing from behind like the past two days.
"Just making a statement and just showing everyone that this is a fluke," Stein said. "It's not a characteristic of ours to lose any game, but especially two games in a row. Definitely just bouncing back because every game is a must-win right now."
Texas 440 010 2 — 11 13 0
Kansas 220 000 1 — 5 7 1
W —Kristen Clark, 2-1. L — Alicia Pille, 18-2.
2B — Stephanie Wong (2), Erin Shireman, Texas. 3B — Lindsey Stephens, Texas. HR —Chaley Brickey, Maddie Stein, Kansas; Erin Shireman, Texas.
Kansas highlights —Chaley Brickey 1-for-3, 2-run HR, 2 R; Maddie Stein 1-for-4, HR; Bryn Houlton 52⁄3 IP, 8 H, 3 ER, 3 K, BB.