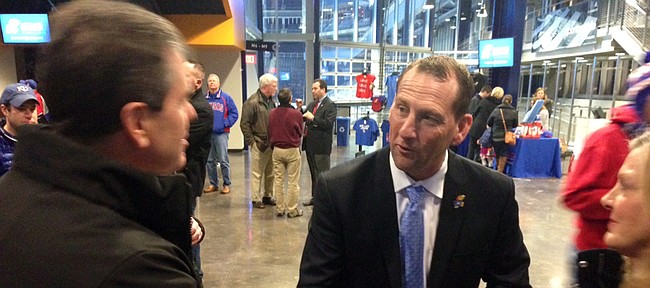 Kansas University football coach David Beaty has been a busy man since he was hired back in December. And all of the running from place to place to meet with recruits, fans, administrators and donors is something the first-year coach believes was critical in building his program.
But what Beaty and his new team will embark upon at 4:20 this afternoon is the one element of his new job that he has been looking forward to the most.
"It's an unbelievable excitement for a couple different reasons," Beaty told the Journal-World on the eve of spring football. "The things I've been doing up to this point are program-related, and I've really enjoyed doing all of that, but this is the fun part. This is the point where I'm ready to get out of this office, off the planes and out of the cars and get on that field and watch our guys do what they love to do."
There will be plenty of important observations made during the next five weeks, when the Jayhawks will conduct 15 spring practices culminating with the annual spring game on April 25. But instead of zeroing in on which players will fill out the first team and who will win which starting battles, Beaty has a clear plan for the spring that will emphasize three things.
The first is installation of KU's new philosophies.
"I'm excited about getting to see our coaches install their systems and bring them to KU," Beaty said. "I'm excited to see how certain guys fit into the new systems and how quickly they catch on."
The second is the importance of focusing on the factors the Jayhawks know they can control.
"There's gonna be a high premium on focusing on ourselves," Beaty said. "The way we're gonna get better faster is by being the most disciplined team in the country and being a smart football team."
The final thing ties into that and is something Beaty said both the KU offense and defense would spend a significant portion of each spring practice emphasizing.
"You're gonna see a ton of ball-security drills," Beaty said. "And there'll be a ton of time put into the hidden third of the game, which is special teams. We feel like if we do those things well, we give ourselves an advantage and a chance to get better faster."
That last bit will be the mantra for the Jayhawks throughout the next five weeks.
"That's what these practices are for," Beaty said. "To get a little bit better every day, as a team, as units and as individuals. We're looking for consistency and guys that love the game and want to put the time in to be better than good. Those guys always separate themselves."
Beaty said this kind of sweeping approach to a team that has a ton of questions would allow the coaching staff to start from ground zero with everyone in the program and also, he hoped, inspire guys to fall in line with Beaty's "bring your lunch pail to work and earn everything" mentality.
Of course, he would love to know who his starting quarterback will be, whether he has an offensive line that will hold up or what the revamped secondary might look like. But he's OK with waiting for answers to those questions and others to sort themselves out organically.
"There will be separation this spring," Beaty said. "And I can want it to be settled today. But what I want and what I can have are two different things. That's why they pay us as coaches, to develop these guys, and we're definitely looking forward to getting started with that."
Pro Day on tap
KU's pro timing day — the local version of the NFL combine — will take place starting at 10:30 a.m. Wednesday. Several former Jayhawks will participate in drills covering everything from the bench press and 40-yard dash to agility drills on the field and interviews with scouts.
Roughly 12-15 former Jayhawks figure to participate in Wednesday's showcase, with cornerback JaCorey Shepherd, a combine invitee who sat out because of injury, likely to garner the most attention.
'Bama-bound
According to reports out of Alabama, former KU offensive coordinator Eric Kiesau and former KU manager Charlie Weis Jr. have joined the Alabama coaching staff.
Kiesau, who initially coached KU's wide receivers before being promoted during his lone season in Lawrence, and Weis Jr., son of former KU coach Charlie Weis, will serve as offensive analysts for the Crimson Tide program.