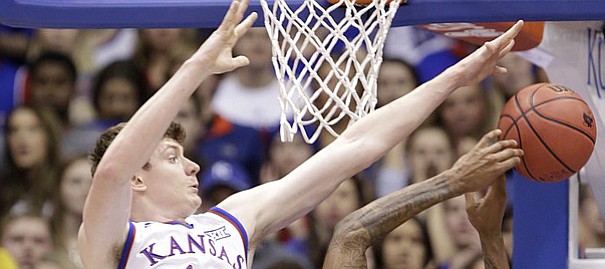 Kansas University junior power forward Hunter Mickelson, who had played 29 total minutes in Kansas University's first 16 Big 12 games, responded with 13 extremely productive minutes in Tuesday's 76-69 overtime victory over West Virginia in Allen Fieldhouse.
Mickelson's eight points, three steals, two rebounds and two blocks were recognized as critical by coach Bill Self. He credits the big man for helping KU overcome the loss of Perry Ellis to injury the first half (sprained knee) and Cliff Alexander, out because of an NCAA issue that Yahoo Sports' Pat Forde says involves the NCAA looking into "possible impermissable benefits received by one or more of his family members from an NBA agent."
"I told Hunter after the game," Self said Thursday, "walking into the locker room, 'You did good, but you always knew you would.' He said, 'Of course, just give me a chance to play,' which I think is a great attitude.
"Hunter and Svi (Mykhailiuk, no points three minutes) and Landen (Lucas, six rebounds, two blocks, 26 minutes) have probably had as good attitudes as anybody in our program. It's not easy to do when you want to play and don't get a chance to and you're sitting there. Like you don't want the quarterback to get hurt, but you want an opportunity. And that's kind of where those guys have been all year long," Self added.
Mickelson, a 6-10 transfer from Arkansas, enjoyed the light exchange with his coach.
"He said he was proud of me for stepping up whenever my named was called. He asked kind of in a question, 'Oh you stepped up?' I was like, 'Yeah a little bit.' He was like, 'You never knew you would huh?' I was like, 'Yeah.' I went with it and it ended up working out," Mickelson added.
Mickelson has been mighty patient waiting for his opportunity.
"I'm not really playing as much as maybe I'd want to," he said. "Just being able to help the team and do whatever I need to do (is gratifying). I just kind of keep the attitude whenever opportunities come, try to make the most of them."
Mickelson hit four free throws in as many tries Tuesday. Those were his first free throw attempts in Big 12 action.
"Maybe a little bit. (It) might have been a passing thought, something like that," he said, asked if he was nervous. "We shoot free throws after practice every day for purposes like that. It kind of comes down to it. You need to hit free throws. We've been practicing a pretty long while. That means a lot of practice on free throws. It's kind of helped out."
Mickelson, who said he will have enough credits to graduate next school year with a degree in liberal arts and science, said he's enjoyed the past two years in Lawrence.
"I'm happy here. Like I said, I've kept a good attitude," he said. "The guys have been great. Everyone I'm surrounded by is good people. I'm definitely happy."
Asked what Mickelson brings to the table, Self said: "He can shoot. And he can block some shots. He's not physically strong like Cliff, but hey, I thought he moved his feet great. I thought his ball screen defense was great. I thought he busted his butt."
Self also lauded big man Lucas for his block on Nathan Adrian that prevented West Virginia from hitting a winning layup at the regulation buzzer.
"That was an unbelievable play and to fall like he fell (flat on his back) and to get right up and play the entire overtime ... that was a stud play," Self said. "That play right there doesn't get enough credit because that won the league."
Frank Mason III, who played 42 productive minutes, was jokingly taking credit for the block to reporters after the game.
"He tried to do that in the locker room, too," Lucas said, smiling. "I don't even know why he was down there in the first place. I don't know if he was going to block it himself or what he was going to do with his little self. He tried, but I think the tape doesn't lie," Lucas added.
Of the pain of landing on his back, Lucas said: "It hurt pretty bad. Going into overtime in front of the fieldhouse fans, it kind of goes away pretty quick."
Perry to sit: Self reiterated that Ellis, who has a sprained MCL, won't play Saturday at Oklahoma.
"He's responding well to treatment. Hopefully by next Tuesday or so we'll have a better feel on what his status will be for the Big 12 tournament," Self said.
Wayne Selden Jr., didn't practice Thursday because of an ankle sprain he suffered against WVU.
"You're going down there with three bigs and Wayne's ankle isn't 100 percent. So he's day to day and will probably not practice today and doubtful for tomorrow. So who knows what our team will be going down there. Maybe we'll try to tweak some things and have some fun with it on how to try to attack them without having obviously the team that you would normally have and the team that played so well when we played them the first time (in victory)," Self said.
Self said he will not sit Mason just to rest him for the postseason.
"Frank wants to play. If we want to give him some time off, he can rest on Sunday and Monday. We're going to go down there trying to win the game, without question," Self said.
Cliff issue: Sources told Forde on Thursday that the Alexander inquiry involves the NCAA looking into "possible impermissable benefits received by one or more of his family members from an NBA agent."
Alexander will not be reinstated until after he speaks to the NCAA, Forde said.
If family members accepted improper benefits, Alexander could be ineligible the rest of the season.
When reached by the Journal-World, Self had no comment on Forde's report.
"No, nothing. Zero. Status quo," Self said of the issue Thursday. "The chances of him playing Saturday from our estimation based on the little bit of information that we have would be very slim right now."
Recruiting: Self was on hand to watch Eudora sophomore Mitchell Ballock help the Cardinals defeat De Soto, 56-31, on Thursday at Bishop Miege in Roeland Park. Ballock hit a halfcourt shot to end the first half ... Billy Preston, a 6-8 soph power forward from Dallas, who is ranked No. 9 in the Class of 2017 by Rivals.com, has made unofficial visits to KU, Baylor and Texas A&M.;