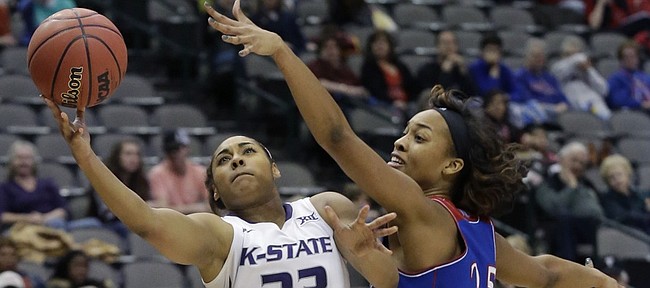 Dallas — Kansas University rallied from a 13-point first-half deficit to take a late lead, but Kansas State came up big down the stretch for a 57-49 victory Friday night in the first round of the Big 12 women's basketball tournament.
KU went on a 26-8 run and claimed a 46-44 lead on a three-pointer by Lauren Aldridge with 4:29 remaining. But K-State outscored the Jayhawks 13-3 the rest of the game.
"We've done that all year," KU coach Bonnie Henrickson said about the Jayhawks' comeback. "Honestly, we've done that all year, and we've won some and we've lost. We were down 17 at Texas Tech, we've been down before, we've come back, but there were probably about four of those that we've not. It ends up being a one-possession game. Certainly I think we're that team that makes the run. It's hard for me to believe we're that team that does that in the first half, quite honestly."
Chelsea Gardner led the Jayhawks with 14 points and 12 rebounds, Terriell Bradley added 13 points, and Aldridge scored 12.
KU committed 18 turnovers to K-State's 10 and shot 32.7 percent to KSU's 34.5.
The Jayhawks trailed 23-12 at halftime and shot only 13.6 percent in the first half.
"So you miss point blank, you're focused on something, it's not making shots," Henrickson said. "Focus on how to make it. Honestly, I told them we're probably lucky we're not down 30."
KU fell to 15-17 while K-State improved to 18-12. The Wildcats will face Baylor in the quarterfinals at 1:30 p.m. today in American Airlines Center.