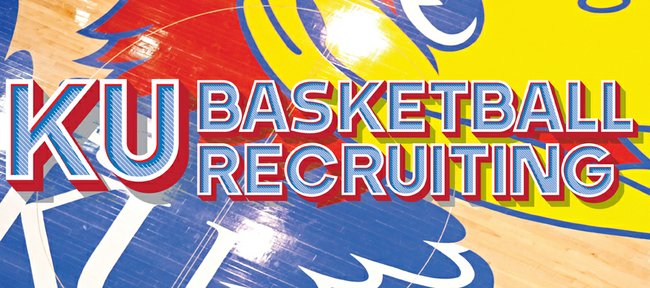 Lagerald Vick is an official member of Kansas Univesity's recruiting Class of 2015.
Vick, a 6-foot-5, 175-pound senior shooting guard from Memphis' Douglass High who committed to KU on May 17, on Tuesday afternoon stated on Facebook that he'd be reclassifying from '16 to '15 and play for the Jayhawks as a freshman during the upcoming 2015-16 season.
"Just confirmed when I'm leaving this weekend. Kansas it is!" Vick wrote on his Facebook page. Then, he added in an instant message to the Journal-World. "Yes, I'm (Class of) 2015; I'll probably come on Saturday."
About 90 minutes after Vick made public his decision to reclassify, KU coach Bill Self confirmed Vick's signing to a grant-in-aid agreement.
"The whole thought with Lagerald was that he would reclassify and become a 2015," Self said. "We knew he's talented enough that if he stayed a 2016, we'd wait on him. He completed all of his academic requirements. We were cautious not to say too much, too soon. He's officially signed and a member of the 2015 recruiting class."
Vick, who averaged 26.0 points and 11.0 rebounds for Douglass this past season, was one of three finalists for the Class AA Mr. Basketball Award for the state of Tennessee his junior and senior seasons and was named Class AA all-state, by The Tennessean, in 2013-14 and 2014-15. A three-year starter for the Red Devils, Vick was named all-district three times and snagged all-metro honors twice. Vick plays AAU basketball for Team Thad and coach Norton Hurd.
"Lagerald is a terrific athlete that is going to become a terrific basketball player," Self said. "He's got great size for a guard and has tremendous quickness and explosiveness for his size. We think he can be a guy that can get his own shot but also force a lot of help by driving the ball and could be an elite defender in time."
Vick, who had considered attending prep school a year, is ranked No. 33 by Rivals.com in the Class of 2015. He was No. 137 in the Class of 2016 prior to reclassifying. He joins KU power forward signees Carlton Bragg, from Cleveland; Cheick Diallo, from Centereach, New York and Dwight Coleby, a 6-9 transfer from Ole Miss in KU's signing class.
"Lagerald's mother, La La, has done a tremendous job of raising her family," Self said. "Although we've only known Lagerald and his mother for a couple months, we really connected on their visit to Lawrence. I not only think we'll have a great time coaching Lagerald, but I think we'll also have a lot of fun with mom being part of our family."
On May 17, he explained his decision to attend KU over Kentucky, Kansas State, Auburn and others.
"It was the history of it," Vick said. "It is a good program. I felt it was home for me there.
"I talked to Wayne Selden," Vick added of the KU junior guard. "He talked highly of the program, told me what coach Self was about and what he wasn't about, stuff like that."
The name: There's been some confusion on how to spell Vick's first name. LaGerald had been used in virtually all media reports until Tuesday. KU's official news release spelled his name Lagerald. Vick's mom told the Journal-World in a Facebook message the official spelling is with a small g.
The roster/visitor today: KU has filled its scholarship allotment of 13 for next season. The scholarship players are Vick, Bragg, Diallo and Coleby, plus returnees Perry Ellis, Devonté Graham, Brannen Greene, Landen Lucas, Frank Mason III, Hunter Mickelson, Svi Mykhailiuk, Wayne Selden, Jr., and Jamari Traylor. Paschal Chukwu, a 7-2 former Providence center, today will make a campus visit to KU after visiting Nebraska the past two days. Chukwu, who has three years of eligibility remaining, also has Virginia, Iona and Michigan State on his list. If he elected to come to KU, he'd either have to pay his own way a year or a returning player would have to leave the program.
World Games: Vick should get plenty of playing time in the upcoming World University Games. Perimeter players Mykhailiuk (not born in USA) and Greene (injury) will not participate leaving a guard unit of Selden, Mason, Graham, Vick and SMU senior Nic Moore.
Cliff injured in L.A.: Former KU forward Cliff Alexander suffered a right knee injury during a draft workout Tuesday with the Los Angeles Lakers, the L.A. Times reported. ESPN's Chad Ford says Alexander has a mild MCL sprain and will be out three to five days.