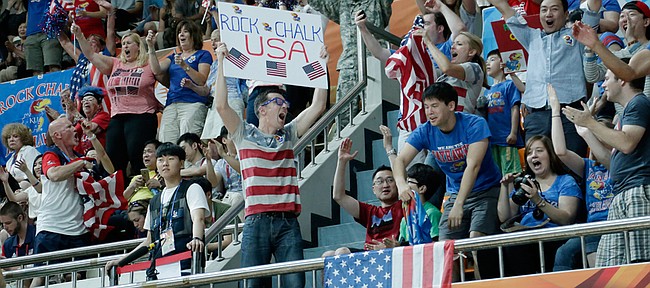 Gwangju, South Korea — More than 6,000 miles away from Lawrence, across the Pacific Ocean, Kansas University men's basketball players have been supported by a number of fans who do the Rock Chalk chant at the end of games or chant "U-S-A" during the games.
Drew Mountain, 30, was one of those fans Wednesday in USA's 66-65 victory against Serbia.

Mountain graduated from KU in 2008 and now teaches English as a foreign language to freshmen at Dong-a University in Busan, Korea.
Despite the 14-hour time difference from Korea to Lawrence, Mountain tries to watch as many games as he can through Slingbox, a TV streaming device.
"Not most (games) live, but when I can," Mountain said. "Sometimes I've been known to have the game minimized in my podium while I'm lecturing. Kind of a surprise to students. But you do what you can. You have to keep up."
Mountain lives nearly 200 miles away from Gwangju, where the Jayhawks played Wednesday, but he couldn't turn down the trip to see his favorite college basketball team.
"I think family back home told me maybe sometime in the spring, April or May, and queued me up," Mountain said. "Then I realized the tickets were only $8,000 (South Korean) Won, which is about $8 (in the) U.S. So it was a no-brainer. I got a day off. I figured I'd come see them play Serbia."
The opportunity to see the Jayhawks on foreign soil was too good to pass up for John Keenan and Olivia Williamson — even if that meant changing travel schedules.
Keenan, a 2011 grad from KU who lives in Overland Park, has family in Seoul and rearranged his trip this summer with his girlfriend to coincide with some of the Jayhawks' games.
"I was super excited," Keenan said about finding out about KU's trip to South Korea. "I started bragging to all of my friends about it. I told all of my friends 100 times. They're all pretty jealous to be honest. I've been SnapChatting them every day, just showing them like where we are.
"We were really excited. Words can't really describe how excited we were when we found out they were playing here."
Keenan and Williamson took the bullet train from Seoul at 6:30 a.m. to watch the Jayhawks play on Tuesday afternoon, then stayed in Gwangju for a night to watch Wednesday's game.
"I think it's pretty much a once-in-a-lifetime opportunity," said Keenan, a Shawnee Mission West grad. "I feel like it's a pretty personal look at the game. Every time you go to a KU game, whether it be Sprint Center or Allen Fieldhouse, you're kind of far back.
"(Tuesday) we were at Muan Indoor (Gymnasium). I think it's a very personal experience. It's cool to watch it with all of the Korean people. They seem pretty supportive of each team."
With only 1,800 seats at Muan Indoor and less than 3,000 at DongKang College Gymnasium, fans can hear coaches yelling and players talking on the bench.
"We were talking about that gym (Tuesday), it was like the size of my high school gym," said Williamson, from Osage City, who has three years left in KU's school of nursing doctorate program. "It was crazy. It was like a personal KU basketball game. It was real cool.
"(Kansas coach) Bill (Self) acknowledged me yesterday, and I about had a heart attack. I've been bragging to everyone. We were right on the front row yesterday, and they were all just sitting right below there, and Bill obviously saw us with our KU shirts on. That was really cool."
Sitting in the stands an hour before the game against Serbia with a chance to watch the Jayhawks in person, Mountain had a smile across his face.
"Just incredibly psyched," Mountain said. "Proud day to be a Jayhawk in South Korea, for sure."