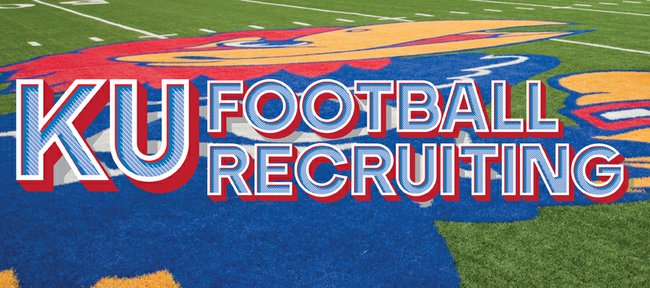 With national signing day less than a week away and coaches across the country still scrambling to fill their classes or find those diamond-in-the-rough athletes, it has become a tense time for the Kansas University football staff.
Not only are head coach David Beaty and company still trying to fill the open spots in this year's class — according to Rivals.com, the Jayhawks still have four openings and will welcome seven athletes to town for official visits this weekend — but they're also fighting like crazy to hold on to the commitments they have.
In the past five days alone, three three-star commitments have de-committed from KU to pledge their services to other schools and another dropped off the radar completely.
The most recent defection came from Olathe North tight end Josh Moore, who very publicly and bluntly announced his separation from KU on Twitter late Tuesday night. It is not yet known where Moore will end up — sources have indicated the junior-college route could be in his future due to academic issues — but his departure along with those of wide receiver Kevin Thomas (SMU) and defensive back Arico Evans (TCU) have taken some of the luster off of KU's current class, which already includes eight mid-year transfers who are on campus.
This kind of movement is common any time programs go through a coaching change. And while nobody likes to see their school lose guys to other programs, the Jayhawks are doing their share of holding onto guys, as well. Jon Kirby of JayhawkSlant.com reported Wednesday that several other KU commitments have been approached by other schools during the past couple of weeks. Aside from Evans, Moore and Thomas, many of them have held strong on their commitments to Kansas.
The most recent such instance came from Fort Worth, Texas, running back Taylor Martin, a 5-foot-9, 187-pound two-star prospect who committed to KU last June. Coaches from hometown powerhouse TCU recently made a run at Martin, but the back told Kirby this week that nothing had changed in his mind.
"I told the coaches at TCU I made my decision to commit to Kansas and that's what I am doing," Martin told Kirby. "I am close with (KU running backs) coach (Reggie) Mitchell and he has stayed with me through the coaching change. I'm looking forward to signing with Kansas."
Martin and the rest of the Class of 2015 will be eligible to sign their letters of intent bright and early Wednesday morning. Until then, it's hold-your-breath-and-scramble time for the first-year KU coaching staff that has hit the recruiting trail with the disadvantage of limited time but made up for it by working tirelessly since the dead period ended earlier this month.
This weekend figures to be big for KU's recruiting efforts, as the Jayhawks will welcome to town four already-committed players — DB Shola Ayinde, DB Shaquille Richmond, WR Steven Sims and QB Carter Stanley — and three targets in Derby High defensive back Darreon Jackson (3 stars), Fullerton Community College defensive back Marnez Ogletree (5-10, 190, 2 stars) and Coffeyville Community College offensive lineman Jaypee Philbert (6-6, 305, 3 stars).
As of Wednesday night, KU's 2015 class breaks down like this: five defensive backs, four offensive linemen, four wide receivers, three defensive linemen, two running backs, two quarterbacks and one linebacker.
Ten of the 13 unsigned but committed athletes are from Texas, with Kansas, Florida and Oklahoma also being represented. Six of the eight mid-year signees came from Texas junior colleges, as well.
The class, as it stands today, includes 10 three-star prospects and 11 two-star prospects. In addition, true to his word when he was hired, Beaty also has put in a ton of work to bring on board several walk-ons, many of them of the preferred variety and a few who may have a chance to contribute immediately.