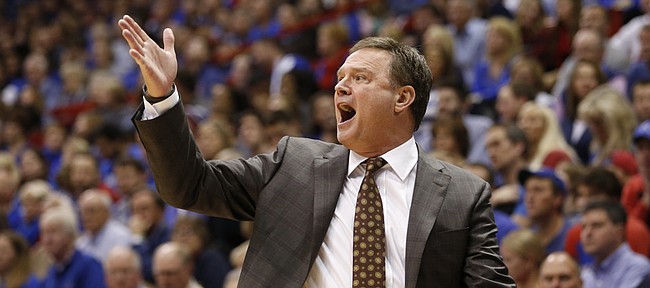 Waco, Texas — Kansas University's quest for an 11th-consecutive Big 12 basketball title starts tonight at Baylor.
"We need to play well. Not often do you start on the road against the 21st team in the country. That's what our chore is," said KU coach Bill Self.
The No 12-rated Jayhawks, who have won 14 of the 18 Big 12 titles throughout history, enter the 8 p.m., contest in Ferrell Center with the same overall record as Scott Drew's No. 21 Baylor Bears — 11-2.
Baylor, which beat South Carolina, Memphis, Texas A&M; and New Mexico State in nonconference play (losing to Illinois) is coming off Saturday's 73-63 Big 12-opening loss at Oklahoma. KU, which has wins over Michigan State, Georgetown, Utah, and Florida (losses to Kentucky, Temple), is coming off Sunday's 76-61 win in its nonconference finale against UNLV.
"This will be the hardest year for us to win league. Whoever wins it will earn it because you've got to go through a lot of good teams," Self said, adding, "I like Baylor's personnel a lot. I like how the pieces fit. Their zone is active. They are very deserving of their ranking."
Baylor, which lost Cory Jefferson, Isaiah Austin and Brady Heslip off last year's (26-12) Sweet 16 team, has double-digit scorers in 6-7 junior Taurean Prince (12.0 ppg), 6-9 freshman Johnathan Motley (10.8) and 6-6 senior Royce O'Neale (10.3). Junior forward Rico Gathers (6-8) contributes 10.6 rebounds and 9.6 points per contest.
The Bears, who average 70.0 points a game and allow 56.1 (KU averages 71.2 and allows 64.5) have hit 86 of 231 threes for 37.2 percent.
"I think everybody shoots them. Even their big center has shot 12 of them," Self said of Houston native Motley, who has made 3 of 12 threes. "We recruited Al Freeman and he has really gotten into the groove shooting from behind the arc. We know he's a great shooter," Self added of the 6-3 freshman from Charlotte, North Carolina who has made 11 of 38 threes and averages 6.5 ppg off the bench.
"They can all shoot. Prince is making threes (21 of 39) and they play him at the 4 (power forward). It obviously puts stress on your defense because they can stretch it."
KU freshman guard Kelly Oubre Jr. — who averages 7.3 ppg after scoring in double digits three of the past four games — says he's looking forward to tipping it up in conference action.
"It begins," Oubre said. "It's starting to get amped up. These teams are looking to have great teams, also. A lot of people do have doubts about us. That's what I've been looking at," he added of predictions. "It gives us a little bit of motivation to go hard and work our butts off to be the best team we can be. We need to continue to do what's been working for us in previous years."
Noted sophomore Wayne Selden Jr.: "It (conference play) is real different, the intensity, the fans, the away crowds, the home crowds. Everything about it is different. We're just trying to keep the guys ... don't let them go in blind. Some of us went in blind last year. Let them know every possession counts."
Austin to be honored: Today is "Dream Again Night" to honor former Baylor center Isaiah Austin, who has returned to the team as a student assistant. The 7-footer's dreams of playing in the NBA were shelved this year for medical reasons. The first 4,000 fans will receive Dream Again T-shirts and Austin will be recognized at halftime ... Baylor has won 12 straight games at Ferrell Center. Last home loss was 69-52 to KU on Feb. 4 of last season. ... KU leads the all-time series 21-4. KU is 3-2 in the last five meetings.
GameDay in Ames: Game time for the KU-Iowa State game on Jan. 17 has been set for 8 p.m., in Hilton Coliseum in Ames, Iowa. It is part of ESPN's GameDay. Sites are announced the week prior to games. Other Big 12 schools could be considered for other GameDay hosting duties later in the 2014-15 season.
The first hour of ESPN College GameDay begins at 9 a.m. on ESPNU, continuing at 10 a.m. on ESPN, with an evening edition leading into the game.
The 2014-15 season marks the 11th year for ESPN's College GameDay. KU has hosted five times (2005, 2007, 2008, 2011 and 2013) and has been the road team four times (2006, 2010, 2012 and 2014). Kansas is 5-4 all-time on GameDay. Coach Bill Self's Jayhawks are 4-1 at Allen Fieldhouse and 1-3 away.
Thursday announcement: Carlton Bragg, a 6-9 senior forward who is ranked No. 14 nationally by Rivals.com, will choose either KU, Kentucky or Illinois at a 1:45 p.m., Central time, news conference Thursday at Villa Angela St. Joseph High in Cleveland. The Cleveland Plain Dealer indicated Bragg had initially planned to announce his choice on his school's Senior Day in late February, but apparently has settled on a school and wants to be focused the rest of his final high school campaign.
"I don't think Carlton Bragg picks UK," writes Matt Jones of kentuckysportsradio.com. "He has moved his decision up earlier in the process than a lot of people expected and with the timing, I just don't think Kentucky is going to be the selection. UK has a lot of big men irons in the fire (Caleb Swanigan, Stephen Zimmerman still deciding and 6-11 Skal Labissiere has committed), along with the uncertainty of who will return from this team ... after talking with some folks, I just don't think the timing works for Bragg right now. I suspect he picks Kansas or Illinois."