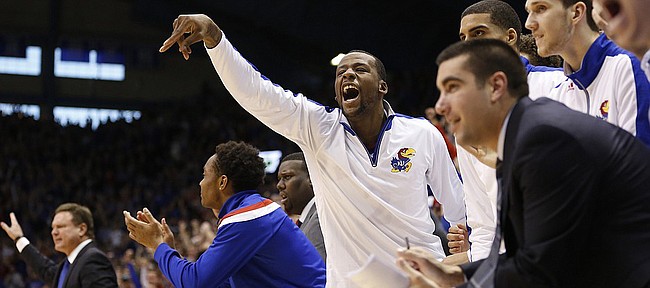 A media member mentioned to superstitious Kansas University basketball coach Bill Self that the Jayhawks have won 23 straight conference openers dating to the 1991-92 season.
The last loss was at Oklahoma in 1991.
"Thanks," KU's 12th-year coach said with a smile during Monday's weekly news conference in Allen Fieldhouse. "I guess it (opener) is (important), but it's not the end of the earth, either. It's a long season. Eighteen games is a long time, but I really appreciate you pointing that out, though."
The No. 12-ranked Jayhawks (11-2) open the 2014-15 Big 12 season at 8 p.m. Wednesday at No. 21-ranked Baylor (11-2, 0-1).
It took no reminding to point out another number of significance — 10, as in 10 straight league championships for the Jayhawks. It ties UConn for third longest streak of all time.
UCLA won 13 straight Pac-10 titles from 1967 to '79 and Gonzaga 11 West Coast crowns from 2001-11. KU has won a nation's-best 57 conference titles overall. Kentucky is second with 51.
"Even when we won it in 2008, we still lost three out of five in our league over a 21⁄2-week period," Self said.
"I think last year was a year that there's no way after the San Diego State game I would say we win the league by two games, no way," he added of a loss that came right before the start of conference play.
"The year before, we were dead and somehow put it together and end up losing to Baylor to end the season. But K-State lost at Oklahoma State, and we ended up pushing. We started out 1-2 the year we won it when Brandon (Rush) and Mario (Chalmers) and Julian (Wright) were freshmen. There's been numerous times it didn't look good. This year, whoever wins it will really deserve it. This league is really, really good."
Graham update: Freshman guard Devonté Graham (sprained right big toe) has started "light running, some light cutting. He's doing some individual shooting," Self said. "We're going to continue that, and I'm hopeful we can put him in some type of practice situation later on this week.
"He's in terrible shape, obviously, but I think he can get his shape back, and he can get back where he can play spot minutes in a week, I would think, for sure. But we are not going to put him out there too early.
"We are going to make sure that he has total confidence in it, but I don't know when that will be."
Self said there's still the chance Graham could use a medical red shirt if he doesn't respond well once he starts practicing full-go.
Svi's parents coming to town: Self said Sviatoslav Mykhailiuk should receive a lift this week when his parents visit from Ukraine.
The 17-year-old freshman's mom is Inna, a high school biology teacher, and dad is Iurri, a college history professor.
"Mom and dad will come see him this week. We'll be excited to have them here, give him (Svi) a hug, and I'm sure he'll be feeling a lot better," Self said of Mykhailiuk, who Self said is "really laboring now."
He has scored five points in KU's last three games.
"I talked to him a long time after practice today," Self said on his "Hawk Talk" radio show. "He is the nicest, sweetest young man you could ever be around. Add the fact he's two years younger than everybody, add the fact his parents are 5,000 miles away, it's not an easy deal for him. I still think from a prospect standpoint he may be as good a prospect as we have if you grade everybody at age 21. He's in a phase where he was more confident against Kentucky and Michigan State than in practice. I think he agrees with me."
Chit-chatting with team: KU's two-hour team meeting that Self called before the UNLV game was not particularly significant, he said.
"Oh, we've met a lot since we've been back from Christmas. No, no, it wasn't a 'break-you-down' meeting, no. It was just, like, 'Hey, let's identify what's going on.' I actually read the Big 12 stats to them and where we ranked and that kind of stuff."