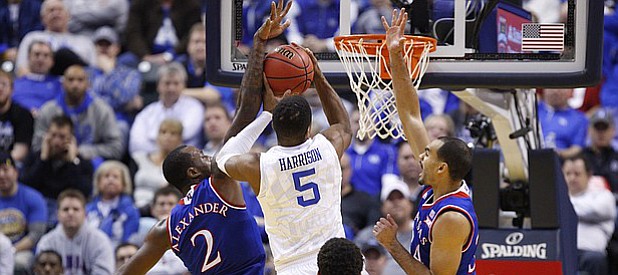 For all the attention paid to the Kansas University basketball team's offensive failures, the truth is, the No. 1 reason KU is not the popular pick as the team to beat in the Big 12 lies elsewhere.
The Jayhawks used to know how to frustrate the confidence right out of opposing offenses. Now they can't. Teams don't dread trying to score on Kansas. They look forward to it.
Mind-blowing numbers illustrate KU's recent decline from decade-long defensive dominance. The Jayhawks' national rank in field-goal-percentage defense, starting with the 2003-04 season through this season: Eighth, fifth, first, fourth, third, fifth, fourth, 13th, third, first, 79th, 163rd. Opponents shot worse than 40 percent in each of those first 10 seasons, .416 last season, .420 so far this year. The numbers only confirm what watching games already made clear, that the lane has become a no-combat zone, a peaceful place where elevator music has replaced Jimmy Page shredding.
It's not too late to make the necessary changes to make it possible for Kansas to contend to the end.
Four encouraging factors:
1 . The Big 12 has more depth than height. Ken Pomeroy, college basketball's main metrics man, has a minutes-weighted formula known as "effective height." Texas ranks atop the conference with the 21st-tallest team in the nation. TCU, second in the conference, is ranked 63rd in the nation. Kansas ranks 114th in the country, third in the Big 12.
2 . Devonté Graham might come back from a severe toe injury, and if he does, that gives KU a needed extra ballhandler and in some cases a defender who matches up better with schools that start small guards.
3 . KU has more McDonald's All-Americans (four: Cliff Alexander, Perry Ellis, Kelly Oubre, Wayne Selden) than the rest of the conference combined (three: Cameron Ridley and Myles Turner of Texas, Le'Bryan Nash of Oklahoma State).
Other than Oubre's recent splash, KU's burger All-Americans have underachieved. Instead of improving, junior Ellis and sophomore Selden have regressed. That can reverse itself.
4 . Alexander and Hunter Mickelson, the two post players with the highest ceilings in terms of becoming good complements to Ellis, haven't played as many combined minutes (265) as Jamari Traylor and Landen Lucas (342). Alexander has played one more minute than Traylor, Mickelson 78 fewer than Traylor. If Alexander and Mickelson play more, Traylor and Lucas less, Kansas improves at both ends.