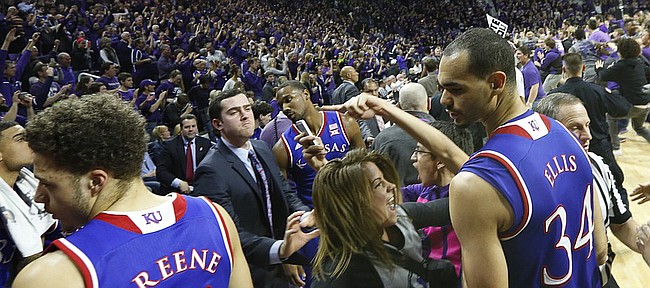 Kansas University basketball coach Bill Self was pinned against the Bramlage Coliseum scorer's table by a mob of Kansas State students, opposing coach Bruce Weber shoving folks out of the way to help his counterpart to safety.
Jayhawk junior forward Jamari Traylor was charged into — and knocked several steps to his left — by a KSU fan under the south goal.
In addition, KU junior forward Perry Ellis was allegedly taunted and flashed an obscene gesture by another Wildcat supporter as thousands of fans stormed the court following KSU's 70-63 win over KU on Monday night. That particular fan was shoved and flung away from the KU bench by assistant coach Kurtis Townsend.
"It's been a bad day for Kansas State ... I'm not going to be one to pile on," KU athletic director Sheahon Zenger said Tuesday on the Jayhawk Sports Weekly radio show, his word the last during a day in which KSU AD John Currie apologized to Jayhawk nation in a lengthy statement, the Big 12 indicated it was looking into the matter and KSU police asked fans for help in identifying the student who hit Traylor (mission accomplished as by the end of Tuesday the repentant student wrote a letter of apology to KSU's student newspaper).
"Our top priority is the security and safety of our coaches and our student-athletes. Last night that was at risk. We believe that's being addressed," added Zenger, who said he spent "most of the day on the phone with Big 12 officials and the Kansas State administration and feel satisfied that this time next year this shouldn't be a concern."
Zenger said there would be further conversations between the schools and with the Big 12 "between now and next year."
"For me, it's about the University of Kansas. It's about our student-athletes and coaches. That basketball team is our pride and joy. I have to stop short before I would get too dramatic or intense. We deserve, every team deserves and expects a certain kind of treatment when you are on the road. We feel we provide that. We ask that of others. You never know what can happen in your own house, your turf (but) we take great pride in Allen Fieldhouse, our students, our fans, the way they comport themselves."
As far as Townsend being shown on tape flinging a KSU student out of the way, the KU aide asked the Journal-World to speak with associate AD Jim Marchiony about the matter, saying only that he was trying to protect KU's players.
"Kurtis was appropriately attempting to protect KU players from a fan who appeared to be approaching several of our players," Marchiony told the J-W. "The safety of our players was our No. 1 concern last night. And one fan had already deliberately body-checked Jamari Traylor. Kudos to our players for keeping their cool."
Marchiony was asked about Townsend allegedly putting "a headlock" on the student.
"Calling it a headlock is a real stretch considering he had his hand on the fan for all of about two seconds," Marchiony said.
Meanwhile, Self on his Hawk Talk radio show repeated many of the sentiments that he shared with the media after Monday's game.
"Obviously there were actions taken by some rambunctious students or whoever they were that could have escalated into something much worse, but in no way is that a reflection of their basketball team and their performance last night. ... Whatever way it is handled, there should be some safety precautions taken to make sure the players are safe. For whatever reason, that slipped through the cracks last night," Self said.
"I think the story is that there's got to be something in place from a security standpoint or game-day-management-type standpoint to make sure that the players from the opposing teams aren't stormed. You shouldn't do it (storm) at their players or at their bench. That was a situation last night that could have obviously gone really south," added Self, thankful nobody was hurt.
Self credited KSU coach Weber for trying to help Self get away from the scorer's table, where Self was stuck for a few moments.
"Bruce actually did a nice job trying to keep people off us," Self said. "There's no problem there. Looking back in hindsight, I usually in situations like that would call time out, just tell everybody to come stand by the bench (as final seconds on clock expired).
"There were seven seconds left. I told our players on the bench to make sure they just stay here and just exit. They did a good job with that. There were a couple players on our bench area that actually had some fans come to them. Jamari (Traylor) got hit. Everybody's seen it (on video). He got hit, but it didn't hurt him.
"Mari's got a temper. I thought he handled it perfectly," Self added. "We were down from losing the game. We weren't trying to do anything else.
"I thought our players handled it well. K-State ... I know they were apologetic. I did not see Bruce after the game. I know he made an attempt to come and make sure everything was OK, which is what he should do. And it was classy to do that. It shouldn't take away from the game, although it has in some people's mind. In my mind, that's over. I'm more concerned how do we play better?"
As for statements made during the day, the student who ran into Traylor identified himself as Nathan Power and wrote in the Collegian newspaper: "I want to take this moment to share a sincere apology in breaking from the Wildcat way and stepping outside what is acceptable in the spirit of the game. Following the basketball game I simply let my emotions get the best of me in all of the chaos. In my excitement I was not careful of the people I was around. I am sorry that I made the KU basketball team — Jamari Traylor in particular—feel disrespected. By no means can I change what took place but in the future I will be aware of how emotions can impact good judgment."
The Big 12 wrote: "The Big 12 Conference office and the two schools are reviewing the postgame celebration that occurred at the conclusion of last night's Kansas at Kansas State game. In accordance with Conference policy, home team game management is responsible for the implementation of protocols to provide for the safety of all game participants, officials and fans."
And part of what Currie wrote: "K-State prides itself on providing a great game atmosphere in a safe environment and did successfully execute our security plan when we defeated KU last year in Bramlage as well as in 2011. Although no one was hurt last night, we fell short of our expectations for securing the court and escorting KU to its locker room without incident. We are disappointed that we did not do better for the KU team.
"We are reviewing our procedures internally and consulting with our law enforcement partners to determine any steps necessary to improve our gameday security."
In related news, the young man who bumped Traylor came forward with an apology letter in the K-State Collegian.