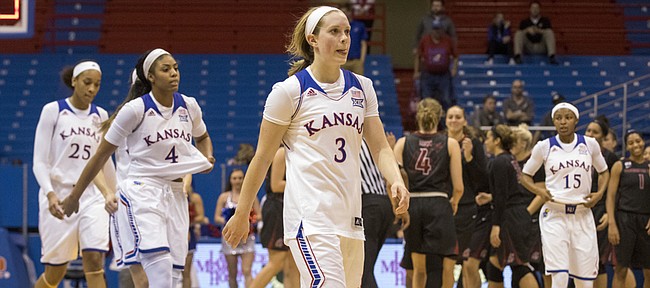 Kansas University women's basketball coach Brandon Schneider received a little taste of what life as an NFL quarterback is like during Sunday night's 66-53 loss to Washington State at Allen Fieldhouse.
With the Cougars (9-2) throwing a match-up zone at the Kansas offense that was new to the Jayhawks and uncharacteristic of WSU, Schneider and his team were forced to adjust on the fly as best they could.
"We were literally reviewing some things in timeouts just because we haven't seen much of it," said Schneider, who did not exactly have notebooks full of print-outs the way QBs do but did employ the eyes and ears of his coaching staff to try to figure out how to solve the zone.
For a while, it worked, as Kansas (5-5) pulled within three at halftime (30-27) and actually took a brief lead early in the third quarter.
But that lead, and KU's comfort against the zone, was short-lived, and the Cougars closed the game with a dominant fourth quarter in which they outscored Kansas, 22-12.
"I really thought we had it figured out in the third quarter," Schneider said. "And then the fourth quarter, we got really impatient. ... We just didn't trust the offense as much in the fourth quarter as we should've."
That led to bad possessions, bad shots and bad memories, and Washington State continued to shoot lights-out to pull away.
When the Cougars weren't knocking down shots from the outside — WSU shot 9-of-16 from three-point land — guards Taylor Edmondson (12 points, 4 assists) and Dawnyelle Awa (19, 4) were getting teammates involved and setting them up with easy buckets.
"The biggest issues we had in the fourth quarter were defensively," said Schneider, whose team lost at home for the fourth time this season.
KU did a fantastic job defensively on Washington State leading scorer Borislava Hristova (six points on 3-of-6 shooting), and that was a huge part of the game-plan entering the night.
"We face-guarded her most of the game, and she didn't help herself when she got in foul trouble," Schneider said. "The bulk of our plan was to try to shut her down, but (give) credit to their other players, they stepped up, and that's why you don't want to be a one-option team."
After giving up five straight points to open the fourth quarter and falling behind 49-41, KU pulled within three on a drive by Jada Brown (eight points, five rebounds) and a step-back three-pointer from Timeka O'Neal. WSU responded with a 10-2 run to open up a double-digit lead, and KU never recovered.
Kansas' mistakes, though forced by the WSU defense at times, again came down to inexperience and a lack of focus.
"A lot of the time it was just paying attention to details and being tough," said KU's Caelynn Manning-Allen, who scored 10 points, grabbed seven rebounds and blocked three shots. "We talked a lot about toughness this week leading up to the game."
Schneider's team definitely was tough at times, especially when considering it spent most of the night playing from behind yet never quit.
"I think their team definitely knows their identity," WSU coach June Daugherty said. "They play really, really hard."
Such a compliment is music to any coach's ears. But now the Jayhawks need to combine good effort with good execution.
"This is a great learning experience for us," Schneider said. "Or, it should be, because it gives us something to look at on film."
KU will return to action at 7 p.m. Tuesday at Allen Fieldhouse when Oral Roberts comes to town for the final nonconference tune-up of the season. Kansas opens Big 12 play Dec. 30 at Oklahoma.