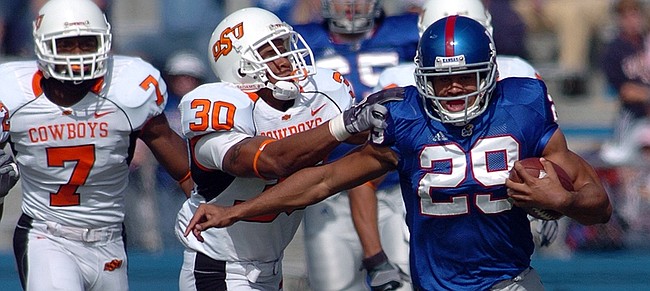 Kansas University's strongest connection to Canadian football is no more.
Wednesday, former KU great and CFL star Jon Cornish announced his retirement from the Canadian Football League after one of the most impressive nine-year careers in recent CFL history.
"All good things come to an end," said the 31-year-old Cornish while announcing he had reached the end of the road. "It's been a long time, but I'm definitely happy that I've spent the time to prepare myself for today."
Long before former Kansas standouts Chris Harris, Aqib Talib, Darrell Stuckey, Bradley McDougald and others were making Jayhawks proud with their strong play in the NFL, Cornish was tearing up the CFL and giving Kansas a prominent place in professional football.
Drafted in the second round of the 2006 CFL draft, Cornish, who still owns KU's single season rushing record (1,457 yards in 2006) and ranks 10th on KU's all-time rushing list (2,245 from 2003-06) spent all nine of his CFL seasons with the Calgary Stampeders. He leaves the game as a two-time Grey Cup winner and with possession of the MVP trophy from 2013 and three All-Star and Most Outstanding Canadian trophies, accomplishments that are sure to earn him a spot in the CFL Hall of Fame.
"I'm very comfortable with my decision," said Cornish at his retirement press conference. "Over the years with this team, I feel we've been able to achieve everything that is possible to achieve both as a team and as an individual."
After a slow start to his career, Cornish caught fire a few seasons in and quickly became one of the most feared offensive weapons in the CFL. He enjoyed three 1,000-yard seasons and leaves fourth on Calgary's all-time rushing list. He finishes his career with 6,844 yards and 44 touchdowns rushing and another 1,666 yards and 9 TDs receiving.
"Jon was an exceptional player for this franchise and I congratulate him on an excellent career," said Calgary GM John Hufnagel, who served as Cornish's head coach for eight of his nine seasons in Calgary. "He earned his dues early in his career with hard work and commitment on special teams while gradually earning more playing time on offense. After he became the starter, he developed into one of the best running backs in the history of this franchise and this league."
Injuries cut Cornish's final season short. A broken thumb and concussion during the 2015 season limited him to just nine games and he missed both of Calgary's playoff games.
A native of New Westminster, British Columbia, Cornish now hopes to spend his time promoting both the CFL and the Calgary franchise as well as serving as an advocate for brain health in the game.
"There's a certain shelf life every player has," Cornish said. "Being honest, do I think I could play two or three more seasons at a high level? Yeah, with the way I built my game, I think I could probably continue to play. But at what risks? There is a portion of me that's nervous, excited, anxious. But, at the same time, I'm a person that embraces change. This isn't me leaving football. This is me leaving the field."