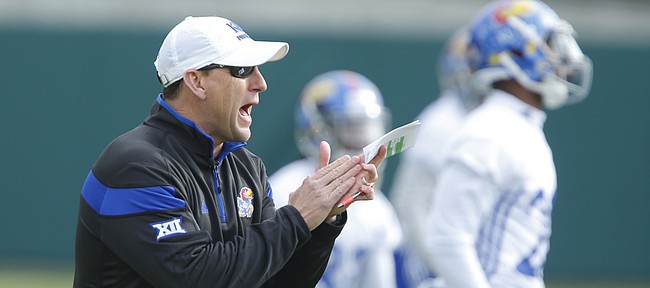 August has arrived and that means another Kansas University football season is officially upon us.
The Jayhawks will report to preseason camp today — they'll stay in the Holidome this year instead of Naismith Hall on campus — and kick off the first practice of the 2015 season on Thursday evening. After that, they'll hit the practice field Friday, Saturday and Monday before jumping into full pads on Aug. 11 and the first session of two-a-days on Aug. 12.
With an entirely new coaching staff and several unproven players looking to fill in for departed veterans, this year's camp figures to be as interesting as any camp in the past several years. Jobs are up for grabs. Currently anonymous names may surface. And the first incarnation of a David Beaty-run team will start to take shape.
Here, in no particular order, is a quick look at 15 things to track at 2015 preseason camp:
1. Quarterbacks — Junior Montell Cozart has the inside track on becoming the Week 1 starter, but we'll finally get a look at freshmen Carter Stanley and Ryan Willis.
2. Walk-ons — Much has been made about Beaty's desire to put together a strong walk-on program. And last month in Dallas he said he thought two or three such players would be in a position to help KU right away. Will they stand out in camp?
3. Newcomers — More than half of KU's 2015 recruiting class did not arrive on campus until June and camp will give us our first chance to see several of these guys in action. With the Jayhawks lacking depth and overall numbers, the opportunity is there for several of these guys to play key roles right away.
4. Notable absences? — As with any camp, it's almost always just as interesting to see if any players don't show up. That's rarely good news for the program, but it always makes for an interesting story line and often is kept quiet until one day we look out there and notice a certain jersey number is missing. We'll see if that's the case this week.
5. Body changes? — Any time a program brings in a new strength coach it's only natural to see what kind of impact the new weight room philosophy had on the bodies of the returning players. It's not always good and not always bad, but it's always interesting.
6. Conditioning — Speaking of a new strength coach, the talk all summer was that the Jayhawks were really emphasizing the running and cardio portion of their offseason program and this week will give us our first chance to see if their improved stamina is noticeable.
7. Welcome back — A couple of guys who we haven't seen play football for quite a while will be back in action this month and it should be cool to see how they look coming off of injury. Senior running back Taylor Cox (hamstring in 2013 and torn Achilles' in 2014) is at the top of this list.
8. DBU? — Aqib Talib. Chris Harris. JaCorey Shepherd. Tyler Patmon. Darrell Stuckey. Dexter McDonald. All are recent Jayhawks who now have a home in the NFL. KU is replacing its entire starting secondary this season and it's time to see if one of these new lead dogs has what it takes to be added to this list. Best guess: juco transfer Bazie Bates IV.
9. Air it out — We won't see much of the Air Raid offense until the Jayhawks hit the field for real in September, but it will be talked about — a lot. Offensive coordinator Rob Likens, technically, is the Jayhawks' seventh OC in the past seven seasons and although he has not yet had time to bring in all of the pieces he needs to make the offense hum, camp will provide a good look at how he makes the pieces he has work for this year's team.
10. Beaty time — For the past seven months Beaty has praised his coaching staff and said he would be more than happy to function as a GM and make the final calls while letting those guys do their jobs. That's how it played out this spring and there's no reason to think it will be any different once camp starts.
11. Calling all D-Tackles — What will things look like at KU's thinnest position? The interior of the defensive line is as unproven and inexperienced as any position on the roster and some young guys are going to have to step up fairly quickly in order for the KU defense to have a chance. Kapil Fletcher, Tyler Holmes and Daniel Wise are a few names to watch.
12. Let's kick it — Trevor Pardula, one of KU's best weapons from the past couple of seasons, is gone and the kicking game remains a mystery. Who will emerge as KU's punter and will veteran Matthew Wyman show enough consistency to hold on to the place-kicking job?

13. Leadership — Beaty called senior Ben Goodman by far the best leader on the roster, but which other players will step up and help Goodman show this young and inexperienced roster the way?
14. Gary gone wild — The entire coaching staff is full of energy, enthusiasm and passion, but few show it as well and as often as special teams coordinator and tight ends coach Gary Hyman. Seriously, this guy should have his own reality show.
15. Offensive line chemistry — The tackles appear to be set, with Jordan Shelley-Smith on the left side and Larry Mazyck on the right. After that, though, there are seven or eight guys vying for three starting jobs and a spot on the two-deep. The competition will be fierce and it will behoove the Jayhawks a great deal to identify the first five sooner rather than later.