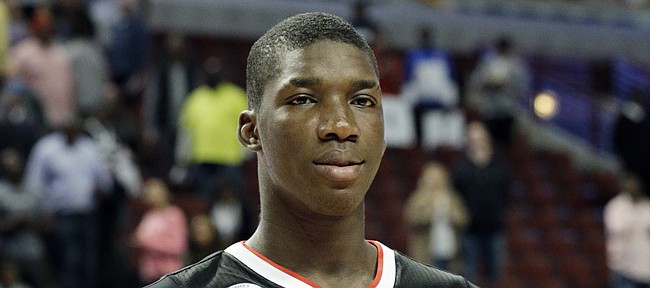 Cheick Diallo is hinting that he is mighty close to announcing his college choice.
Diallo, a 6-foot-9 senior forward from Our Savior New American High in Centereach, New York, on Monday night released a statement on Twitter that had the recruiting world buzzing.
"It's been a long 3 years. Just wanted to thank all the coaches who recruited me and stopped by my school ... appreciate all the fans who followed my journey. All my teammates, my coaches, teachers who's made me a better thanks and Love y'all," he wrote in characters that filled not one, but two tweets.
The country's No. 5-rated player (by Rivals.com) also attached a picture of himself with the logos of finalists KU, Iowa State, Kentucky, Pitt and St. John's behind him.
It had many speculating that a Tweet announcing the winner for his services was imminent, but that tweet hadn't appeared by late Monday night.
The only additional "news" revealed by Diallo's Twitter account was the fact he "followed" KU's Perry Ellis on the website an hour or so after his recruiting Tweets were posted.
White's brother a prospect: Andrien White, the brother of former KU/current Nebraska guard Andrew White III is considering several mid-major schools.
White, a 6-3 senior point guard from Quality Education Academy in Winston-Salem, North Carolina, who received an offer from Hofstra on Monday, also is considering Charlotte, Western Kentucky, Stetson, Longwood, Austin Peay and others.
Juco player: A KU assistant coach Monday reportedly visited Tyrone Outlaw, a 6-6 sophomore guard from Lee College in Baytown, Texas.
Outlaw, who visited Virginia Tech last weekend, averaged 23.4 points and 5.5 rebounds per game at Lee while hitting 55 percent of his shots and a sizzling 50.7 percent from three.
He's also receiving interest from Arkansas, Oklahoma State, West Virginia, Oregon, South Florida, Missouri and others, according to jucorecruiting.com.
"He is a 6-6 wing who does an excellent job of mixing things up on the offensive end. His combination of size and shooting ability makes him extremely attractive to high-major programs, especially this late in the year," writes Brad Winton of jucorecruiting.com.
TV show: ESPNU will air its annual signing-day special at 5 p.m. Central time today. There has been no word if any top players will commit or be interviewed on the show.
New name: KU coaches are expected to today visit Ebuka Izundu, a 6-10 senior forward from Victory Christian High in Charlotte, North Carolina, the Charlotte Observer reports. He has been granted a release from his Charlotte scholarship and reportedly also has heard from Kentucky, Tennessee, UConn, Miami and Cincinnati.