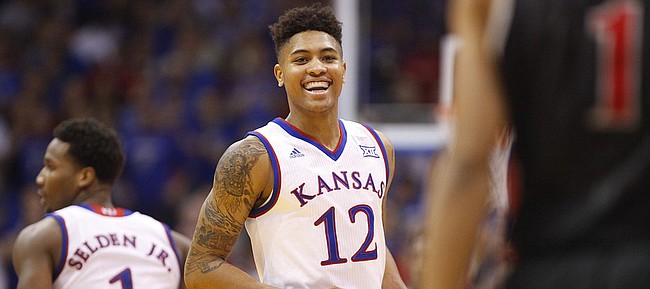 Kansas University freshman wing Kelly Oubre, Jr., announced today that he will leave KU after one season to enter the 2015 NBA Draft.
Oubre, a 6-7 freshman from New Orleans, averaged 9.3 points off 44.4 percent shooting and 5.0 rebounds a game for the Jayhawks.
He is currently listed as the No. 13 overall pick — which is a lottery pick — in the June draft.
"I'm leaving the University of Kansas for the upcoming NBA Draft," Oubre said. "It's always been a dream to play in the NBA. This is an opportunity to play against the best in the world and expand my game in hopes of someday becoming one of those great players. It's been a great year. I've been blessed to be here at the University of Kansas. I was blessed to go through the things that I went through and I was blessed to play for coach (Bill Self). He taught me a lot this year, the little things that will help out my game a lot."
http://www.youtube.com/watch?v=MA1uwKC1EVU
Oubre started 27 games for KU including the last 26 contests, missing only Senior Night as Jayhawk senior Christian Garrett replaced him against West Virginia.
"I talked with guys who have been in this situation before me and they told me different things," Oubre said. "JoJo (Joel Embiid) said he knows what I am going through and he told me his process and some of the things he went through. It's definitely been a hard and tough decision and I've come to this conclusion."
KU coach Self said: "This should come as really no surprise to anybody that has followed us. Kelly came in being well thought of by NBA personnel and certainly, nothing has changed in that regard. In the time he was here he's been a great ambassador, a great teammate and, obviously, a very talented player.
"Kelly is an excellent student and going to fulfill his academic obligations this semester at KU," Self added. "At some point and time I am convinced that he will complete his degree because education is important to him and his family."
Oubre said he enjoyed his one season at KU.
"The University of Kansas has always been behind me," Oubre said. "This has been a great experience. It has felt like home since the first time I took my official visit. I wouldn't trade this situation and this time for anything in the world. I feel like I will always have a home I can come back to and I will always have people I can lean on. Getting my degree from Kansas will be the biggest accomplishment of my life, bigger than making it to the NBA," Oubre added. "Having that degree is something you can look back on and say 'I worked hard' to earn that.
"I'll miss the different personalities in the locker room. We all gelled from the first time we were together. I'll miss the coaches pushing us every day to be the best players we can be. Every time coach Self says something, it's definitely something you need to work on. He's seen it. He's seen it before, multiple, multiple times."
Self said the Jayhawks were not caught off guard.
"On the surface this presents a void on our perimeter from last year but this is something we have known could happen for several months and we are prepared for it," Self said. "I'm real excited about our players returning."
— KU media relations contributed to this report