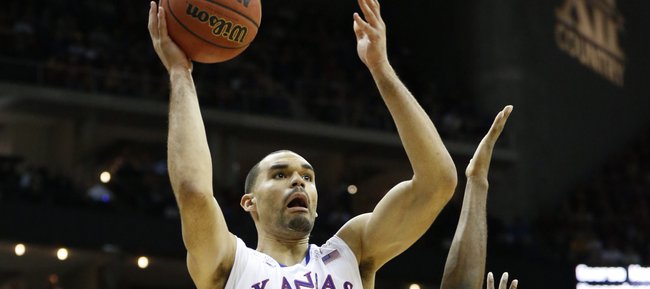 A year ago, Kansas University freshman sensation Andrew Wiggins adorned the covers of a batch of preseason basketball magazines.
Now with expectations high, but not out of this world, for newcomers Kelly Oubre Jr. and Cliff Alexander, a junior — Perry Ellis — is receiving his share of preseason pub, appearing on the covers of Sporting News and Athlon's, not to mention the soon-to-be-released Journal-World 2014-15 Magazine, of which Ellis and sophomore Wayne Selden adorn the cover.
"I mean, it's definitely an honor," said Ellis, KU's leading returning scorer (13.5 ppg) and rebounder (6.7 rpg) off last year's 25-10 team.
"Just keep working hard. It's been paying off ... from my freshman to my sophomore to my junior year. I'm just going to continue to work. It's going to be more responsibility on my end, but I'm looking forward to it."
Ellis, a 6-foot-8, 225-pounder from Wichita Heights, drew rave reviews from those who attended this summer's Nike Big Man, LeBron James and Adidas Nations camps at which he worked as a counselor and took part in drills and pickup games.
CBSsports.com's Jeff Borzello named Ellis as the most improved player at the James camp from a year ago.
"And I thought he was very good last year," Borzello wrote.
The Sporting News this summer ranked Ellis the No. 3 power forward in the country behind Louisville's Montrezl Harrell and Kentucky's Karl Towns.
"I'm ready. I've been working hard, had a great summer with the team and individually at those camps, so I'm definitely looking forward to it," Ellis said of his junior campaign.
"I've been definitely working on my shot," added Ellis, who hit 54.9 percent of his attempts a year ago. "I've been trying to put up as many shots as I can. You can't put up enough right now. I've been doing that."
He and his teammates are in the second week of two-week, 6-7 a.m. Bill Self Boot Camp conditioning.
"I think that's going to make us all better in the long run," Ellis said, recalling Boot Camp only being one week a year ago. "It's going to push us even harder."
One of KU's team leaders, Ellis was asked which Jayhawks have improved the most since last season.
"Wayne (Selden) has gotten better, I think. Landen (Lucas). All the upperclassmen who have been here, Jamari (Traylor), Conner (Frankamp) … everybody is improved pretty much. They've got more knowledge and (are) gaining more experience."
Recruiting: Cheick Diallo, a 6-9 senior forward from Our Savior New American in Centereach, New York, had an excellent weekend visit to KU, a source close to Diallo told JayhawkSlant.com.
Sophomore guard Selden, a native of Roxbury, Massachusetts, was Diallo's host on the visit.
"He loved the place and what they have to offer as far as his development," the source told JayhawkSlant.com.
Diallo, who has been playing basketball for four years after playing soccer as a youth in Mali, will visit Iowa State this weekend and St. John's on Oct. 17. He's visited Kentucky and Pittsburgh.
Diallo is "leaning to (signing in) the spring, but it's not final yet," a source told Zagsblog.com.
Tables taken: Table packages are sold out for "Celebrating 60 Years," an Oct. 27 gathering in Allen Fieldhouse to feature KU coach Bill Self, plus former KU coaches Larry Brown, Ted Owens and Roy Williams. Emcee for the program will be ESPN's Jay Bilas. Fifty tables, seating 10 individuals per table, were sold for $5,000 each. Seating remains available in the stands at kuathletics.com or by calling 1-800-34HAWKS.