Bill Self, 51, grinned when asked if he'd like to stay in coaching as long as his mentor, 74-year-old Larry Brown of SMU.
"My only prediction is that I'm hoping he'll retire before I do. That's as far as I go," Kansas University's Self said with a smile before Monday's "Celebrating 60 Years" event in Allen Fieldhouse.
"Coach is a basketball genius. He has forgotten more ball than I'll ever know. He's doing such a great job at his age. He has a few to several more years in him. I can't see doing it that long. I certainly hope I can do it for quite a while longer," Self added.
Photo Gallery
Allen Fieldhouse 60th anniversary celebration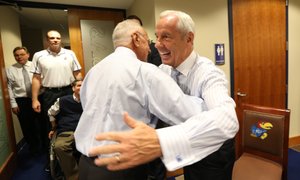 Images from Monday night's 60th anniversary celebration of Allen Fieldhouse.
Podcast episode
Former Kansas basketball coach Roy Williams, now the head coach at North Carolina, talks to the media Monday at Allen Fieldhouse, about what makes the 60-year old venue "the best."
Podcast episode
While recalling some of his memories of the building he once worked in, former Kansas basketball coach Ted Owens says Allen Fieldhouse used to be a "big old barn," and in the offseason there wasn't even a court inside of it for the Jayhawks to use.
Podcast episode
In all of his time around college basketball, SMU coach Larry Brown, in Lawrence for "Celebrating 60 Years of Allen Fieldhouse," says his former Kansas superstar Danny Manning was the best college player ever.
Podcast episode
Kansas coach Bill Self describes how the "Celebrating 60 Years of Allen Fieldhouse" event came about and shares his thoughts on the old building, calling it "a treasure," while admitting it needed a pick-me-up when he first arrived.
Brown said he's having a blast at SMU, where he's beginning his third season.
"I'm 74 doing this. I've been stealing a long time," Brown joked of getting paid for something he enjoys so dearly. "I love every minute of it.
"You are out of (college) coaching as long as I was (he was in NBA after leaving KU), I needed to get up to speed. Jerrance (Howard, former SMU assistant now at KU) and Tim (Jankovich, former KU assistant now coach in waiting at SMU) helped me.
"I love practice, being around young coaches who want to do what I've been able to do and players that really want to be taught and get better. SMU has given me that opportunity, and I'm very fortunate I'm able to do this. I don't look in mirrors anymore or celebrate birthdays. If I can keep doing that ... why not? I love to coach."
Wanda ill: Former KU coach Roy Williams said his wife, Wanda, wanted to attend Monday's festivities, but she has been recovering from a pair of surgeries. Former KU assistants Joe Holladay and Steve Robinson attended, as did Lawrence High grad Brad Frederick, now a member of Williams' UNC staff after working at Vanderbilt many years. Also on hand was former KU player/current UNC assistant C.B. McGrath.
Jokes galore: There were some great jokes at Monday's three-hour, 15-minute event.
Brown teased Williams for wearing a light-blue tie with his gray suit coat.
"Fifteen years he coached as well as anybody, anywhere. He comes back wearing a gawd-damn Carolina blue tie," Brown said, Williams doubling over in laughter.
"I'm happy to see you back, Roy," Brown added in a serious tone.
Self also teased Williams. "I thought Roy cried a lot. His players cried a lot too when I first got the (KU) job," Self said. "My first team meeting, the guys asked me, 'How are we going to play?' I said we do this, that, this way, that way. I said it's the best way to play. (Keith) Langford, who was an absolute smartass, said, 'Is it the best way to play? We just won a lot more games (at KU under Williams) than you did (at Illinois).'"
Brown also joked about his own reputation as a job-hopper.
"You've seen me say, 'There's no better place to coach, no better place to go to school (than KU on pre-game video).' I've been everywhere. It's got to be true."
Brown added: "A lot of people talk about coaches having trees. I have a forest," he added of his amazing coaching tree that includes Self, John Calipari and others.
Williams spoke of his "hesitancy" about returning to Lawrence, where he coached 15 years. "There were some good friends, who've really been fantastic, but people put your picture over a commode, it's not the best feeling in the world," he said of a downtown business that put Williams' picture over the bathroom stall years ago.
Ted sincere: Former KU coach Ted Owens, 85, talked about Dick Harp's influence on his life. Harp was coach prior to the Owens era.
"I remember him as the man who gave me an opportunity to coach at this level," Owens said. "He not only was a great mentor for me in the game of basketball, but personally. He shared his faith with me, a faith I carried the rest of my life. He made an enormous impact in my life and I'm really grateful I had an opportunity to spend four years with coach Harp (as assistant) and many years after that when he was with the Fellowship of Christian Athletes."
Owens shed a tear at the end of his speech, which included a funny story about re-inserting Bud Stallworth into the game against Missouri in which he scored 50 points to "tick off Norm (Stewart, MU coach)."
"Thank you, fans, for the love I feel in the arena tonight. May God bless each one of you," Owens said emotionally.
Tarik on team: Loud applause followed Self's telling 7,500 fans that former KU forward Tarik Black had made the roster of the Houston Rockets as a free agent.
Jay's praise: Emcee Jay Bilas of ESPN loves Allen Fieldhouse.
"It's a cathedral of basketball. There's no better venue for basketball in this country, no better venue in the world than Allen Fieldhouse," Bilas said. "It's the ultimate destination for every player, coach, official, fan. If you respect the tradition and history of the game, you know every piece of history, every road leads back to Lawrence, Kansas, and Allen Fieldhouse."
Truths: Williams made a couple of confessions Monday. He said he didn't leave KU the first time the Carolina job opened (when Bill Guthridge quit) because he'd promised Nick Collison he'd be at KU for Collison's entire career. He also said he's an unabashed KU fan.
"There's never a day goes by I don't know whether they won or lost the night before," he said of the Jayhawks.
Self on KU: "There's a lot of reasons Kansas is a great place. We heard all of them tonight. The biggest reason Kansas is the best place is there's no place in America their fans love their players like they do here in Lawrence, Kansas."
More coverage of 'Celebrating 60 Years'